Who Needs Tickets?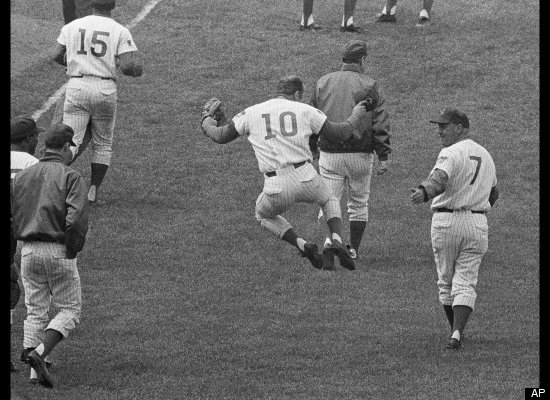 Today is Ron Santo's birthday. Seems like a good day to open the ticket windows. Before it's through I expect to have a couple for August 10, the date for the unveiling of Santo's statue. The radio broadcasts will take some getting used to, but I'll manage. Keith Moreland will do a good job, a better one in important ways than his predecessor ever claimed to. But Santo's absence will be felt on other levels by those of us old enough to have listened in when he was playing.
One of the first long pauses in life is when your favorite ballplayers start retiring. Another is when you realize that you're older than the stars du jour. And when your boyhood heroes start biting the dust you know you're into the late innings [not to get too maudlin, but my own birthday was yesterday].
When you're a Cub fan folklore has to tide you over in the absence of league pennants and World Series appearances. And Santo was literally buried in it. His funeral as the occasion for bringing a prodigal pitcher back home is the sort of stuff I've learned to get by on.
Younger generations are more acronymic than mere AVG, ERA and RBI. But those old standards in combination with memorabilia like Santo's black cat and Dawson's blank check are the only baseball measuring sticks I know how to use. Hell, I can't even remember a particular signature play of Santo's. I remember when a busted jaw interrupted his 20+ game hitting streak. Somehow that figures. He was broken but unsinkable, a Cub fan in a nutshell. His number 10 reminds me of when I was 10. There are fewer such reminders all the time so I'm glad one of them still flutters above the statuary park formerly known as Wrigley Field.
No more flaming toupees. No more sweater & tuna smack. No more Acapulco taco pie - and a lot less amusement.
I hope the team picks him up.
Return to Homepage