Who Needs Tickets?
Submitted by

Mike Wellman

on Fri, 02/25/2011 - 8:16am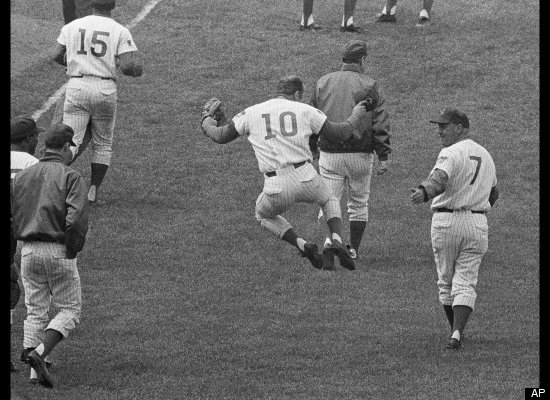 Today is Ron Santo's birthday. Seems like a good day to open the ticket windows. Before it's through I expect to have a couple for August 10, the date for the unveiling of Santo's statue. The radio broadcasts will take some getting used to, but I'll manage. Keith Moreland will do a good job, a better one in important ways than his predecessor ever claimed to. But Santo's absence will be felt on other levels by those of us old enough to have listened in when he was playing.
One of the first long pauses in life is when your favorite ballplayers start retiring. Another is when you realize that you're older than the stars du jour. And when your boyhood heroes start biting the dust you know you're into the late innings [not to get too maudlin, but my own birthday was yesterday].
When you're a Cub fan folklore has to tide you over in the absence of league pennants and World Series appearances. And Santo was literally buried in it. His funeral as the occasion for bringing a prodigal pitcher back home is the sort of stuff I've learned to get by on.
Younger generations are more acronymic than mere AVG, ERA and RBI. But those old standards in combination with memorabilia like Santo's black cat and Dawson's blank check are the only baseball measuring sticks I know how to use. Hell, I can't even remember a particular signature play of Santo's. I remember when a busted jaw interrupted his 20+ game hitting streak. Somehow that figures. He was broken but unsinkable, a Cub fan in a nutshell. His number 10 reminds me of when I was 10. There are fewer such reminders all the time so I'm glad one of them still flutters above the statuary park formerly known as Wrigley Field.
No more flaming toupees. No more sweater & tuna smack. No more Acapulco taco pie - and a lot less amusement.
I hope the team picks him up.
Recent comments
The first 600 characters of the last 16 comments, click "View" to see rest of comment.
Per Fangraphs...

Bryant took over NL lead in WAR after yesterday's effort. 3.9. Rizzo's at 2.8 and 8th in the league. Rizzo actually with better offensive numbers (161 wRC+ versus 146 for Bryant), but Bryant gets a good bump because of defense and position(s) played.

Fowler with a 2.8 WAR as well (9th), Zobrist with a 2.7 (14th).

M. Carpenter leads NL with 163 wRC+ just ahead of Rizzo who is 2nd.

@jonahkeri Joe Maddon living out Joe Maddon fanfic IRL tonight

i like how strop played LF with his "crooked cap" look...that's not just for the mound.

let baez pitch the 15th, he earned it.

Forget the save, finally Javier!!

Can a pitcher get more than one hold in a game? Or a Win and a save?

Didn't they do this sort of thing with Sean Marshall years back? Sticking him in LF to save him to face others, but without a pitcher replacing him in LF.

This is the most beautiful thing ever.

all i wanna know is...when's d.ross gonna pitch?

Maddon is over-managing the shit out of this game.

yeah. ...or not...

i was a bit more confused why the guy who gave up a HR to votto last night was facing him with 2 men on.

...now that wood is coming in to pitch the following inning, the whole thing gets weirder. so like, okay.

Javy 0-6. At least he's consistent.

Sweet play.

What's with the Travis Wood stuff? Is it because he pitched the last 2 games?