Who Needs Tickets?
Submitted by

Mike Wellman

on Fri, 02/25/2011 - 8:16am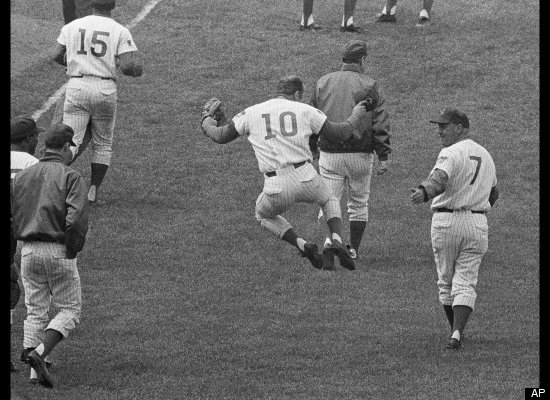 Today is Ron Santo's birthday. Seems like a good day to open the ticket windows. Before it's through I expect to have a couple for August 10, the date for the unveiling of Santo's statue. The radio broadcasts will take some getting used to, but I'll manage. Keith Moreland will do a good job, a better one in important ways than his predecessor ever claimed to. But Santo's absence will be felt on other levels by those of us old enough to have listened in when he was playing.
One of the first long pauses in life is when your favorite ballplayers start retiring. Another is when you realize that you're older than the stars du jour. And when your boyhood heroes start biting the dust you know you're into the late innings [not to get too maudlin, but my own birthday was yesterday].
When you're a Cub fan folklore has to tide you over in the absence of league pennants and World Series appearances. And Santo was literally buried in it. His funeral as the occasion for bringing a prodigal pitcher back home is the sort of stuff I've learned to get by on.
Younger generations are more acronymic than mere AVG, ERA and RBI. But those old standards in combination with memorabilia like Santo's black cat and Dawson's blank check are the only baseball measuring sticks I know how to use. Hell, I can't even remember a particular signature play of Santo's. I remember when a busted jaw interrupted his 20+ game hitting streak. Somehow that figures. He was broken but unsinkable, a Cub fan in a nutshell. His number 10 reminds me of when I was 10. There are fewer such reminders all the time so I'm glad one of them still flutters above the statuary park formerly known as Wrigley Field.
No more flaming toupees. No more sweater & tuna smack. No more Acapulco taco pie - and a lot less amusement.
I hope the team picks him up.
Recent comments
The first 600 characters of the last 16 comments, click "View" to see rest of comment.
That's a hell of a first impression by Montgomery. Brian Cashman having a good laugh on that debut.

...and it's a 3 run homer.

hey, vogelbomb had a HR on his 1st game with SEA AAA, too!

montgomery comes on with men on 1st/2nd, 2 out, in the 8th.

from rotoworld...

"Tommy Stokke of FanRag Sports reports Chris Sale was sent home from U.S. Cellular Field on Saturday after cutting up throwback jerseys that he did not want to wear.

I thought the same. It'd be great luck to face these non-contenders after the trade deadline.

...why isn't j.lucroy playing for TEX yet?

:(

2r HR on a 12-pitch AB.

nathan to join the cubs tomorrow.

FOX Sports @MLBONFOX
Chris Sale was scratched from tonight's scheduled start due to a clubhouse incident before the game

...wow

he was sent home by the team, too. the wsox released a press statement and everything. they stated it was non-physical in nature.

He was scratched from his start today. No reason given.

At the start of the season the book was that he was trying to pitch to more contact so he could stay in the game longer and it seems to be working so far. Contact against is 77.5% this year and it was 70.2% the year before. He averaged 6.7 IP/game last year and so far it's 7 IP/game. His actual pitches per game are only down to 106.1/game from 107.2/game last year but if he's able to go a bit farther into games without throwing more pitches and without giving up more runs that is a good thing.

sale's skills and insane value makes it almost too hard to have a market for the guy...he's got 3/38m owed to him over 3 seasons (2 team options). he could easily pull in 30m/yr if he was on the market as a FA.

he's throwing a bit differently this season, especially with more sliders and less changeups like earlier in his career, but all his stuff still looks great even if the HRs are a little elevated and the Ks are down.

Torres, Happ, McKinney, Jimenez, and Candelario for Sale. Deal or no deal?

"The White Sox are reportedly asking for "five top prospects" for Chris Sale, FanRag Sports' Jon Heyman reports."

Unless he develops 30+ HR power and keeps his walk rate close to his K rate at the MLB level, he's not going to turn into Prince Fielder. And even if he does turn into Prince Fielder, he's gonna have a short prime. His very limited athleticism is likely to also detract some value from his ability to reach base--I don't buy making an out as being preferable to base clogging, but you'd certainly prefer just about any base runner other than Vogelbach, David Ortiz, etc.

seeing as arod has played a total of 27.1 innings of D at 1st/3rd and somehow managed a -0.5 dWAR with his 1 error at 1st and an overall positive total zone rating...he might end up even more in the shitter via the characteristics/flaws/whatever of how some sites determine various WAR values. dWAR doesn't directly lead to a WAR value, but the 2 main entities pushing the most popular variations of WAR sometimes lead to some interesting discrepancies in value.

I have a lot of faith in Baez that he's going to turn into a more consistent, solid player. It looks like it took him about a half season or so of futility at the plate to figure out he was not talented enough to get away with the crazy approach he had. I think his running game will eventually have a more measured aggression.