Game Preview: Cardinals (54-44) @ Cubs (45-53)
Submitted by

Rob G.

on Sun, 07/25/2010 - 5:37pm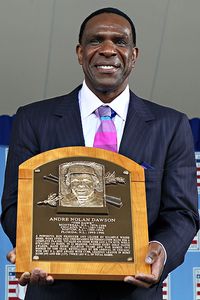 The last post is getting a little long in the tooth and a little bitchy, so let's move on to happier things like Andre Dawson's Hall of Fame induction today and the Cubs on the brink of a three game sweep over the Cardinals.
I don't have much to add actually on Dawson's speech today much like anything involving this site lately, but that smiling photo with the plaque classes up the joint.
As for the Cubs, they're third in the league in runs scored in July behind the Giants and Yankees. Who'd thunk? Three guys have OPS numbers north of 1.000 (Castro, Ramirez and Soto) with Byrd, Lee and Colvin around the .800 or above mark, leaving Soriano(.732 but with 5 HR's) and Theriot(.641) to bring up the rear.
Z threw two scoreless last night for Iowa with no walks, a hit and three K's and should join the team this week if he apologizes to his teammates for...giving a shit about losing? And probably for destroying the Gatorade cooler, I hear it was a clubhouse favorite.
Dempster got beat up a bit against the weakly 'Stros last time, but the offense bailed him out of a loss.
Lineup for tonight's game from Muskat's twitter feed:
rf colvin, ss castro, 1b lee, 3b ramy, cf byrd, lf sori, c soto, 2b riot, p demp
Recent comments
The first 600 characters of the last 16 comments, click "View" to see rest of comment.
.500

Check this: If the Cubs just play .500 until the end of the season, from today on May 6th, they are at 89 wins.

How we would have drooled for that in 2010.

The awesome quote was something like "Just gotta play a little country hardball..."

It was awesome. I envisioned him in snake-skin boots, Stetson, and a lump of dip in his lip with his Texas gun strapped to his hip.

Listening to an interview with Lackey on WSCR - he sounds a bit like a gruff Fozzie Bear

FWIW -- Lackey was the only RH batter to get a hit off of Scherzer. KB and Baez were 0-for-6 with 6Ks. Gotta love lefty/righty balance, and switch-hitters.

Somebody needs to explain to Richard the concept of run differential. Dammit, this was a tough one to absorb.

In the same vein, I hope we can now dispense with "LaStella sucks as a starter".

They just wanted to get Rondon a save is why they gave up those runs. Madden is a genius that way....

15 games over .500...not a bad place to be on may 6th.

Brian Schlitter moments aside - what a sweet win!

this ump...at least he seems consistently shitty.

c.richard with another outing making him look expendable...

hey may be a righty, but f.pena put in another strong night last night...2ip 0h 1bb 3k

last thing the club seems to need is another reliever, though. the cubs starters keep putting lack-of-work pressure on the pen more than anything so far.

Good thing Bryant can play multiple positions. If he was only a 3B he'd be frustrated sitting.

I think it might have been just the push he needed.

I believe +411 by the '39 Yankees is the all-time record.

From now on maybe there's no point keeping score of the game, just track the run differential.