Game Preview: Cardinals (54-44) @ Cubs (45-53)
Submitted by

Rob G.

on Sun, 07/25/2010 - 5:37pm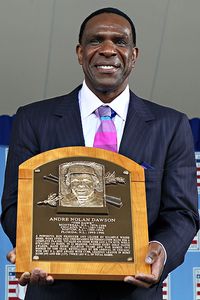 The last post is getting a little long in the tooth and a little bitchy, so let's move on to happier things like Andre Dawson's Hall of Fame induction today and the Cubs on the brink of a three game sweep over the Cardinals.
I don't have much to add actually on Dawson's speech today much like anything involving this site lately, but that smiling photo with the plaque classes up the joint.
As for the Cubs, they're third in the league in runs scored in July behind the Giants and Yankees. Who'd thunk? Three guys have OPS numbers north of 1.000 (Castro, Ramirez and Soto) with Byrd, Lee and Colvin around the .800 or above mark, leaving Soriano(.732 but with 5 HR's) and Theriot(.641) to bring up the rear.
Z threw two scoreless last night for Iowa with no walks, a hit and three K's and should join the team this week if he apologizes to his teammates for...giving a shit about losing? And probably for destroying the Gatorade cooler, I hear it was a clubhouse favorite.
Dempster got beat up a bit against the weakly 'Stros last time, but the offense bailed him out of a loss.
Lineup for tonight's game from Muskat's twitter feed:
rf colvin, ss castro, 1b lee, 3b ramy, cf byrd, lf sori, c soto, 2b riot, p demp
Recent comments
The first 600 characters of the last 16 comments, click "View" to see rest of comment.
For sure! Russell and Baez are the first infielders in a while to make me think of star defensive players in football or basketball--it's almost like they force turnovers, and they definitely play the field with a degree of athletic aggression I'd expect from a linebacker.

[Edit: Was meant to be a response to JB above.]

tebow hit a HR in the 1st pitch he sees in instructs..lulz.

I don't think his issue(s) will have anything to do with it. He hasn't hit since he's been back. Coghlan has the hot hand.

I'm not a denier but definitely a skeptic on Strop and Grimm, who struggle with fastball control. Strop doesn't go near the ninth inning, and note how Grimm couldn't close the deal even with a 5-run lead. So Felix Pena comes in and gets the 3-pitch game-ending strikeout like it was nothing.

And how about Almora missing that very catchable ball? That was unexpected after all the hype about his glove.

When Trea Turner misses balls like that--which he does--I draw conclusions from it. It seems to be the one chink in his armor. But I'll give Almora another chance.

Assuming Soler is good to go, I think it comes down to 3 of the following 4: Coghlan, TLS, Sczcur, Almora. Of the 4, TLS seems to be the hardest to justify, particularly given his behavioral issues.

I'm wondering if both Coghlan and LaStella make it. With Javy being able to play all the infield spots and Joe maybe wanting late-inning D when Soler plays (assuming he plays), hence either Szczur or Almora, I think LaStella might be the odd guy out.

Hendricks needs the win, anyway, plus a couple more.

My hunch is that Hendricks wins the Cy Young . . . for Lester. That is, without Hendricks tipping the scale toward the Cubs, Scherzer tops Lester.

Old Cub fans remember when Ken Hubbs died at 22 in the crash of a small plane he was piloting in a storm in Utah in 1964. But Hubbs was not an elite power pitcher like Score and Fernandez. Score lived a long time after the accident but it was (effectively) career-ending.

HAGSAG: Since I've only seen them throw in one game and in one "live" BP session, all I can do is provide initial first impressions.

Brailyn Marquez is listed at 6'4 but is probably more like 6'5 or 6'6. I would describe him as a younger version of Bryan Hudson, throwing a ton of ground balls but not getting a lot of swings & misses (yet). Because of his size he could eventually grow into more velocity, but right now he's mostly a pitch-to-contact guy. He generally throws strikes.


Phil, do Marquez and Ocampo look like prospects?

It helps when your defense has declared war against the H in WHIP.

Still impressive.

Lackey finishes with a 3.35 ERA. Currently good for 13th in the NL. Not bad for a guy signed to be a #3 starter in a 15-team league.

He is also 6th in WHIP. Pretty amazing: Cubs have the #2, #3, #5 and #6 starters in WHIP.

Completely meaningless game, but Pena striking out Sean the Turd to with the bases loaded was very fun.

Other than one bad game in SD, Pena has been very good. Even with that game, 9.0 IP, 13 K, 0.89 WHIP.

101 wins...most since 1910 (104).

neat. ...or sad. pick one. pick both. 'murica.

Just looked up Grimm's stats -- after a great run, he gave up 2 runs vs. MIL then didn't pitch for 10 days. Don't remember why?

Sean Rodriguez's helmet looks like it's taking a dump