Game Preview: Cardinals (54-44) @ Cubs (45-53)
Submitted by

Rob G.

on Sun, 07/25/2010 - 5:37pm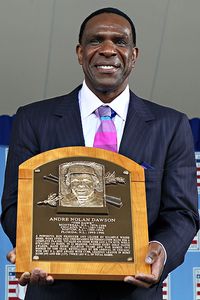 The last post is getting a little long in the tooth and a little bitchy, so let's move on to happier things like Andre Dawson's Hall of Fame induction today and the Cubs on the brink of a three game sweep over the Cardinals.
I don't have much to add actually on Dawson's speech today much like anything involving this site lately, but that smiling photo with the plaque classes up the joint.
As for the Cubs, they're third in the league in runs scored in July behind the Giants and Yankees. Who'd thunk? Three guys have OPS numbers north of 1.000 (Castro, Ramirez and Soto) with Byrd, Lee and Colvin around the .800 or above mark, leaving Soriano(.732 but with 5 HR's) and Theriot(.641) to bring up the rear.
Z threw two scoreless last night for Iowa with no walks, a hit and three K's and should join the team this week if he apologizes to his teammates for...giving a shit about losing? And probably for destroying the Gatorade cooler, I hear it was a clubhouse favorite.
Dempster got beat up a bit against the weakly 'Stros last time, but the offense bailed him out of a loss.
Lineup for tonight's game from Muskat's twitter feed:
rf colvin, ss castro, 1b lee, 3b ramy, cf byrd, lf sori, c soto, 2b riot, p demp
Recent comments
The first 600 characters of the last 16 comments, click "View" to see rest of comment.
Thanks PHIL.

Boy, that is a nifty K:BB ratio Hudson has going at almost 4:1!

I hope he continues improving.

And of course the Bucs won again playing AZ (not PHIL). They dont seem to have a problem yet with the bottom feeders.

They picked up 3 games this last week.

I'm looking forward to them coming to the Chi.

Don't mess with the SI jinx. Since the Javy/Cubs cover came out, he is 2-for-20 with no walks.

BRADSBEARD: If all three are assigned to Eugene, the Cubs can play Galindo, Paredes, and Paniagua at the same time by moving Paredes between SS-3B-DH, Galindo between 3B-1B-DH, and Paniagua between 1B-LF-DH.

The Cubs like to have their players (including their minor leaguers) learn to play more than one position even if they eventually are projected to settle at one spot, and I suspect that will be reflected at Eugene, with just about everybody who will be assigned there able to play at least two positions.


Thanks - at least the scorer was consistent

I don't think the error call was completely out of the blue but the ball took a very bad hop and would have taken a very good play to get it. Same with one of the Stella throws where I think it could have easily been ruled a hit. Neither were cut and dry calls though imo.

chased a high fastball...

I think his BABIP during his run has been around .950

Great stuff CubbyBlue!!! I think it inspired today's six spot as well.

That's all fine and good, but I think it's short-changing the Arrieta-like affect of his beard

Was the error scored on Zobrist's third ab ruled correctly? Ron was saying that it was a pretty tough chance for the fielder

Did anybody see that Zobrist strikeout?

That was extremely disappointing.

Strangest win of the year, and one of the sweetest. Twice I thought it was easily in the bag, then after the first 2 hitters in the 9th I thought all was lost. Big game for Grimm, Strop & Rondon. But, man, those Cards can hit for power.

Very satisfying, gut-check win today. The beers on the trip back to Chicago are going to taste fantastic.

It's still very early but this game felt very important to me and probably knocked 2 years off my life. Seemed like every inning was big.

Yes then they moved him two spot then not so much, back batting 7th

This is the exact game that the Cubs would have lost in years past to the Cardinals.