Game Preview: Cardinals (54-44) @ Cubs (45-53)
Submitted by

Rob G.

on Sun, 07/25/2010 - 5:37pm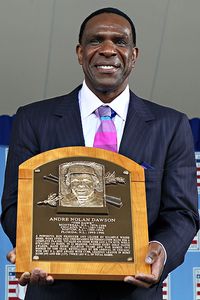 The last post is getting a little long in the tooth and a little bitchy, so let's move on to happier things like Andre Dawson's Hall of Fame induction today and the Cubs on the brink of a three game sweep over the Cardinals.
I don't have much to add actually on Dawson's speech today much like anything involving this site lately, but that smiling photo with the plaque classes up the joint.
As for the Cubs, they're third in the league in runs scored in July behind the Giants and Yankees. Who'd thunk? Three guys have OPS numbers north of 1.000 (Castro, Ramirez and Soto) with Byrd, Lee and Colvin around the .800 or above mark, leaving Soriano(.732 but with 5 HR's) and Theriot(.641) to bring up the rear.
Z threw two scoreless last night for Iowa with no walks, a hit and three K's and should join the team this week if he apologizes to his teammates for...giving a shit about losing? And probably for destroying the Gatorade cooler, I hear it was a clubhouse favorite.
Dempster got beat up a bit against the weakly 'Stros last time, but the offense bailed him out of a loss.
Lineup for tonight's game from Muskat's twitter feed:
rf colvin, ss castro, 1b lee, 3b ramy, cf byrd, lf sori, c soto, 2b riot, p demp
Recent comments
The first 600 characters of the last 16 comments, click "View" to see rest of comment.
👌👀👌👀👌👀👌👀👌👀 good shit go౦ԁ sHit👌 thats ✔ some good👌👌shit right👌👌there👌👌👌 right✔there ✔✔if i do ƽaү so my self 💯 i say so 💯 thats what im talking about right there right there (chorus: ʳᶦᵍʰᵗ ᵗʰᵉʳᵉ) mMMMMᎷМ💯 👌👌 👌НO0ОଠOOOOOОଠଠOoooᵒᵒᵒᵒᵒᵒᵒᵒᵒ👌 👌👌 👌 💯 👌👌🎩👓🎩👍🎩👓🎩👍🎩 euphoric logic !euphoric loGic👌 thats ✔ some euphoric👌💻 logic right👌💻there👌👍👌 Carl 🔭 Sagan🌌💫if i do ƽaү so gentlemen 💯 i say so 💯 thats euPhoric logic right there Richard 📒 Dawkins🎩 (chorus: socrates died for this shit) mMMMMᎷМ💯 👌👓👌НO0ОଠOOOOOОଠଠOoooᵒᵒᵒᵒᵒᵒᵒᵒᵒ👌 👌🎩 👌 💯 👌 👓🎩🎩🎩 👍👌euphoric logic slam me the FUCK uP 👌👀👌👀👌👀👌👀👌👀 john cena JOhN cEna

You can start the CRUNCH EARLY AM REPORTER. Then you can blog to yourself, and argue with yourself about Jon Lester.

my current job has me coming in at 7am (eastern)...i miss staying up til 2am to watch west coast games.

Remember when west coast road trips were a good time to catch up on some reading?

Taboola field is more appropriate.

we can only hope...

The things you have to do to pay for James Shields contract.

unsurprisingly, the White Sox continue a tradition of stupid stuff....

@DannyEcker BREAKING: Guaranteed Rate has purchased naming rights to U.S. Cellular Field. Will be known as Guaranteed Rate Field thru 2030.

that was a very kind 3rd strike to hendricks to end the 3rd.

man on 3rd, 0 outs and got 2 pop-ups and a K...Maddux-lite indeed

how did Fowler not score from 2nd on a double?

by making bad decisions...

he held on a popup (in case he needed to tag up) that bounced off the wall then jogged to 3rd. there were 0 outs so that probably played into the casual nature of how he played it.

Not watching -- how did Fowler not score from 2nd on a double?

Well I assume Ross is going to catch Lester in the playoffs, and it looks like Contreras is going to catch everyone else. I could see the Cubs keeping three catchers on the playoff roster as it would give them flexibility and Montero would have a left handed bat with some pop (at least historically) off the bench.

Aren't Montero and Ross already in a tie for third catcher?

Higher than Chris Perez's mailbox.