Game Preview: Cardinals (54-44) @ Cubs (45-53)
Submitted by

Rob G.

on Sun, 07/25/2010 - 5:37pm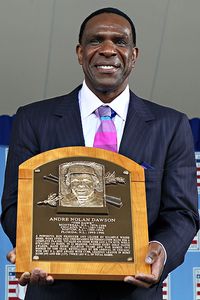 The last post is getting a little long in the tooth and a little bitchy, so let's move on to happier things like Andre Dawson's Hall of Fame induction today and the Cubs on the brink of a three game sweep over the Cardinals.
I don't have much to add actually on Dawson's speech today much like anything involving this site lately, but that smiling photo with the plaque classes up the joint.
As for the Cubs, they're third in the league in runs scored in July behind the Giants and Yankees. Who'd thunk? Three guys have OPS numbers north of 1.000 (Castro, Ramirez and Soto) with Byrd, Lee and Colvin around the .800 or above mark, leaving Soriano(.732 but with 5 HR's) and Theriot(.641) to bring up the rear.
Z threw two scoreless last night for Iowa with no walks, a hit and three K's and should join the team this week if he apologizes to his teammates for...giving a shit about losing? And probably for destroying the Gatorade cooler, I hear it was a clubhouse favorite.
Dempster got beat up a bit against the weakly 'Stros last time, but the offense bailed him out of a loss.
Lineup for tonight's game from Muskat's twitter feed:
rf colvin, ss castro, 1b lee, 3b ramy, cf byrd, lf sori, c soto, 2b riot, p demp
Recent comments
The first 600 characters of the last 16 comments, click "View" to see rest of comment.
Not certain why the site has been slowed. Worked much of Wednesday on it and will continue today. Sorry for the inconvenience. I will probably take it offline for a while, but it will be up before the game against the Mets.

Mine has been really slow to load -- on different computers from different locations.

Anybody else have issues accessing the site this afternoon/evening?

Boras is 63, maybe he'll be retired or dead by the time Bryant, Russell, Almora, Albertos all hit free agency. Doubt he will be before Jake hits there though.

Interesting choices when guys get healthy.

LaStella, Fowler & Soler replace Coghlan, Almora and Sczcur? I assume they don't want Almora to sit.

Despite MIggy's demise, I assume they keep him around to mentor Contreras?

I believe Willson now has more CS than MIggy. The kid has an arm. Also, Russell is amazingly good on those plays at 2nd.

oh yeah...thanks joe/billy.

poor outing, still got the win, go cubs.

Although it felt like it, Jake didn't lose to them -- he got the W. (Assuming you are referring to Monday's game)

Arrieta didn't lose to the Reds. He got the win -- he just didn't pitch like we expect him to.

it's not like this CIN team is lost-cause horrible, but aside from defense and power this is a truly horrible team.

kinda crazy arrieta lost to them and yesterday's game had to go 15 innings for the cubs win.

It looked like Hamilton got screened by Duvall and that Duvall just barely deflected the ball off of his glove--redirecting it slightly without taking away much of its momentum.

At least it didn't turn into a Schwarber/Fowler situation. Hamilton and Duvall are both pretty important youngish players for the Reds.

he walked off the field on his own. aside from a concussion watch and some attention to his leg/knee that buckled a bit under him, the biggest thing hurt was probably his pride after the ball knocked off his skull.

After last night, an inside-the-park HR seems kind of run-of-the-mill somehow.

Sounds bad for Hamilton. Hope he's okay--listening on the radio.

SHOW ME THE MONEY: Jose Albertos has signed with Mega-Agent Scott Boras.

Albertos has already received his signing bonus and won't see any additional significant money until he reaches the big leagues, so this is a long-term investment for the Boras Corporation.

Other Cubs represented by Boras include Jake Arrieta, Kris Bryant, Addison Russell, and Albert Almora Jr.

I am glad Joe is managing this team and not Old and Blue!