Game Preview: Cardinals (54-44) @ Cubs (45-53)
Submitted by

Rob G.

on Sun, 07/25/2010 - 5:37pm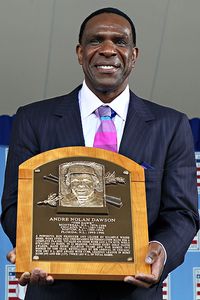 The last post is getting a little long in the tooth and a little bitchy, so let's move on to happier things like Andre Dawson's Hall of Fame induction today and the Cubs on the brink of a three game sweep over the Cardinals.
I don't have much to add actually on Dawson's speech today much like anything involving this site lately, but that smiling photo with the plaque classes up the joint.
As for the Cubs, they're third in the league in runs scored in July behind the Giants and Yankees. Who'd thunk? Three guys have OPS numbers north of 1.000 (Castro, Ramirez and Soto) with Byrd, Lee and Colvin around the .800 or above mark, leaving Soriano(.732 but with 5 HR's) and Theriot(.641) to bring up the rear.
Z threw two scoreless last night for Iowa with no walks, a hit and three K's and should join the team this week if he apologizes to his teammates for...giving a shit about losing? And probably for destroying the Gatorade cooler, I hear it was a clubhouse favorite.
Dempster got beat up a bit against the weakly 'Stros last time, but the offense bailed him out of a loss.
Lineup for tonight's game from Muskat's twitter feed:
rf colvin, ss castro, 1b lee, 3b ramy, cf byrd, lf sori, c soto, 2b riot, p demp
Recent comments
The first 600 characters of the last 16 comments, click "View" to see rest of comment.
I love winning! It's, like, better than losing?

You lollygag the ball around the infield. You lollygag your way down to first. You lollygag in and out of the dugout. You know what that makes you? Larry!

Its too bad Warren didnt get to pitch. He would have saved us.

Whoa -- that Contreras play in the 8th looked too much like a "Schwarber" -- nearly crashed into the wall going full speed, with Heyward doing the same.

New rule: if you are a catcher playing LF, and find yourself sprinting after a fly ball in the gap -- stop, let the CF go after it and get ready to play it off the wall.

Cubs have no spark and no life. Pretty boring to watch these days.

I thought trips to Miami were supposed to be fun. This one sucked.

The bottom half of the bullpen now turns close games into blowout losses. Not good.

Once Fowler went to the DL, the team went into the tank. Wonder if he'll get any love this offseason? Probably not.

6IP, 2ER. The last one scored because of another botched Zobrist DP turn.

And now, a bad throw by KB. Sloppy.

What is it with Hammel always starting well and sucking after a couple months?

Ahhh...sad. Lke a few of you here, I saw him play during the '69-'71 seasons. He was the "hot Zobrist" for the club in August/September of '69 while everyone else was fizzling out...

I predict: "They will play hard and if they give the same effort every day, they'll win a lot of games."

OK, boys -- find a way to win today.

There's some BA is missing too, here's all signing bonus BA doesn't have some:

-6 Hockin $241,000 (slot price), 7 Cruz $75,000 (saved $110,00), 8 Ridlings $120,000 (saved $53,800), 9 Robinson $30,000 (saved $132,300), so far the Cubs have saved an extra $297,100

per Muscat...
Zobrist (2B), Hayward (CF), Bryant (3B), Rizzo, Contreras (LF), Montero, Russell, Coghlan (RF), Hammel

Also -- despite losing 6 of their last 10, the Cubs picked up a game on both STL and PIT during that period. Weird, given that they swept PIT and were swept by STL.

Also, I'd like to know if there are numbers to back up my suspicion that there are a lot more fast starts than late June romps. This seems like a time where everybody not named Willson Contreras is looking a little tired and/or banged up a bit.

For once, the Cubs got off to a fast start. Seems like I've been waiting for that for 50 years.Everybody is really gunning for this team, too. It's their playoffs.