Game Preview: Cardinals (54-44) @ Cubs (45-53)
Submitted by

Rob G.

on Sun, 07/25/2010 - 5:37pm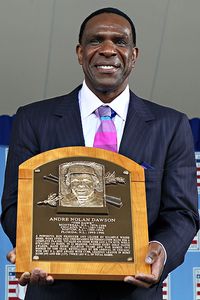 The last post is getting a little long in the tooth and a little bitchy, so let's move on to happier things like Andre Dawson's Hall of Fame induction today and the Cubs on the brink of a three game sweep over the Cardinals.
I don't have much to add actually on Dawson's speech today much like anything involving this site lately, but that smiling photo with the plaque classes up the joint.
As for the Cubs, they're third in the league in runs scored in July behind the Giants and Yankees. Who'd thunk? Three guys have OPS numbers north of 1.000 (Castro, Ramirez and Soto) with Byrd, Lee and Colvin around the .800 or above mark, leaving Soriano(.732 but with 5 HR's) and Theriot(.641) to bring up the rear.
Z threw two scoreless last night for Iowa with no walks, a hit and three K's and should join the team this week if he apologizes to his teammates for...giving a shit about losing? And probably for destroying the Gatorade cooler, I hear it was a clubhouse favorite.
Dempster got beat up a bit against the weakly 'Stros last time, but the offense bailed him out of a loss.
Lineup for tonight's game from Muskat's twitter feed:
rf colvin, ss castro, 1b lee, 3b ramy, cf byrd, lf sori, c soto, 2b riot, p demp
Recent comments
The first 600 characters of the last 16 comments, click "View" to see rest of comment.
I love this team.

Looks like Mother Nature is trying to call this fight.

Hey! I remember this team!

The key for Heyward's offense: get early leads. Heard a stat on Mike & Mike on the way to work that his avg/power much better this year when the Cubs have the lead. And true to form he gets the two run dinger with Cubs winning 3-0 ...

I'm sorry - I was probably not looking at the correct line, or spot, or...who knows!

I could blame it on the weed, but I stopped smoking many years ago.

Fortunately, I can rely on the rest of you sober and astute folks to bring the correct info forth.

Oh yeah! It just felt like one for some reason.

Agreed. I was not including Fowler or Heyward.

I'm just not a fan of 2016 Coghlan.....

@Dusty Contreras if it's a Lester or Arrieta start. TLS is good PH too. You also forgot about Heyward, assume Fowler is CF.

I expect Soler to get optioned as well when activated and Cahill to replace Grimm. It wouldn't surprise me if Coghlan and/or Soler is included in a trade.

Maybe Coghlan is up to see if he can get on track before someone acquires him.

This move could also be to assure that we have as much OF depth as possible to maximize Joe's ability to rest players in September once we've clinched.

Maddon basically said as much...Fowler still kind of sore, they're being proactive, etc.

La Stella at 2B...Baez at 3B, or vice versa. Zobrist in RF, Bryant in LF No one gets bumped.

If Coghlan is leading off, I assume Fowler is getting the day off. Who is supposed to lead off, then? Someone has to get on base for Bryant and Rizzo. Coghlan's OBP is .346 with the Cubs. Jackson's was .304. LaStella can lead off, but then he has to play second or third, and bump Zobrist or Baez.

Unless he gets hot, Coghlan will likely change places with Soler soon.

I suspect the Cubs asked Chris Coghlan if he would accept an Optional Assignment to the minors and he refused (Coghlan has one minor league option left), so either you keep LaStella on the 25 and release Coghlan, or option LaStella to AAA for about a month and have both LaStella and Coghlan available in September-October. (As an Article XIX-A player, Coghlan must give his permission before he can be optioned to the minors, while LaStella has not accrued enough MLB Service Time to refuse an optional assignment).


Given today's lineup -- maybe they just wanted an extra OF to give Dexter a few days off (i.e. day game after a night game).

Tommy LaStella has three minor leaue options left so it's no big deal to send him to Iowa, but as of right now he projects to be at 2+124 MLB Service Time by the end of the of the 2016 MLB regular season, which will place him "on the bubble" as far as being eligible for salary arbitration as a "Super Two" post-2016.

But if he spends at least twenty days on optional assignment this season (anything less than twenty days and he will accrue a full season of MLB Service Time), he will not have enough MLB Service Time to have a chance to be a "Super Two."


this will be his 4th time leading off for the cubs this season...WITH A .500 OB%! HAIL MADDON! THE PLAN (c)2016! HE HAS RISEN! #YOLO #SWAG! KONY 2012!

I don't hate Coghlan as a PHer but he's leading off today which is as bad as Austin Jackson doing so last year. He doesn't even have the speed.