Game Preview: Cardinals (54-44) @ Cubs (45-53)
Submitted by

Rob G.

on Sun, 07/25/2010 - 5:37pm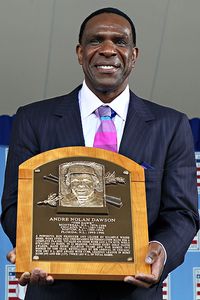 The last post is getting a little long in the tooth and a little bitchy, so let's move on to happier things like Andre Dawson's Hall of Fame induction today and the Cubs on the brink of a three game sweep over the Cardinals.
I don't have much to add actually on Dawson's speech today much like anything involving this site lately, but that smiling photo with the plaque classes up the joint.
As for the Cubs, they're third in the league in runs scored in July behind the Giants and Yankees. Who'd thunk? Three guys have OPS numbers north of 1.000 (Castro, Ramirez and Soto) with Byrd, Lee and Colvin around the .800 or above mark, leaving Soriano(.732 but with 5 HR's) and Theriot(.641) to bring up the rear.
Z threw two scoreless last night for Iowa with no walks, a hit and three K's and should join the team this week if he apologizes to his teammates for...giving a shit about losing? And probably for destroying the Gatorade cooler, I hear it was a clubhouse favorite.
Dempster got beat up a bit against the weakly 'Stros last time, but the offense bailed him out of a loss.
Lineup for tonight's game from Muskat's twitter feed:
rf colvin, ss castro, 1b lee, 3b ramy, cf byrd, lf sori, c soto, 2b riot, p demp
Recent comments
The first 600 characters of the last 16 comments, click "View" to see rest of comment.
jeebus... that's terrible.

Thanks AZ. If you like him, I like him.

Awesome report, and good to see Beeler on his way back.

I'm also very happy to hear about the bi-level bump for Daniel Lewis. In the Name of Theo, he was the Last of the Full-Season Cuts, and There Will Be Blood for those who unnecessarily slow his development. Sure, he might end up in independent ball pitching for Lincoln. But if everything breaks right, he may even have a shot at joining up with the Gangs of Chicago. I wouldn't bet My Left Foot on it, though.

CHARLIE: The Cubs did the same thing with LHSP Eric Jokisch last month, and it has nothing to do with needing the player's 40-man roster slot.

The hope is that another MLB club will claim the player, so that you aren't on the hook for any termination pay (which you would be if you release him) AND you pick up $20,000 from the claiming team, all for a guy you don't want going forward anyway.


Moosetacos, I like it. All I can think of is a bearded lumberjack dude operating a Mexican style taco truck with a Canadian accent.

How strange is this for May? Is it insignificant, or does it suggest some sort of trade might be in the works?

The Cubs have sent LHRP C. J. Riefenhauser outright to Iowa.

Cubs MLB 40-man roster now stands at 37 (three slots open).

yow...the a.gordon/m.moustakas collision now makes the schwarb collision look minor in scope.

gordon broke his wrist, expected to miss 4+ weeks...and today moosetacos has been diagnosed with a torn ACL. fun times in KC.

dodgers calling up julio urias for tommorow's game. neat.

fernando-mania might have a new heir...dude is 19 (turns 20 in august) and he's got a legit argument for being MLB-ready.

Tony LaRussa, still an idiot

Happ was the #9 pick last year, and he moved from OF to 2B in the same offseason that Castro was traded.

Gleyber also in the picture at second.

O&B: I think D. J. Wilson is a legit MLB prospect.

He is a hyperactive dynamo on the field, a protypical lead-off hitter who is looking to get on base any way he can, a triple machine (if there is such a thing) when he does make solid contact, a daring baserunner who goes berserk once he is on base, and a CF who plays a "no fear" crash & burn style of defense.

Guys like that sometimes get injured more-often than the average player, but if he can stay healthy and continue to progress, I believe he will be an MLB CF, or at worst a 4th OF.