Game Preview: Cardinals (54-44) @ Cubs (45-53)
Submitted by

Rob G.

on Sun, 07/25/2010 - 5:37pm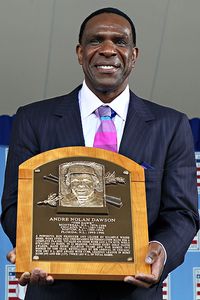 The last post is getting a little long in the tooth and a little bitchy, so let's move on to happier things like Andre Dawson's Hall of Fame induction today and the Cubs on the brink of a three game sweep over the Cardinals.
I don't have much to add actually on Dawson's speech today much like anything involving this site lately, but that smiling photo with the plaque classes up the joint.
As for the Cubs, they're third in the league in runs scored in July behind the Giants and Yankees. Who'd thunk? Three guys have OPS numbers north of 1.000 (Castro, Ramirez and Soto) with Byrd, Lee and Colvin around the .800 or above mark, leaving Soriano(.732 but with 5 HR's) and Theriot(.641) to bring up the rear.
Z threw two scoreless last night for Iowa with no walks, a hit and three K's and should join the team this week if he apologizes to his teammates for...giving a shit about losing? And probably for destroying the Gatorade cooler, I hear it was a clubhouse favorite.
Dempster got beat up a bit against the weakly 'Stros last time, but the offense bailed him out of a loss.
Lineup for tonight's game from Muskat's twitter feed:
rf colvin, ss castro, 1b lee, 3b ramy, cf byrd, lf sori, c soto, 2b riot, p demp
Recent comments
The first 600 characters of the last 16 comments, click "View" to see rest of comment.
I'm with you, Rob. You pretty much summed up how I feel about it.

Been quite the roller-coaster the past two days -- both games, plus the Chapman kerfuffel. How about a couple of nice, comfortable wins before facing Sale? Cubs should definitely wear throwbacks for that game.

The Cubs are stronger defensively than most of the teams they play. In order to capitalize on that, they have to a) put the ball in play and b) run the bases aggressively.

That said, Cabrera has a strong, accurate arm, as witnessed by his 97 outfield assists over 12 seasons--mostly left field but also a lot of center. Bryant is rarely thrown out, but I guess you have to know who's throwing the ball.

On the other hand, Pries won his first start for Iowa, only giving up two HRs in the process. This trade has got some legs yet!

KB now with 0 RBI in his last 10 games and 1 in his last 15, despite having 19 hits in his last 15 games and raising his batting average from .278 to .286 over that span.

Maybe have Zobrist hit 2 and KB hit 4?

Also -- no HR in the last 15 games -- time for a bunch. Starting tomorrow.

Down a run. Fowler on first. Nobody out. KB singles to left, Fowler makes it to third, perfect throw from Cabrera nails KB trying to stretch for 2nd.

So, instead of 1st & 3rd and no out, you have 3rd with one out. It was a perfect throw, but why take the chance with 3-4-5 hitters coming up?

Must be a Cub thing - our lefties can;t get lefties out.

Splitting hairs, but Jake's pitch was poor execution, while KB's play was a poor decision (and the 2nd time he got thrown out trying to stretch in the game). Poor execution happens. Poor decisions are preventable. Speaking of poor decisions -- Baez's steal of 3rd made absolutely no sense.

Didn't Jake cost them the game with a pitch to Frazier?

Missed the play w/Bryant. What happened?

Not a good decision by Bryant in the 9th. That may have cost them the game.

Can we un-do the Montgomery deal? Please?

Who is this Arrieta guy? Can I get the old one back please?

Well, this is, once again, the whole season for the Sox.

...and the Bryant RBI jinx continues in the 3rd....crap.