Game Preview: Cardinals (54-44) @ Cubs (45-53)
Submitted by

Rob G.

on Sun, 07/25/2010 - 5:37pm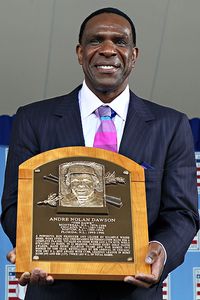 The last post is getting a little long in the tooth and a little bitchy, so let's move on to happier things like Andre Dawson's Hall of Fame induction today and the Cubs on the brink of a three game sweep over the Cardinals.
I don't have much to add actually on Dawson's speech today much like anything involving this site lately, but that smiling photo with the plaque classes up the joint.
As for the Cubs, they're third in the league in runs scored in July behind the Giants and Yankees. Who'd thunk? Three guys have OPS numbers north of 1.000 (Castro, Ramirez and Soto) with Byrd, Lee and Colvin around the .800 or above mark, leaving Soriano(.732 but with 5 HR's) and Theriot(.641) to bring up the rear.
Z threw two scoreless last night for Iowa with no walks, a hit and three K's and should join the team this week if he apologizes to his teammates for...giving a shit about losing? And probably for destroying the Gatorade cooler, I hear it was a clubhouse favorite.
Dempster got beat up a bit against the weakly 'Stros last time, but the offense bailed him out of a loss.
Lineup for tonight's game from Muskat's twitter feed:
rf colvin, ss castro, 1b lee, 3b ramy, cf byrd, lf sori, c soto, 2b riot, p demp
Recent comments
The first 600 characters of the last 16 comments, click "View" to see rest of comment.
Who is this Arrieta guy? Can I get the old one back please?

Well, this is, once again, the whole season for the Sox.

...and the Bryant RBI jinx continues in the 3rd....crap.

bryant's in the dugout filling a police report BECAUSE HE JUST GOT ROBBED.

f'n cabrerra...

chapman showing up and available tomorrow night.

i'm sure he'll be a bit hit. hope he doesn't choke. dude has a rifle for an arm. he'll add a bit of punch to the bullpen.

the 'crosstown classic' sure has lost it's magic with interleague. the excitement level is barely noticable...maybe it's a bit more hype in the city, itself.

Well he didn't leave a mark so its not that bad.

Fuck that.

Facts:

He choked her.

Her brother tackled him to separate him.

He cooled off by shooting his gun in the garage.

I don't have to like him on the team I follow.

And you are others are free to not give a shit about his personal misgivings if you so choose as well.

Sure, no marks and some inconsistencies in the witness's statements. But firing your gun into garage wall immediately after an argument and punching out your car window is still threatening and out of control behavior. There was certainly enough for MLB to think it warranted a 30-game suspension.

I'd prefer they be flexible with the closing situation depending on matchups. You're not really adding a lefty reliever if you use him strictly as a closer.

Stockpiling young talent isn't only for trading for someone like Chapman though. Even with an elite closer winning the World Series is basically a crap shoot so the key is to get to the playoffs as much as possible and not just mortgage everything on one year. Once you get there an elite bullpen certainly helps but the playoffs can be won by one hitter or starting pitcher getting hot (Murphy, Molina, Baumgardner) and a closer might not be able to stop that.

I'm also not crazy about press convictions. As the police report noted, there were no marks on the lady in question. There's a TMZ link (of course) to her police pictures, as well.

I think the only way this trade goes real bad is if Cubbery intervenes and Chapman is suddenly bad for some reason.

I am right there with you closing in on 60.

I don't care that much about "mortgaging" one player who is not only blocked by two guys, but is not ready to hit the majors for at least a couple years.

There is no reason why this team, this year, can't have a real shot at something NONE of us have experienced.

Further, I don't feel that even if they fall short that they have ruined their farm system.

I have made my opinion clear here, with others, Warren was shit on the Cubs save one spot start.

Trading for Warren, Warren sucking, getting Warren back for Chapman plus 3 prospects, sounds like Revenge of The Yankees on the former Boston executive. Old rivalries never die.

I pray to the heavens above Chapman doesn't suck for some reason, or he'll be booed out of town faster than a Todd Hundley revival meeting.

I'm kind of nostalgic for the Schwarber-for-Miller rumors.

This offseason, after some ridiculous playoff run and Chapman saving every game from here until the end of the postseason striking out 27/9innings, I welcome anyone to quote this thread and call me a dummy: I hate this trade, and my hate is 2 parts Chapman makes this team less likeable and 1 part that's a ridiculous overpay for 30 regular season innings and, at tops, 10 postseason innings. Already hoping they don't extend him.

btw...Thanks AZ Phil. I'm really enjoying your take on this trade.