Game Preview: Cardinals (54-44) @ Cubs (45-53)
Submitted by

Rob G.

on Sun, 07/25/2010 - 5:37pm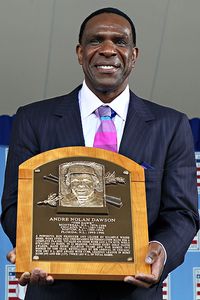 The last post is getting a little long in the tooth and a little bitchy, so let's move on to happier things like Andre Dawson's Hall of Fame induction today and the Cubs on the brink of a three game sweep over the Cardinals.
I don't have much to add actually on Dawson's speech today much like anything involving this site lately, but that smiling photo with the plaque classes up the joint.
As for the Cubs, they're third in the league in runs scored in July behind the Giants and Yankees. Who'd thunk? Three guys have OPS numbers north of 1.000 (Castro, Ramirez and Soto) with Byrd, Lee and Colvin around the .800 or above mark, leaving Soriano(.732 but with 5 HR's) and Theriot(.641) to bring up the rear.
Z threw two scoreless last night for Iowa with no walks, a hit and three K's and should join the team this week if he apologizes to his teammates for...giving a shit about losing? And probably for destroying the Gatorade cooler, I hear it was a clubhouse favorite.
Dempster got beat up a bit against the weakly 'Stros last time, but the offense bailed him out of a loss.
Lineup for tonight's game from Muskat's twitter feed:
rf colvin, ss castro, 1b lee, 3b ramy, cf byrd, lf sori, c soto, 2b riot, p demp
Recent comments
The first 600 characters of the last 16 comments, click "View" to see rest of comment.
John Arguello at Cubs Den with observations & photos from Monday's intrasquad game:

Pitchers are golfers

Getting tired of the caddy catcher excuse

Dan Vogelbach is working on his firstbase defense in Seattle. Seems to say the Cubs didn't teach him properly.

Oh my! Cards down 2-1 to Reds in the bottom of the 9th -- get a leadoff triple -- and don't score!

Gameday has stopped at the top of the 8th inning. Google tells me it ended up 8-4 Pirates but I can't get further detail. Guess I'll have to wait until the Cubs' website updates...

Phil, thanks for posting. Where do find the schedule? I have a condo in Surprise, yet I drove to Mesa and Tempe looking for a game today! Thanks!

Dear Baseball Gods--
My trip to Chicago has nothing whatsoever to do with the Cubs. In actuality, I am a Red Sox fan.
Sincerely,
CTSteve

Well, if Strop had to give up a run...at least he hit Sean Rodriguez to do it.

strop...stawwwp.

jaso has a cycle and 5 rbis...pit leads by 4.

have a nice bowl of pizza soup deep dish pizza...or a leisurely walk around the notorious south-side (bring money)...shopping at one of the walmart supercenters...waiting in line to waste $20 at willis tower...

seriously, though...it's chicago, a lot to do. have a dog for lunch, a great dinner, and catch some local comedy.

Strange, because he really seemed to have the Pirates number last year.

Bummer for Jake -- I think this is the first time all year his ERA has been over 3.00, and that will be his number for the year.

Jinx remover -- your trip doesn't have to be for a baseball game -- lots of stuff to do here in town.

Guess they could always try to White Sox (and Bears...sob) approach: Never Rebuild! Seems to work pretty well for them.

3rd time this season he's given up 6+ runs to PIT...only team he's given up 6+ runs to this season.

7 runs is the most he's given up since august 6th in colorado...in 2014.