Game Preview: Cardinals (54-44) @ Cubs (45-53)
Submitted by

Rob G.

on Sun, 07/25/2010 - 5:37pm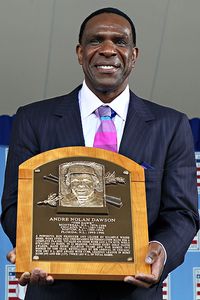 The last post is getting a little long in the tooth and a little bitchy, so let's move on to happier things like Andre Dawson's Hall of Fame induction today and the Cubs on the brink of a three game sweep over the Cardinals.
I don't have much to add actually on Dawson's speech today much like anything involving this site lately, but that smiling photo with the plaque classes up the joint.
As for the Cubs, they're third in the league in runs scored in July behind the Giants and Yankees. Who'd thunk? Three guys have OPS numbers north of 1.000 (Castro, Ramirez and Soto) with Byrd, Lee and Colvin around the .800 or above mark, leaving Soriano(.732 but with 5 HR's) and Theriot(.641) to bring up the rear.
Z threw two scoreless last night for Iowa with no walks, a hit and three K's and should join the team this week if he apologizes to his teammates for...giving a shit about losing? And probably for destroying the Gatorade cooler, I hear it was a clubhouse favorite.
Dempster got beat up a bit against the weakly 'Stros last time, but the offense bailed him out of a loss.
Lineup for tonight's game from Muskat's twitter feed:
rf colvin, ss castro, 1b lee, 3b ramy, cf byrd, lf sori, c soto, 2b riot, p demp
Recent comments
The first 600 characters of the last 16 comments, click "View" to see rest of comment.
Classic ending, about 12:11 AM, CST. 5 hours, 3 minutes. Both teams have bases loaded, no out situations in the last inning.

Magic #19.

Last man on the bench, Montero gets it done.

This fucking game

Baez lucky to not have hurt his hand with headfirst slide on play at plate in 12th inning.

#$@!$!@$!@$#@!$@!$!@#!@!

SOLER POWER!

Maddon's master plan to challenge his offense to improve on coming from behind late in games is working amazingly.

Everyone remember Starlin Castro dropping or misplaying just about every ball near second base that involved a tag?

Javier Baez is the opposite of that.

on the wild pitch thing, did they really call that a wild pitch on Jansen that Heyward scored on Friday? If so, I don't know what a passed ball is anymore.

Let's see -- up 3-0, at home, Jake on the mound annnnd....compare and contrast 2015 to 2016. Bleh.

Hopefully, the Pirates will uncork a series of 9th inning wild pitches.

modern media

@BNightengale: Former #MLB pitcher Dan Haren will be throwing to Tim Tebow tomorrow during his tryout in LA, he announced.

[email protected](dan haren): @BNightengale nope, I was offered the opportunity and declined.

@ithrow88 Oh and memo to my agent, @bvanwagenen: Pitching to Tim Tebow tomorrow DOES NOT count as getting me a real job offer.

I think the Cub Reporter should be politics free.
---
Build Bridges. Don't anyone dare pull out a trump card.

The Cub offense is in on the con.

1-for-10 so far w/RISP.

swing and a miss.

i'm gonna like...go stand over there. *points*

This is all a long con by Arrieta to lull playoff opponents.

the factual correction on your mistakes on your post that I barely bothered to read the first time because it had nothing to do with anything I wanted to talk about is indeed a sign of my degenerative brain condition. I appreciate the safety tip and will be looking into with extreme urgency now.

it took you 4 posts to get to this?

have you checked the batteries in your carbon monoxide detector?

#droppingknowledge #savinglives

Fwiw, Billy Hamilton's actual WAR numbers that relate to the ones that I posted for Mike Trout are:

2014: 2.5
2015: 1.0
2016: 2.6

But by all means #crunchsplain on the stupidity of WAR while exaggerating your points. I can't wait to read more.