Game Preview: Cardinals (54-44) @ Cubs (45-53)
Submitted by

Rob G.

on Sun, 07/25/2010 - 5:37pm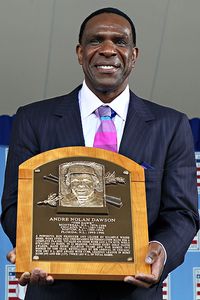 The last post is getting a little long in the tooth and a little bitchy, so let's move on to happier things like Andre Dawson's Hall of Fame induction today and the Cubs on the brink of a three game sweep over the Cardinals.
I don't have much to add actually on Dawson's speech today much like anything involving this site lately, but that smiling photo with the plaque classes up the joint.
As for the Cubs, they're third in the league in runs scored in July behind the Giants and Yankees. Who'd thunk? Three guys have OPS numbers north of 1.000 (Castro, Ramirez and Soto) with Byrd, Lee and Colvin around the .800 or above mark, leaving Soriano(.732 but with 5 HR's) and Theriot(.641) to bring up the rear.
Z threw two scoreless last night for Iowa with no walks, a hit and three K's and should join the team this week if he apologizes to his teammates for...giving a shit about losing? And probably for destroying the Gatorade cooler, I hear it was a clubhouse favorite.
Dempster got beat up a bit against the weakly 'Stros last time, but the offense bailed him out of a loss.
Lineup for tonight's game from Muskat's twitter feed:
rf colvin, ss castro, 1b lee, 3b ramy, cf byrd, lf sori, c soto, 2b riot, p demp
Recent comments
The first 600 characters of the last 16 comments, click "View" to see rest of comment.
Baez had Maddon's ass last night. I didn't hear the reason for taking Contreras out last night but whatever game management thingy it was, you don't take out your second hottest hitter. Or is he third? Anyway, you don't take him out. The guy can probably play anywhere in the field, anyway. Did anybody see that nice catch in left he made? I don't think he got a late start on that, just tracked it damn well for a catcher.

Per Fangraphs...

Bryant took over NL lead in WAR after yesterday's effort. 3.9. Rizzo's at 2.8 and 8th in the league. Rizzo actually with better offensive numbers (161 wRC+ versus 146 for Bryant), but Bryant gets a good bump because of defense and position(s) played.

Fowler with a 2.8 WAR as well (9th), Zobrist with a 2.7 (14th).

M. Carpenter leads NL with 163 wRC+ just ahead of Rizzo who is 2nd.

@jonahkeri Joe Maddon living out Joe Maddon fanfic IRL tonight

i like how strop played LF with his "crooked cap" look...that's not just for the mound.

let baez pitch the 15th, he earned it.

Forget the save, finally Javier!!

Can a pitcher get more than one hold in a game? Or a Win and a save?

Didn't they do this sort of thing with Sean Marshall years back? Sticking him in LF to save him to face others, but without a pitcher replacing him in LF.

This is the most beautiful thing ever.

all i wanna know is...when's d.ross gonna pitch?

Maddon is over-managing the shit out of this game.

yeah. ...or not...

i was a bit more confused why the guy who gave up a HR to votto last night was facing him with 2 men on.

...now that wood is coming in to pitch the following inning, the whole thing gets weirder. so like, okay.

Javy 0-6. At least he's consistent.