Game Preview: Cardinals (54-44) @ Cubs (45-53)
Submitted by

Rob G.

on Sun, 07/25/2010 - 5:37pm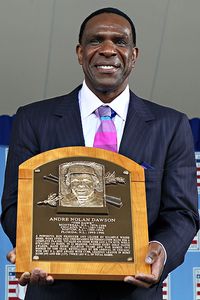 The last post is getting a little long in the tooth and a little bitchy, so let's move on to happier things like Andre Dawson's Hall of Fame induction today and the Cubs on the brink of a three game sweep over the Cardinals.
I don't have much to add actually on Dawson's speech today much like anything involving this site lately, but that smiling photo with the plaque classes up the joint.
As for the Cubs, they're third in the league in runs scored in July behind the Giants and Yankees. Who'd thunk? Three guys have OPS numbers north of 1.000 (Castro, Ramirez and Soto) with Byrd, Lee and Colvin around the .800 or above mark, leaving Soriano(.732 but with 5 HR's) and Theriot(.641) to bring up the rear.
Z threw two scoreless last night for Iowa with no walks, a hit and three K's and should join the team this week if he apologizes to his teammates for...giving a shit about losing? And probably for destroying the Gatorade cooler, I hear it was a clubhouse favorite.
Dempster got beat up a bit against the weakly 'Stros last time, but the offense bailed him out of a loss.
Lineup for tonight's game from Muskat's twitter feed:
rf colvin, ss castro, 1b lee, 3b ramy, cf byrd, lf sori, c soto, 2b riot, p demp
Recent comments
The first 600 characters of the last 16 comments, click "View" to see rest of comment.
I definitely hang around here looking to reply to your comments as noticed by my nearly year long absence.

there's a fine line between posting something relevant, useful or at least humorous versus posting something irrelevant, useless or unfunny...actually it's rather quite a thick line and easy to see for most people not named crunch.

I certainly am digging the RISP machine Zobrist version.

Cubs are taking advantage of bad D by their opponents -- did it a few times in PIT and the Nats botched 2-out rundown leads to 3 Cub runs in the 8th. Which were nice to have.

I hope Kyle had fun at the dance party -- he was terrific.

i hope he's getting more consideration for the 2-slot vs lefties, too.

I hope we can dispense with the Zobrist RISP concerns.

They call me Schwarberino because I'm basically Ruth,
and as long as we're rapping I'm gonna tell you the truth:
This team would be even better if I wasn't laid up;
we'd win the World Series, the Superbowl, and the Stanley Cup.
As long as we're at it, I'm putting the Premier League on notice.
Hell, if I were healthy, Epstein could run for POTUS.
My busted knee's even sadder than this presidential kerfuffle,
but my first rehab assignment will be the World Series Shuffle.

I am avoiding grading papers.

Phil,

With Mutton on the DL now, does Victorino finally get to Iowa?

I agree completely with Dusty. I appreciate him much more as the Nats skipper than as the Cubs.

so, what you're saying is you keep bringing up something over and over and over and over and over and over and over and over and over and over and over and over and over like you did with this issue for years back in the day...and obviously still into today...

...but that's fine if you do it.

brb, forming my next dozen replies for why you should shut up and never say anything about it again...oh wait, no i'm not because i'm not hanging around looking to tell you to shut up about repeating the same thing over and over and over and over...

Heyward looked fine shagging flies in BP. Wouldn't surprise me to see him in the line up tomorrow.

this seems like it could be an interesting series...parachat worthy.

speed leads...nothing ever changes. that's been a dusty thing since...forever.

holy shit, really? I made the comment because I had just discovered this novel trait that Dusty possesses.

btw, check out the leadoff hitter of the WS champion KC last year.

waaaat????? again with the knowledge dropping, I literally had no idea.

speed leads...nothing ever changes. that's been a dusty thing since...forever.

worst part is he's barely a speedster...just the best fitting.

btw, check out the leadoff hitter of the WS champion KC last year.

Gotta make sure you're not clogging up those bases.