Game Preview: Cardinals (54-44) @ Cubs (45-53)
Submitted by

Rob G.

on Sun, 07/25/2010 - 5:37pm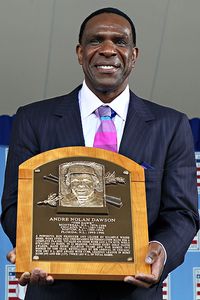 The last post is getting a little long in the tooth and a little bitchy, so let's move on to happier things like Andre Dawson's Hall of Fame induction today and the Cubs on the brink of a three game sweep over the Cardinals.
I don't have much to add actually on Dawson's speech today much like anything involving this site lately, but that smiling photo with the plaque classes up the joint.
As for the Cubs, they're third in the league in runs scored in July behind the Giants and Yankees. Who'd thunk? Three guys have OPS numbers north of 1.000 (Castro, Ramirez and Soto) with Byrd, Lee and Colvin around the .800 or above mark, leaving Soriano(.732 but with 5 HR's) and Theriot(.641) to bring up the rear.
Z threw two scoreless last night for Iowa with no walks, a hit and three K's and should join the team this week if he apologizes to his teammates for...giving a shit about losing? And probably for destroying the Gatorade cooler, I hear it was a clubhouse favorite.
Dempster got beat up a bit against the weakly 'Stros last time, but the offense bailed him out of a loss.
Lineup for tonight's game from Muskat's twitter feed:
rf colvin, ss castro, 1b lee, 3b ramy, cf byrd, lf sori, c soto, 2b riot, p demp
Recent comments
The first 600 characters of the last 16 comments, click "View" to see rest of comment.
i'm more "wtf?" about him hitting 2nd than playing LF...especially since zobrist exists.

Soler's primary position is suppose to be in left for this season so technically he is not out of position. Although I agree, it does seem weird given their histories.

Thanks Phil.

Any idea of where/when Cease will head for the season?

Over/under on HBP tonight?

Yes, I know KB played LF and Szczur played RF last night, but there's a legit case that RF is the easier draw at PNC.

Seems an odd lineup -- Soler in LF and Bryant in RF? Two guys out of position? I guess Fed has to catch tonight so All Star Gramps can catch Lester tomorrow. Or maybe Joe just wants somebody else to catch a no-hitter. Would love to see KB get the power turned on. C'mon Jorge -- channel your playoff self!

All it took was Schwarber, Heyward, and Szczur getting hurt for him to get to play again. Let's go ahead and call this little stretch your last real chance to prove you belong on this team, Jorge.

soler hitting 2nd...didn't expect that one.

tonight: Fowler, Soler, Bryant, Rizzo, Zobrisjt, Baez, Russell, Federowicz, Arrieta

roster shuffle official per Sun Times, Gordon Wittenmeyer on twitter...Szczur to DL with minor hamstring strain, Chris Villanueva to 60 day DL, Ryan Kalish to 40 man roster and gets the call-up.

There's an interview with Heyward up on ESPN where he says the wrist thing has been lingering and he just brought it up with the team as it didn't go away. So that could very well explain why he hasn't had the same hard contact recently.

Ryan Kalish writeup (by Peter Gammons last November):

~snip~

Villanueva goes to the 60 day DL.

Peter Gammons just tweeted that teammates are tweeting Kalish is getting recalled. Not sure which ones and what they'll do with the 40 man but there we go.

Jesee Rogers just said he thought Ryan Kalish would be the call up.

Ryan Kalish is not on the 40-man either.