Game Preview: Cardinals (54-44) @ Cubs (45-53)
Submitted by

Rob G.

on Sun, 07/25/2010 - 5:37pm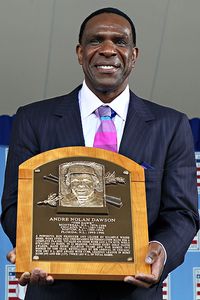 The last post is getting a little long in the tooth and a little bitchy, so let's move on to happier things like Andre Dawson's Hall of Fame induction today and the Cubs on the brink of a three game sweep over the Cardinals.
I don't have much to add actually on Dawson's speech today much like anything involving this site lately, but that smiling photo with the plaque classes up the joint.
As for the Cubs, they're third in the league in runs scored in July behind the Giants and Yankees. Who'd thunk? Three guys have OPS numbers north of 1.000 (Castro, Ramirez and Soto) with Byrd, Lee and Colvin around the .800 or above mark, leaving Soriano(.732 but with 5 HR's) and Theriot(.641) to bring up the rear.
Z threw two scoreless last night for Iowa with no walks, a hit and three K's and should join the team this week if he apologizes to his teammates for...giving a shit about losing? And probably for destroying the Gatorade cooler, I hear it was a clubhouse favorite.
Dempster got beat up a bit against the weakly 'Stros last time, but the offense bailed him out of a loss.
Lineup for tonight's game from Muskat's twitter feed:
rf colvin, ss castro, 1b lee, 3b ramy, cf byrd, lf sori, c soto, 2b riot, p demp
Recent comments
The first 600 characters of the last 16 comments, click "View" to see rest of comment.
With Paredes moving to 3B, how do you see playing time shaking out between him and Galindo? Do you think Galindo gets starts at 1B? Galindo is more of a prospect than Paniagua, right?

Phil, your knowledge of the Cubs Minor League system is unbelievable.

This kid would be a key piece in a trade for a pitcher, imo.

This might be old news but Hammel was on ESPN 1000 and said that he changed his diet and workout routine over the off season and tweaked his delivery so it'd be more repeatable so he'd have a better second half. So...some cause for optimism anyway.

CHILDERS: RHSP Dylan Cease and LHSP Bryan Hudson are probably the top two SP prospects in the organization right now.

LHSP Jose Paulino has electric stuff (91-94 MPH fastball with sinking action and a mid-80's slider), but he also has trouble commanding it.

RHP Jose Albertos (2015 IFA - Mexico - $1.5M bonus) just turned 17 in November, and his fastball already sits at 95-96. He also throws a curve and a change-up, and is fairly advanced for a kid his age.


AZBOBBOP: Most of 2016 draft picks will get assigned to either Eugene or AZL Cubs, but the Opening Day Eugune roster will probably be almost 100% from the Extended Spring Training squad roster (pending the arrival of draft picks).

I think I can probably tell you which pitchers and players at EXST are in contention for roster slots at Eugene and which are in contention for slots with the AZL Cubs - AS THINGS STAND RIGHT NOW - (listed alphabetically):

* bats or throws left
# bats both


Eloy Jimenez atop the leader board for minor-league home runs in the Cub system, with seven. Tied with Balaguert and Vogelbach, two 24-year-olds. Jimenez won't be 20 until late November. Leads the Midwest League in SLG and OPS. Maybe he'll get promoted to the Myrtle Beach squad that visits Woodbridge, VA, in June or Frederick, MD, in August.

Watched two Pelican games at Frederick the other week. Was most impressed by Stinnett and Happ. Happ may swing harder than Javier Baez, though more compactly. (Also got to see Brockmeyer hit a bomb.)

E-MAN: Jose Paniagua isn't a string-bean, but I wouldn't say he necessarily bulked-up during the 2015-16 off-season either, He led the DSL Cubs in HR and doubles in 2014, and he showed XBH power when he arrived in Mesa last year, leading the AZL Cubs in HR, doubles, and RBI in 2015. It's just that he has taken his HR power to a new level this year.

Paniagua displayed plus-HR power in Cactus League Minor League Spring Training games in March, and that got him a slot on the South Bend Opening Day roster. But he was sent to EXST after only six MWL games.


Martinez is one of my least favorite pitchers in baseball. I'd love to see a game like yesterday's against him.

Send Soler down!

Great report, Phil! This organization has so many hitters to be excited about.

Ben Zobrist is very enjoyable to watch!!!!!!

given that he seems to only be throwing low 90s these days rather than the 93-96mph he used to throw, along with his wildness issues this year, he may end up passing through.

i dunno if something is wrong with him physically or his past shoulder issues has rendered him what he currently is, but he's been throwing a lot of sliders he can't control well and his fastball isn't as sharp. even when his slider wasn't working in a game he was still throwing a lot of them.