Game Preview: Cardinals (54-44) @ Cubs (45-53)
Submitted by

Rob G.

on Sun, 07/25/2010 - 5:37pm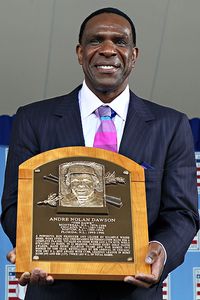 The last post is getting a little long in the tooth and a little bitchy, so let's move on to happier things like Andre Dawson's Hall of Fame induction today and the Cubs on the brink of a three game sweep over the Cardinals.
I don't have much to add actually on Dawson's speech today much like anything involving this site lately, but that smiling photo with the plaque classes up the joint.
As for the Cubs, they're third in the league in runs scored in July behind the Giants and Yankees. Who'd thunk? Three guys have OPS numbers north of 1.000 (Castro, Ramirez and Soto) with Byrd, Lee and Colvin around the .800 or above mark, leaving Soriano(.732 but with 5 HR's) and Theriot(.641) to bring up the rear.
Z threw two scoreless last night for Iowa with no walks, a hit and three K's and should join the team this week if he apologizes to his teammates for...giving a shit about losing? And probably for destroying the Gatorade cooler, I hear it was a clubhouse favorite.
Dempster got beat up a bit against the weakly 'Stros last time, but the offense bailed him out of a loss.
Lineup for tonight's game from Muskat's twitter feed:
rf colvin, ss castro, 1b lee, 3b ramy, cf byrd, lf sori, c soto, 2b riot, p demp
Recent comments
The first 600 characters of the last 16 comments, click "View" to see rest of comment.
JAVY "BAE"Z

I LOVE YOU

JUST...

THIS SEASON.

WOW.

Was there, MC ignored me, left >:(

That was a bad first inning.

Battle through Jason, get to the fifth giving up only those two, Cubs will be alright.

Mornington_Crescent joined.
Carlos_RM: This Piscotty fellow...
Carlos_RM: He's not likeable
Mornington_Crescent left.

Well, at least it took Hammel 2 batters to give up a first inning run.

Worst nightmare realized in under 3 minutes.

I'm so anxious I can hardly stare at my screen pretending to work.

Harry Caray video for 7th inning at stretch today! I support this completely.

Maybe he would also be willing to pitch pitches #2 through 80 as well...

Would hope so. Don't think the Cards can activate a retired player for the playoffs.

I'm curious. In your experience watching prospects at the lowest and more instructional level, what do teams teach their young players regarding takeout slides (for instance, would they teach guys to do the Coghlan/Kang type slide, discourage late slides like Utley's and Holliday's, etc.), and has what they teach changed at all in recent years?