Game Preview: Cardinals (54-44) @ Cubs (45-53)
Submitted by

Rob G.

on Sun, 07/25/2010 - 5:37pm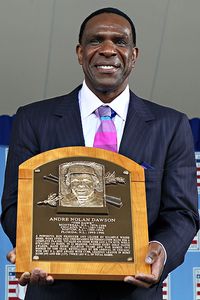 The last post is getting a little long in the tooth and a little bitchy, so let's move on to happier things like Andre Dawson's Hall of Fame induction today and the Cubs on the brink of a three game sweep over the Cardinals.
I don't have much to add actually on Dawson's speech today much like anything involving this site lately, but that smiling photo with the plaque classes up the joint.
As for the Cubs, they're third in the league in runs scored in July behind the Giants and Yankees. Who'd thunk? Three guys have OPS numbers north of 1.000 (Castro, Ramirez and Soto) with Byrd, Lee and Colvin around the .800 or above mark, leaving Soriano(.732 but with 5 HR's) and Theriot(.641) to bring up the rear.
Z threw two scoreless last night for Iowa with no walks, a hit and three K's and should join the team this week if he apologizes to his teammates for...giving a shit about losing? And probably for destroying the Gatorade cooler, I hear it was a clubhouse favorite.
Dempster got beat up a bit against the weakly 'Stros last time, but the offense bailed him out of a loss.
Lineup for tonight's game from Muskat's twitter feed:
rf colvin, ss castro, 1b lee, 3b ramy, cf byrd, lf sori, c soto, 2b riot, p demp
Recent comments
The first 600 characters of the last 16 comments, click "View" to see rest of comment.
Kershaw, Fernandez and Syndergaard are your current leaders and all will be pitching meaningful games down the stretch that could make or break them. Hendricks will not be and his saber-numbers aren't anywhere close to those 3 and he'd split votes with Arrieta and Lester whom all are basically neck-and-neck for WAR and FIP. If Kershaw pitches like just okay Kershaw in September he deserves to win in a landslide. Voters are pretty much saber-inclined now so it would take a crazy shutout streak or something for Hendricks to jump in the picture.

AZ PHIL: With starters the likes of Edwin Jackson, even Chris Rusin or Michael Bowden could look good on their staff. At best, he is a #5-6. But as always, LH are at a premium.

Sure we would all want consistency. He is not even 24, has played 5 (!) positions this year. Can you imagine what is in his head? He was only a part-time player at 2 spots last year. And THEN think about hitting?? Cut him some slack...You sure are picky lately. First wishing #6 NL RBI guy Russell have a better average, and now an "unncessarily fancy pick". Geez tough crowd!

it's going to be hard to take down scherzer.

kershaw is supposedly coming back soon, though he'll probably need a good amount of deep innings to match up with scherzer...probably too late at this point. tanner roark, bumgarner, and hendricks are probably going to steal some votes along with kershaw.

I absolutely love Javy's game, and I love the way Maddon changed the perception of him as a ballplayer, but I really wish he would just make the routine plays routinely. On the ground ball in the 9th, he made an unnecessarily fancy pick. He made the play, but tried the same thing last night and made an error.

How many wins does Kyle need for serious Cy Young consideration? Would 17 be enough if he leads the league in ERA? My goodness, what a season -- makes a Dartmouth alum proud.

hendricks WHIP drops to 0.98 over 159 innings after throwing 7ip 3h 1bb 4k, 0r/er

ERA down to 2.09 on the season.

crazy good.

I am pretty well fed up with the majority of home plate umps. Just terrible inconsistencies.

Oh shit forgot about that
Shark and Sczur right?

Yes, football player?- check.

he subscribes to my twitter, he's beyond TCR. #yolo #swag

Whoops. Maddon must have been reading TCR (for his daily crunch) and got confused.

kuhl is a righty, not a lefty.

i think maddon might think kuhl is a lefty, too. i wonder what the reasoning is for baez leading off vs a rightie.