Game Preview: Cardinals (54-44) @ Cubs (45-53)
Submitted by

Rob G.

on Sun, 07/25/2010 - 5:37pm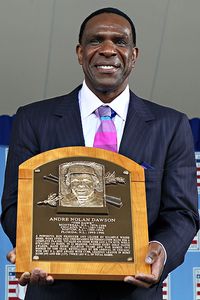 The last post is getting a little long in the tooth and a little bitchy, so let's move on to happier things like Andre Dawson's Hall of Fame induction today and the Cubs on the brink of a three game sweep over the Cardinals.
I don't have much to add actually on Dawson's speech today much like anything involving this site lately, but that smiling photo with the plaque classes up the joint.
As for the Cubs, they're third in the league in runs scored in July behind the Giants and Yankees. Who'd thunk? Three guys have OPS numbers north of 1.000 (Castro, Ramirez and Soto) with Byrd, Lee and Colvin around the .800 or above mark, leaving Soriano(.732 but with 5 HR's) and Theriot(.641) to bring up the rear.
Z threw two scoreless last night for Iowa with no walks, a hit and three K's and should join the team this week if he apologizes to his teammates for...giving a shit about losing? And probably for destroying the Gatorade cooler, I hear it was a clubhouse favorite.
Dempster got beat up a bit against the weakly 'Stros last time, but the offense bailed him out of a loss.
Lineup for tonight's game from Muskat's twitter feed:
rf colvin, ss castro, 1b lee, 3b ramy, cf byrd, lf sori, c soto, 2b riot, p demp
Recent comments
The first 600 characters of the last 16 comments, click "View" to see rest of comment.
Check out John Arguello at Cubs Den for great analysis & photos from Cubs AZ Instructs

soler + hammel for mike trout is pretty much a sure thing. *nods*

Not an inspired outing by Rondon. Seemingly got ahead of every hitter but had no swing and miss pitch today, slider had no bite.

Somebody give Soler some smelling salts - yeesh

And...now that runner scores on a single...

So where do you think Soler will be traded to this off season?

And right on cue he throws to third with no chance to get runner on 2nd so the batter takes 2nd easily. How long has he been playing baseball??

Man you cannot put Soler out there late in games for Playoffs. Yuch...

Such is the life of a fatted calf...

fowler with a triple in the 4th...he's a HR away from a "natural" cycle

...and contreras takes one off the hand and he's in obvious pain. sigh.

he's staying in the game, though he's wringing his hand out during breaks in the action. aside from that he seems to have no issue giving signs or tossing back to the pitcher.

...and he's batting in the cubs half of the following inning. sweet.

his collapse started on august 21st this season...so it's a slight improvement.

but wow, what a collapse since then...only 2 out of 7 can be considered good/decent.

I'm really going to enjoy watching Hammel watch the playoffs.

The always combustible Jason Hammel

"home field advantage through the playoffs?"

Except for the away games.