Game Preview: Cardinals (54-44) @ Cubs (45-53)
Submitted by

Rob G.

on Sun, 07/25/2010 - 5:37pm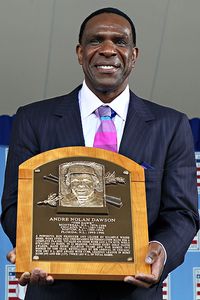 The last post is getting a little long in the tooth and a little bitchy, so let's move on to happier things like Andre Dawson's Hall of Fame induction today and the Cubs on the brink of a three game sweep over the Cardinals.
I don't have much to add actually on Dawson's speech today much like anything involving this site lately, but that smiling photo with the plaque classes up the joint.
As for the Cubs, they're third in the league in runs scored in July behind the Giants and Yankees. Who'd thunk? Three guys have OPS numbers north of 1.000 (Castro, Ramirez and Soto) with Byrd, Lee and Colvin around the .800 or above mark, leaving Soriano(.732 but with 5 HR's) and Theriot(.641) to bring up the rear.
Z threw two scoreless last night for Iowa with no walks, a hit and three K's and should join the team this week if he apologizes to his teammates for...giving a shit about losing? And probably for destroying the Gatorade cooler, I hear it was a clubhouse favorite.
Dempster got beat up a bit against the weakly 'Stros last time, but the offense bailed him out of a loss.
Lineup for tonight's game from Muskat's twitter feed:
rf colvin, ss castro, 1b lee, 3b ramy, cf byrd, lf sori, c soto, 2b riot, p demp
Recent comments
The first 600 characters of the last 16 comments, click "View" to see rest of comment.
Yeah, but he kills lefties.

wow...instant hardcore rain.

rain delay.

it was massive...hit off the bottom of the LF scoreboard.

Projected at 461 ft, with a 108 mph exit velocity - longest Cub HR this year by 20 ft (I think Arrieta had the longest?)

this team is full of horrible walkup music...rizzo uses 'marky mark and the funky bunch' more than he should...which is any at all.

d.ross uses alphaville 'forever young' because lulz.

lastella was using (still might be) 'oh what a night' by the four seasons.

turrible turrible stuff.

ROSS #100!

cubs lead 1-5, bottom 4.

Just noticed that Baez's current walk-up song is "Informer" by Snow. Dear God. That's world class bad.

Hey Lester is left handed!

Probably a good idea to give Rizz a couple of days off (slumps happen to the best -- Harper just broke a 4-for-33 with a HR yesterday). Never been a big fan of an all-RH lineup. The pitcher has the same look and same target for every hitter. At least, as a mediocre HS pitcher, facing a mixture of LH/RH hitters messed me up. A lack of talent and weak-ass stuff may have also been contributing factors.

Would you say Brooks doesn't have any upside going forward? Seems like he could be one of those hybrid starter reliever types maddon seems to like having in his bullpen. But I haven't seen a ton of him, and he got hit around pretty good last year in mlb

Well executed!

I've been wracking my brain to work a "Room With a View" reference in there but I just haven't gotten it to work.

Bryant might be playing SS during an infield shift, no? Usually he is moved to 2B but it could happen.

I won't really be happy until I see Bryant at shortstop.

Yeah, Underwood impresses the internet scouts more than the opposing hitters. Blackburn and Williams have pitched well but they would be more interesting if they missed more bats.

Myrtle Beach has a couple of guys--Trevor Clifton and Jake Stinnett--worth keeping an eye on.

South Bend has the best record in the Midwest League but it's more about their bats than their starting pitching.