Game Preview: Cardinals (54-44) @ Cubs (45-53)
Submitted by

Rob G.

on Sun, 07/25/2010 - 5:37pm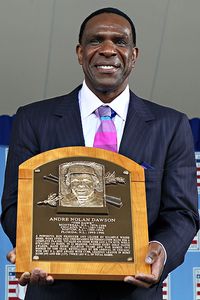 The last post is getting a little long in the tooth and a little bitchy, so let's move on to happier things like Andre Dawson's Hall of Fame induction today and the Cubs on the brink of a three game sweep over the Cardinals.
I don't have much to add actually on Dawson's speech today much like anything involving this site lately, but that smiling photo with the plaque classes up the joint.
As for the Cubs, they're third in the league in runs scored in July behind the Giants and Yankees. Who'd thunk? Three guys have OPS numbers north of 1.000 (Castro, Ramirez and Soto) with Byrd, Lee and Colvin around the .800 or above mark, leaving Soriano(.732 but with 5 HR's) and Theriot(.641) to bring up the rear.
Z threw two scoreless last night for Iowa with no walks, a hit and three K's and should join the team this week if he apologizes to his teammates for...giving a shit about losing? And probably for destroying the Gatorade cooler, I hear it was a clubhouse favorite.
Dempster got beat up a bit against the weakly 'Stros last time, but the offense bailed him out of a loss.
Lineup for tonight's game from Muskat's twitter feed:
rf colvin, ss castro, 1b lee, 3b ramy, cf byrd, lf sori, c soto, 2b riot, p demp
Recent comments
The first 600 characters of the last 16 comments, click "View" to see rest of comment.
j.buchanan with a nice start...5ip 2h 1bb 3k, 0r/er

zobrist with 2HR and a double through 8

heyward 0-4 :(

Mark Gonzales @MDGonzales

Soler likely to return Sunday, Maddon says

Right now, I'd like to see the Mets first, Giants 2nd.

I believe that since most of the team from last years' NLCS is on the squad this year, they will really amp their game up even more to kick their ass in payback for 2015.

The Giants just do not have the depth in years past, and I think all things equal - and at Wrigley - they could handle them.

I do not want to see the Cards, period. Or their fans, media, or Joe Buck.

I don't want to play Braves in the first round. Any friggin team in the league can win 3 of 5..I hate the first round. Furthermore, I wanted to play the Marlins in 2003 and the Mets over Dodgers last year.

With that said in reverse order:
3. Cardinals: It will be devastating to lose in the first round, but even worse to their main rival. It is increased incentive for the Cardinals, especially after last year. Cards would have nothing to lose, Cubs have everything to lose.

2. Giants: Rotation in the playoffs scare me a bit, but what a lousy team.

1. Mets--because of the losses in the rotation
2. Giants--because they're not the team they were BUT they maybe have bullshit even-year magic?
3. Cardinals--because rivalry and not making the playoffs hurts them more than losing in the NLDS plus getting eliminated by them in the playoffs would make for horrible sports commentary next throughout next season.

I got the first one! Second one I'm not even sure what even/odd betting is.

any opponent preference for NLDS?

Mets are down to 1 great pitcher instead of 4. Syndegaard may pitch Sunday which means if Mets win the WC game, he'd be set up for Game 1. There's a chance they clinch a spot by Sunday so he'd pitch the WC and then we'd probably get Colon for Game 1. They've certainly had the hottest bats over the last week and month out of the WC options.

A couple of Cub related puzzles.

Can't teach height and thinness

Hopefully Pirates don't call up A. Lincoln.

j.buchanan going friday...should be...baseball...or something like it.

Wow. I didn't know they could do that.

Nice for Willson, not so much for Addy.

Game is officially called...also officially a tie.

Stats count, no make-up date of course.

Yeah -- seeing the weather -- I hope KB and Rizz are inside, wrapped in blankets and drinking hot chocolate.