Game Preview: Cardinals (54-44) @ Cubs (45-53)
Submitted by

Rob G.

on Sun, 07/25/2010 - 5:37pm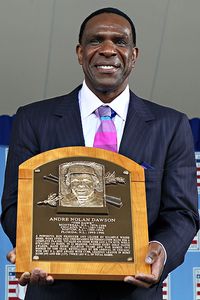 The last post is getting a little long in the tooth and a little bitchy, so let's move on to happier things like Andre Dawson's Hall of Fame induction today and the Cubs on the brink of a three game sweep over the Cardinals.
I don't have much to add actually on Dawson's speech today much like anything involving this site lately, but that smiling photo with the plaque classes up the joint.
As for the Cubs, they're third in the league in runs scored in July behind the Giants and Yankees. Who'd thunk? Three guys have OPS numbers north of 1.000 (Castro, Ramirez and Soto) with Byrd, Lee and Colvin around the .800 or above mark, leaving Soriano(.732 but with 5 HR's) and Theriot(.641) to bring up the rear.
Z threw two scoreless last night for Iowa with no walks, a hit and three K's and should join the team this week if he apologizes to his teammates for...giving a shit about losing? And probably for destroying the Gatorade cooler, I hear it was a clubhouse favorite.
Dempster got beat up a bit against the weakly 'Stros last time, but the offense bailed him out of a loss.
Lineup for tonight's game from Muskat's twitter feed:
rf colvin, ss castro, 1b lee, 3b ramy, cf byrd, lf sori, c soto, 2b riot, p demp
Recent comments
The first 600 characters of the last 16 comments, click "View" to see rest of comment.
KOYIES BANSAW: I would say Aaron Brooks is comparable to Dallas Beeler. When healthy, they both provide AAA starting pitcher depth until somethng better comes up through the pipeline. Maybe the "26th man" when the Cubs need a 6th starter for a doubleheader.


he's destroying it for SD in the majors this year.

23.1ip 10h 11bb 33k

0.77era/0.90whip

The Cubs had Ryan Buchter at AAA last year and he's death on lefties, but they let him walk away as a minor league FA post-2015.

f'real...didn't even streak or try to beat up a base coach or anything.

After the game, jacos was DFA'd. #nohelp

Richard proving once again that, if you are really bad, it doesn't matter which hand you throw with.

Maybe time to find out what we have in Edwards?

Oof -- ugly game at the plate and from the pen, which was the hero yesterday.

Sorry Jake -- you deserved better.

k.bryant playing SS...because fuck it, that's why.

g.soto is doing horrible in AAA...unfortunately.

unless they decide to bring up g.concepcion or make a trade we might have richard around a little longer.

...that said, it wouldn't surprise me to see him DFA'd after the game...the "lefty specialist" just let 3 lefties in a row get on base. ugg.

Ahhh Richard with your 6.00+ ERA as a short reliever...

You ain't gonna be on no Playoff roster.

I'll give this to Richard: he looks the part of a good pitcher, straight out of central casting. It's a shame he struggles with the getting guys out part of the game.

Didn't take Richard long. He is an absolute disaster.

Thru seven innings the Cubs have more errors than hits and Zobrist has struck out 3 times. And now Richard is pitching.

These things do not add up to victory

It was from about 15 years ago

Vin Scully sang the seventh-inning stretch. Along with all the great things he is known for, he can sing! He sounded like Willie Nelson out there. And he gave a nice shout-out to Harry. What a class guy.