Game Preview: Cardinals (54-44) @ Cubs (45-53)
Submitted by

Rob G.

on Sun, 07/25/2010 - 5:37pm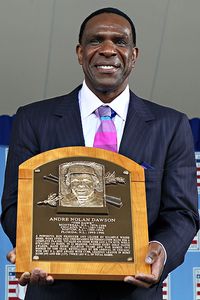 The last post is getting a little long in the tooth and a little bitchy, so let's move on to happier things like Andre Dawson's Hall of Fame induction today and the Cubs on the brink of a three game sweep over the Cardinals.
I don't have much to add actually on Dawson's speech today much like anything involving this site lately, but that smiling photo with the plaque classes up the joint.
As for the Cubs, they're third in the league in runs scored in July behind the Giants and Yankees. Who'd thunk? Three guys have OPS numbers north of 1.000 (Castro, Ramirez and Soto) with Byrd, Lee and Colvin around the .800 or above mark, leaving Soriano(.732 but with 5 HR's) and Theriot(.641) to bring up the rear.
Z threw two scoreless last night for Iowa with no walks, a hit and three K's and should join the team this week if he apologizes to his teammates for...giving a shit about losing? And probably for destroying the Gatorade cooler, I hear it was a clubhouse favorite.
Dempster got beat up a bit against the weakly 'Stros last time, but the offense bailed him out of a loss.
Lineup for tonight's game from Muskat's twitter feed:
rf colvin, ss castro, 1b lee, 3b ramy, cf byrd, lf sori, c soto, 2b riot, p demp
Recent comments
The first 600 characters of the last 16 comments, click "View" to see rest of comment.
Please do not discuss War here. I think the Cub Reporter should be politics free.

But yes, whether you support War or Peace...Mike Trout is ridiculously consistent and good.

"According to FOX Sports' Jon Morosi, Tim Tebow's baseball workout Tuesday in Los Angeles will be attended by scouts from "roughly half" of the 30 major league teams."

"One scout told ESPN.com last week that Tebow's swing is so long it might "take out the front row." That's not a good thing."

MyrtleBeachPelicans [email protected]

The #MBpelicans and @Cubs have extended their PDC through 2020!
----
Carolina League getting 2 new teams too.

CF WAR is ridiculous...billy hamilton is pulling a 3.0 WAR somehow...and managed a 2.0 WAR last year (even though he missed a month of the season)...and a 3.7 WAR in 2014.

yeah, a lot depends on how one is doing relative to others at a given position, but WAR is common used (right or wrong) as a blanket comparing all kinds of players.

trout's one of the best, and at this point should probably win over donaldson (and should have more MVPs in the past, too), but the defensive aspect of valuing WAR still needs more tweaking...imo.

Don't know if Cubs will recover from "spanking" Gordo

2nd in defensive WAR, NL.

6th in NL in RBI

Go complain about something else, like, "they never play good against the good teams", or some other shit.

Addy really has trouble breaking through .250 BA -- after his hot streak got him to .251, he has gone 1-for-17.

Thank goodness for Jansen's 2 WP on Friday -- otherwise this would have been a sweep.

There seems to be a direct correlation with overconfidence in the Cubs offense against mediocre/young pitchers and really poor offense against mediocre/young pitchers. So, let's fear the Pirate pitchers!

Rizzo due for a power surge -- one HR in August so far. He truly does hit them in bunches.

Sometimes I'm not as supportive of Cahill as maybe I should be. There, I said it.

Rough 8th inning all around -- HBP, Cahill error, Javy's poor decision.

Oh well - given that the Cubs didn't look like they were going to score, it's better to lose in 9 innings, save the bullpen and get changed for the PJ trip home.

heyward with his 3rd multi-hit game since the all-star break (all in august)...2nd in the past 3 games during his 7 game hitting streak.

he's gone from flirting with a sub-.300 ob% to nearing .310 ob% in 3 games (1 game was just a 1 for 1 pinch hit appearance). all 5 hits in the past 3 games have come in a row...neat.