Game Preview: Cardinals (54-44) @ Cubs (45-53)
Submitted by

Rob G.

on Sun, 07/25/2010 - 5:37pm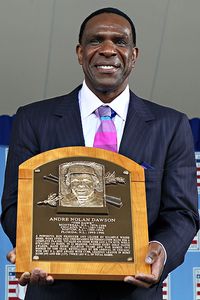 The last post is getting a little long in the tooth and a little bitchy, so let's move on to happier things like Andre Dawson's Hall of Fame induction today and the Cubs on the brink of a three game sweep over the Cardinals.
I don't have much to add actually on Dawson's speech today much like anything involving this site lately, but that smiling photo with the plaque classes up the joint.
As for the Cubs, they're third in the league in runs scored in July behind the Giants and Yankees. Who'd thunk? Three guys have OPS numbers north of 1.000 (Castro, Ramirez and Soto) with Byrd, Lee and Colvin around the .800 or above mark, leaving Soriano(.732 but with 5 HR's) and Theriot(.641) to bring up the rear.
Z threw two scoreless last night for Iowa with no walks, a hit and three K's and should join the team this week if he apologizes to his teammates for...giving a shit about losing? And probably for destroying the Gatorade cooler, I hear it was a clubhouse favorite.
Dempster got beat up a bit against the weakly 'Stros last time, but the offense bailed him out of a loss.
Lineup for tonight's game from Muskat's twitter feed:
rf colvin, ss castro, 1b lee, 3b ramy, cf byrd, lf sori, c soto, 2b riot, p demp
Recent comments
The first 600 characters of the last 16 comments, click "View" to see rest of comment.
I noticed that too. He's getting to everything, but when he gets right under it on a high flyball he looks uncomfortable

Did you expect anything different?

Wow, did they blow this game. Stupid plays by the kids in the 7th -- Almora throwing to 3rd instead of 2nd to keep the DP in order (when a DP probably wins the game) and Baez throwing to 3rd (to a backpedalling KB) instead of getting the easy 2nd out at first - cost them the game. Also, Contreras almost throws the ball into RF on a nonexistent pick-off play. And Maddon, for using Peralta in the first place. Did they do a bunch of shots in the dugout before the 7th? Unbelievably bad baseball. I thought Almora had a high baseball IQ?

men on 2nd/3rd, 0 out...and nothing.

cubs lose :(

Getting tired of this Heywood weak sauce

Yep, can't say I disagree with that. His first batter and resulting walk was just brutal. Reminded me of a bit of Jacque Jones spiking his throws into the ground from RF.

The use of Peralta in any semblance of a high leverage situation is questionable at best.

fixed that for ya.

The use of Peralta in any semblance of a high leverage situation is questionable at best. Hind sight is easy but Peralta had nothing.

make that just peralta...

a.soriano new OF fielding coach?

Why is Almora jumping up on catches?

"Tommy La Stella (hamstring) will remain on his minor league rehab assignment through at least Friday."

should be an interesting roster shuffle once these guys trickle back in. i imagine patton or peralta are on the hot seat for la stella's return.

6 pitches, 2 run lead.

neat.

Not certain why the site has been slowed. Worked much of Wednesday on it and will continue today. Sorry for the inconvenience. I will probably take it offline for a while, but it will be up before the game against the Mets.