Game Preview: Cardinals (54-44) @ Cubs (45-53)
Submitted by

Rob G.

on Sun, 07/25/2010 - 5:37pm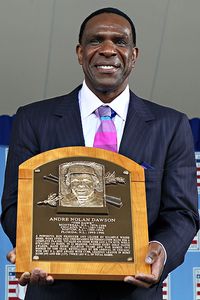 The last post is getting a little long in the tooth and a little bitchy, so let's move on to happier things like Andre Dawson's Hall of Fame induction today and the Cubs on the brink of a three game sweep over the Cardinals.
I don't have much to add actually on Dawson's speech today much like anything involving this site lately, but that smiling photo with the plaque classes up the joint.
As for the Cubs, they're third in the league in runs scored in July behind the Giants and Yankees. Who'd thunk? Three guys have OPS numbers north of 1.000 (Castro, Ramirez and Soto) with Byrd, Lee and Colvin around the .800 or above mark, leaving Soriano(.732 but with 5 HR's) and Theriot(.641) to bring up the rear.
Z threw two scoreless last night for Iowa with no walks, a hit and three K's and should join the team this week if he apologizes to his teammates for...giving a shit about losing? And probably for destroying the Gatorade cooler, I hear it was a clubhouse favorite.
Dempster got beat up a bit against the weakly 'Stros last time, but the offense bailed him out of a loss.
Lineup for tonight's game from Muskat's twitter feed:
rf colvin, ss castro, 1b lee, 3b ramy, cf byrd, lf sori, c soto, 2b riot, p demp
Recent comments
The first 600 characters of the last 16 comments, click "View" to see rest of comment.
bored...looking at stats for the hell of it...

felix pena (26yo) moving to the pen in AAA is looking like an insanely good fit so far in a smallish sample size

13ip 4h 3bb 20K

remembering back to spring training he was regularly hitting mid-90s (though he didn't have a good spring stats-wise). as a starter in the minors he usually worked low-90s.

this could be an arm worth keeping an eye on even if he's only a 1-inning guy who was "demoted" to the pen to start the year.

Phil, historically this front office has been patient with their prep pitchers keeping their IP low and moving them one level at a time. I know I'm getting ahead of myself, and you may not be able to formulate an opinion on this, but you've seen a lot of pitchers over the years, so...

nice.

also, after tonight's loss, STL is 13-14.

also also, the wsox are 19-8.

Win tomorrow, and the Cubs would have a 6-game lead. On May 4.

Fully agree on Addy -- hope he is our SS for a long time. I'm just surprised he has 4 errors already -- the last 2 on routine plays.

Guess how many Carlos Correa has?

3

I would still rather have Russell, right now, than any shortstop the team has had in many years. The future is bright enough to wear shades.

EDIT: Gonzo WOULD have been my favorite, 'cepting a certain error of a double-play ball...

Hi Phil, made it home tonight safely. Looks like Cease is getting better each outing. I see Crow did ok today too. I will be reading your write_ups everyday. Great seeing you while there!

tomorrow's game is a 12:35pm EST game for some ungodly stupid reason...then it's back to wrigley field for a night game on the 5th.

The best part of tonight's game was 6 different players with RBIs. Truly a lineup that doesn't give up top to bottom.

excubs [email protected]_NEWS

Jake Arrieta first Cub to go 6-0 in first six starts since Three Finger Brown in 1908.

Russell now with 4 errors -- that's a big (unpleasant) surprise.

Throwing error to 2nd on a possible double play ball.

Can someone tell me what happened on Russell's error?

BILLY BUCKS: As things stand right now, Dylan Cease will be in the Eugene starting rotation when the NWL season begins play in June, and if he peforms well there he could perhaps move up to South Bend toward the end of the minor league season or for the MWL playoffs (if South Bend qualifies).