Game Preview: Cardinals (54-44) @ Cubs (45-53)
Submitted by

Rob G.

on Sun, 07/25/2010 - 5:37pm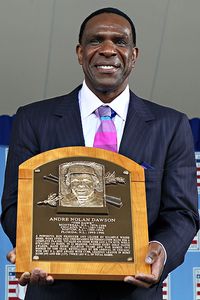 The last post is getting a little long in the tooth and a little bitchy, so let's move on to happier things like Andre Dawson's Hall of Fame induction today and the Cubs on the brink of a three game sweep over the Cardinals.
I don't have much to add actually on Dawson's speech today much like anything involving this site lately, but that smiling photo with the plaque classes up the joint.
As for the Cubs, they're third in the league in runs scored in July behind the Giants and Yankees. Who'd thunk? Three guys have OPS numbers north of 1.000 (Castro, Ramirez and Soto) with Byrd, Lee and Colvin around the .800 or above mark, leaving Soriano(.732 but with 5 HR's) and Theriot(.641) to bring up the rear.
Z threw two scoreless last night for Iowa with no walks, a hit and three K's and should join the team this week if he apologizes to his teammates for...giving a shit about losing? And probably for destroying the Gatorade cooler, I hear it was a clubhouse favorite.
Dempster got beat up a bit against the weakly 'Stros last time, but the offense bailed him out of a loss.
Lineup for tonight's game from Muskat's twitter feed:
rf colvin, ss castro, 1b lee, 3b ramy, cf byrd, lf sori, c soto, 2b riot, p demp
Recent comments
The first 600 characters of the last 16 comments, click "View" to see rest of comment.
Nice to have a ROB G. bustin' a move with the posts.

To have Billy Hamilton break your shut-out with an HR is like Iceland winnng in soccer.

Hamilton - good grief. Does he have Lester's number or what!

and there it is...

time to sweat it out now.

Yeah - I was waiting for someone else to comment first so they could shoulder the blame should cubbery prevail.

he'd actually have to get through these last 2 innings in 13 or less pitches to pull off an actual Maddux (CG in less than 100 pitches)...and I probably jinxed the whole game with my comment so I'll shut up now.

An efficient one-hitter through seven innings - seems reasonable to me.

Quite the contrast from last night

It's really quite enjoyable watching Lester dissect the strike zone and a lineup like this...dare I say Maddux-like?

Now pitching for the Cincinnati Reds:

Sorry if I made it sound like a Schwarber for Sale straight up deal was reasonable, obviously Cubs would need to give up more than that. You don't trade Sale unless you're rebuilding and if you're rebuilding you want more than one piece. Easily 3-4 pieces with Schwarber being the main one...but that type of an ace arm or All-star talent with a few years of control is the type of return the Cubs should look for if they move Schwarber. I don't think they'll move him until he's healthy though. TheJedi are pretty good at maximizing trade value.

I think you're very much overvaluing Schwarber if you think he can fetch Sale by himself. An unproven rookie with demonstrable offensive flaws he hasn't had the chance to show he can overcome and with no defensive upside will never fetch an ace of the quality of Sale in today's market where pitchers are fetching insane prices, especially with Sale's team friendly contract. You'd for sure need to throw in a pitching prospect in return at least.

best relievers in baseball tend to not be the best relievers for very long though...

also, when you start just trading away guys for marginal benefits, that window will shrink. The window is easily through 2021, just have to look how long Rizzo is signed for and how long they have rights to Bryant, Russell and so on down the line.

Can't say I'm too worried about the SP, they've done nothing but land guys on the cheap and on the expensive since they've arrived. TheJedi will figure that out.

Not sure I agree with this logic. The Cubs are one of the best teams in baseball, they have spent heavily on the team over the past couple of seasons, have more hitting prospects than they have places for them to play (and more on the way), a clear weakness in the bullpen, and have a 1.5 year window with Arrieta (to say nothing of the likely declines of Lester and Lackey).

Unless you think (maybe even if you do think) Schwarber is the next coming of Babe Ruth, I would certainly consider trading him if it brought back a couple of the best relief pitchers in baseball.

Miggy was going to sit anyway with Lester starting.

In related news, do any of the Cubs pitchers want to throw to Contreras?