Game Preview: Cardinals (54-44) @ Cubs (45-53)
Submitted by

Rob G.

on Sun, 07/25/2010 - 5:37pm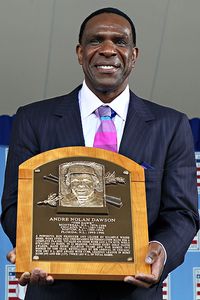 The last post is getting a little long in the tooth and a little bitchy, so let's move on to happier things like Andre Dawson's Hall of Fame induction today and the Cubs on the brink of a three game sweep over the Cardinals.
I don't have much to add actually on Dawson's speech today much like anything involving this site lately, but that smiling photo with the plaque classes up the joint.
As for the Cubs, they're third in the league in runs scored in July behind the Giants and Yankees. Who'd thunk? Three guys have OPS numbers north of 1.000 (Castro, Ramirez and Soto) with Byrd, Lee and Colvin around the .800 or above mark, leaving Soriano(.732 but with 5 HR's) and Theriot(.641) to bring up the rear.
Z threw two scoreless last night for Iowa with no walks, a hit and three K's and should join the team this week if he apologizes to his teammates for...giving a shit about losing? And probably for destroying the Gatorade cooler, I hear it was a clubhouse favorite.
Dempster got beat up a bit against the weakly 'Stros last time, but the offense bailed him out of a loss.
Lineup for tonight's game from Muskat's twitter feed:
rf colvin, ss castro, 1b lee, 3b ramy, cf byrd, lf sori, c soto, 2b riot, p demp
Recent comments
The first 600 characters of the last 16 comments, click "View" to see rest of comment.
SF loses their 7th in a row (ow).

WAS is now #1 on the heels of the cubs at 7.5 games back.

Even when logically I know I should root for the Cardinals, I cannot. I think it's worse than the Packers thing. I think it's literally the worst thing.

Kinda weird stat -- the NL has 5 teams that are at least 20 games under -- it was 6 before the Brewers swept the Pirates -- and there are none in the AL. Oakland has the worst record in the AL at 18 under. Hunh.

Jon Lester scored his first career run today. And his 2nd. Now I see why hit bats 8th.

Every Cub starter has scored at least one run so far today, Russell leading the way with 3

Anybody with an over/under on the Cubs getting to 30 runs today?

JD pointing to Javy's minimal leg kick on that blast.

Baez homer
3-3

Send bullpen home go get your complete game Lester

Javy with 3 hits, including a home run, and a walk.

Cubs with lowest batting average in MLB but highest walk total in NL, as Rizzo clubs a grand slam

He drew a bases loaded walk early in the game

i hope Baez draws a walk today!

I hope Baez will draw a walk today.

Addison Russell

Have a day!!

/another diaper dandy

one of the slowest men in the game is taking a 20+ft lead off 2nd.

i think the "he's working on throwing over" knockdown scare has worn off in the 4th inning.

it keeps working, though. this is at least the 3rd time someone from the club has announced "he's working on throwing over" and the opposing team being cautious the next game. they should do this before every start.

Lester does not get the Michael Jordan treatement from umpires. He really has to fight for his strikes sometimes.