Game Preview: Cardinals (54-44) @ Cubs (45-53)
Submitted by

Rob G.

on Sun, 07/25/2010 - 5:37pm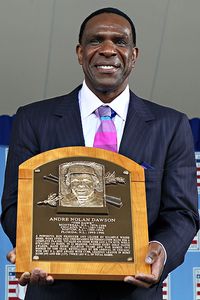 The last post is getting a little long in the tooth and a little bitchy, so let's move on to happier things like Andre Dawson's Hall of Fame induction today and the Cubs on the brink of a three game sweep over the Cardinals.
I don't have much to add actually on Dawson's speech today much like anything involving this site lately, but that smiling photo with the plaque classes up the joint.
As for the Cubs, they're third in the league in runs scored in July behind the Giants and Yankees. Who'd thunk? Three guys have OPS numbers north of 1.000 (Castro, Ramirez and Soto) with Byrd, Lee and Colvin around the .800 or above mark, leaving Soriano(.732 but with 5 HR's) and Theriot(.641) to bring up the rear.
Z threw two scoreless last night for Iowa with no walks, a hit and three K's and should join the team this week if he apologizes to his teammates for...giving a shit about losing? And probably for destroying the Gatorade cooler, I hear it was a clubhouse favorite.
Dempster got beat up a bit against the weakly 'Stros last time, but the offense bailed him out of a loss.
Lineup for tonight's game from Muskat's twitter feed:
rf colvin, ss castro, 1b lee, 3b ramy, cf byrd, lf sori, c soto, 2b riot, p demp
Recent comments
The first 600 characters of the last 16 comments, click "View" to see rest of comment.
Pretty good pitch by Cahill that Cruz hit, though throwing a breaking ball in the dirt seems like a better option in retrospect.

Cubs need to keep the foot on the gas at the plate. 4 runs won't be enough.

Hey, Johann, don't blame yourself. It's obviously me. He hates bro-- wait, nothing, nevermind.

You have joined room: TCR_Parachat
Welcome to our live chat room!
johann: hey is there a game going on?
Mornington_Crescent has left.
johann: he hates carlos and I both!

I was at the bank drive through during that strike out and yelled so loud I think I scared multiple people in other cars

bullpen vs 5 innings (6 if you count the 4th)...that should make for an eventful rest of the game.

Don't think I've ever seen a crowd go that crazy for a K to end the 4th inning.

This is going to be a long, crazy, afternoon.

Turn off the TV, and good things happen. back to work.

Folks, the local watering hole calls.

GO CUBS!

JAVY "BAE"Z

I LOVE YOU

JUST...

THIS SEASON.

WOW.

Was there, MC ignored me, left >:(

That was a bad first inning.

Battle through Jason, get to the fifth giving up only those two, Cubs will be alright.

Mornington_Crescent joined.
Carlos_RM: This Piscotty fellow...
Carlos_RM: He's not likeable
Mornington_Crescent left.