Game Preview: Cardinals (54-44) @ Cubs (45-53)
Submitted by

Rob G.

on Sun, 07/25/2010 - 5:37pm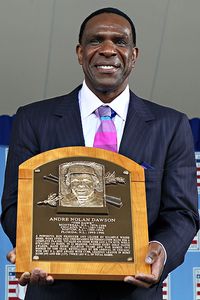 The last post is getting a little long in the tooth and a little bitchy, so let's move on to happier things like Andre Dawson's Hall of Fame induction today and the Cubs on the brink of a three game sweep over the Cardinals.
I don't have much to add actually on Dawson's speech today much like anything involving this site lately, but that smiling photo with the plaque classes up the joint.
As for the Cubs, they're third in the league in runs scored in July behind the Giants and Yankees. Who'd thunk? Three guys have OPS numbers north of 1.000 (Castro, Ramirez and Soto) with Byrd, Lee and Colvin around the .800 or above mark, leaving Soriano(.732 but with 5 HR's) and Theriot(.641) to bring up the rear.
Z threw two scoreless last night for Iowa with no walks, a hit and three K's and should join the team this week if he apologizes to his teammates for...giving a shit about losing? And probably for destroying the Gatorade cooler, I hear it was a clubhouse favorite.
Dempster got beat up a bit against the weakly 'Stros last time, but the offense bailed him out of a loss.
Lineup for tonight's game from Muskat's twitter feed:
rf colvin, ss castro, 1b lee, 3b ramy, cf byrd, lf sori, c soto, 2b riot, p demp
Recent comments
The first 600 characters of the last 16 comments, click "View" to see rest of comment.
a 60" TV with slow-motion replay and multiple looks on that replay helps...a lot...

it's one thing to shy away like he did the 2nd time, it's another to bail out of the box on a called strike. that happened in the 1st one he pulled away from. he misjudged that one by a foot or so...

he's had 5 walks in his last 7 games (14 all season) and he's not swinging a foot over everything thrown low to him lately, but i wouldn't be so quick to call his eye and plate awareness excellent, myself.

Good Hendricks sure is fun to watch. He was hitting all his corners today and the Phillies couldn't do anything with his changeup.

Bryant and I believe Zobrist both did that too.

Soler BB acumen and plate awareness is excellent. Not unusual for even the best players to react as if they were about to hit them, "even though they weren't that close" from your vantage point sitting on your deck, or wherever.

soler vs inside breaking balls is scary.

he's had 2 inside curve balls today where he reacted as if they were about to hit him even though they weren't that close...one he bailed out of the box on, it was a called strike.

j.urias optioned back to AAA...guess we wont be seeing him in the LAD series.

so is him actually getting 2 hits in a game (2 doubles!)...first time he's even been on base 2 times in a game since 9 games ago on his 3/4, 1bb day.

im ready for him to at least look like a 2-slot hitter since he's gonna be slotted there no matter what he does.

That Heyward move to avoid Bryant's ball hit at him was a thing of beauty too.

9 pitches in and this game already rules.

HR, double...bryant's turn (who came out to a Kris Kross song for some horrible, horrible reason).

...2 run inning...zoobrest hitting streak at 14.

First time I saw Herrera was yesterday. He took like 100 pitches, fouled off a ton off Lester.

Very nice young player and perfect leadoff guy.

Obviously not Phil. But he mentioned this on Wednesday.

"Dominican Summer League (DSL) Opening Day is Saturday June 4th, so probably about 8-10 pitchers and position players presently at EXST in Mesa will be sent to the Cubs Dominican Academy (probably sometime this week) and be assigned to either DSL Cubs #1 or DSL Cubs #2."

In the comments here: http://www.thecubreporter.com/05242016/cub-power-d...

Phil, when will the Cubs start moving international players from EST to the Dominican for the start of the DSL season?

It was a nice barehand pick-up but he was close enough to 1st where he could underhand the ball to Bryant. The trouble he's had has been with the overhand throw. He's definitely working on it, but I don't know if that play was a good example of progress made.

Phil, have you heard anything about the condition of Oscar De La Cruz's elbow? Has there been talk of a time table? Is he throwing?

i was distracted for most of the game and also missed the first few innings.

but yeah, any time he makes a good fielding+throwing play on D it's worthy of praise and a trip to pizza hut for a personal pan pizza and $1 worth of songs on the juke box.

seriously, i'll take it.