Game Preview: Cardinals (54-44) @ Cubs (45-53)
Submitted by

Rob G.

on Sun, 07/25/2010 - 5:37pm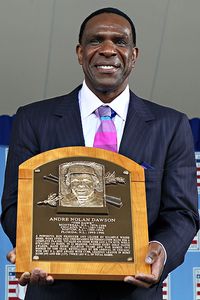 The last post is getting a little long in the tooth and a little bitchy, so let's move on to happier things like Andre Dawson's Hall of Fame induction today and the Cubs on the brink of a three game sweep over the Cardinals.
I don't have much to add actually on Dawson's speech today much like anything involving this site lately, but that smiling photo with the plaque classes up the joint.
As for the Cubs, they're third in the league in runs scored in July behind the Giants and Yankees. Who'd thunk? Three guys have OPS numbers north of 1.000 (Castro, Ramirez and Soto) with Byrd, Lee and Colvin around the .800 or above mark, leaving Soriano(.732 but with 5 HR's) and Theriot(.641) to bring up the rear.
Z threw two scoreless last night for Iowa with no walks, a hit and three K's and should join the team this week if he apologizes to his teammates for...giving a shit about losing? And probably for destroying the Gatorade cooler, I hear it was a clubhouse favorite.
Dempster got beat up a bit against the weakly 'Stros last time, but the offense bailed him out of a loss.
Lineup for tonight's game from Muskat's twitter feed:
rf colvin, ss castro, 1b lee, 3b ramy, cf byrd, lf sori, c soto, 2b riot, p demp
Recent comments
The first 600 characters of the last 16 comments, click "View" to see rest of comment.
heyward with his 3rd multi-hit game since the all-star break (all in august)...2nd in the past 3 games during his 7 game hitting streak.

he's gone from flirting with a sub-.300 ob% to nearing .310 ob% in 3 games (1 game was just a 1 for 1 pinch hit appearance). all 5 hits in the past 3 games have come in a row...neat.

stewart with 7Ks through 3ip...of course.

that 10-13 mph difference in his fastball/change is working today...and they're swinging at his crappy slider.

brock stewart...steven brault...fun times for the cubs hitters vs allegedly competitive teams...maybe.

Maddon would have started three lefties against the Dodgers, Montgomery, Zastryzny and Lester, except that he doesn't have the juice to do that. No manager does. Maddon has a boss, Epstein (and probably Hoyer, too), who gave him a starting rotation of five guys including Hammel. Maddon was asked yesterday about the starting group for next year and basically said, Not my call, that's why I drive away in my RV in the summer and occasionally check in, etc.

from Muskat:

#Cubs Maddon: "I'm not going to make up an excuse for why I did what I did. It has nothing to do with lack of confidence" ... "It was the right thing to do today based on what I saw, what their lineup looked like and Rob Z.'s availability." #Cubs

http://www.espn.com/espn/now?nowId=21-0561339391889382475-4

Hammel not particularly understanding of getting pulled out...as he should. Be curious what Maddon had to say. All I can think of is is keeping arms fresh and maybe wanting to see if Zastr? is worth considering for the playoffs and how he'd do against the Dodgers.

great defense

Heyward, Russell, Baez, Bryant, Ross in particular...although Bryant's a bit hard to judge with all the positions.

Fowler and Rizzo in the top half of the NL for their positions as well (per fangraphs)...Zobrist right at the halfway cutoff for 2b in the NL.

I'm sure some luck is involved too, but the Cubs and Maddon knew what they were doing.

If all the starters have FIP > ERA, is that luck or good defense?

#Cubs plummet to 19-5 in August.

Fun with FIP

J. Hammel 3.07 ERA/4.27 FIP (3.68 FIP last year)
J. Arrieta 2.62 ERA/3.05 FIP (2.35 FIP last year)
J. Lester 2.81 ERA/3.67 FIP (2.92 FIP last year)
K. Hendricks 2.19 ERA/3.37 FIP (3.36 FIP last year)
J. Lackey 3.41 ERA/3.72 FIP (3.57 FIP last year with Cards)

zastyryzryzryzny put in 3.2ip 1h 0bb 3k

he's great when his control is "on"...problem is it's rarely "on" consistently. he could vault up the cubs prospect list if he ever gets better with that aspect of his game.

JD's take was just trying to get in a lefty to better deal with mostly lefty Dodgers lineup.

My second thought was what you came up with. My first thought was he was trying to light a fire under Hammel.

Maybe he was trying to spare him another brutal road start? NY, Colorado...

joe got a pitcher up for hammel at nearly the 1st sign of trouble in the 3rd...pulled after 2.1

not injured and though it wasn't his day so far he wasn't looking like a pure disaster.

really short leash on him. zastryznzryzryny in.

Russell and Soler can attest that Urias has a pretty good curve/slider - two big strikeouts looking to get out of that jam in the first.