Game Preview: Cardinals (54-44) @ Cubs (45-53)
Submitted by

Rob G.

on Sun, 07/25/2010 - 5:37pm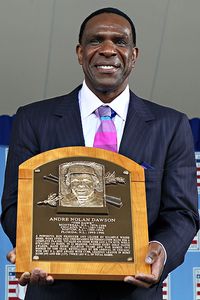 The last post is getting a little long in the tooth and a little bitchy, so let's move on to happier things like Andre Dawson's Hall of Fame induction today and the Cubs on the brink of a three game sweep over the Cardinals.
I don't have much to add actually on Dawson's speech today much like anything involving this site lately, but that smiling photo with the plaque classes up the joint.
As for the Cubs, they're third in the league in runs scored in July behind the Giants and Yankees. Who'd thunk? Three guys have OPS numbers north of 1.000 (Castro, Ramirez and Soto) with Byrd, Lee and Colvin around the .800 or above mark, leaving Soriano(.732 but with 5 HR's) and Theriot(.641) to bring up the rear.
Z threw two scoreless last night for Iowa with no walks, a hit and three K's and should join the team this week if he apologizes to his teammates for...giving a shit about losing? And probably for destroying the Gatorade cooler, I hear it was a clubhouse favorite.
Dempster got beat up a bit against the weakly 'Stros last time, but the offense bailed him out of a loss.
Lineup for tonight's game from Muskat's twitter feed:
rf colvin, ss castro, 1b lee, 3b ramy, cf byrd, lf sori, c soto, 2b riot, p demp
Recent comments
The first 600 characters of the last 16 comments, click "View" to see rest of comment.
Meh, I messed that up. Mets are in.

Cards and Giants can still tie though.

Kershaw gets hurt by his defense and gave up 2 more runs. Blach has 8 shutout innings.

Mets already won as did Cards.

tomorrow is gonna be helluva fun if Giants hold on. We're all rooting for a 3-way tie I presume.

good news is now 5 K's for Lester through 4 (in a quest for 200 for season). Bad news is he's already at 86 pitches.

be curious how long Maddon sticks with Lester to try and let offense get back into it and get him the win (4-2 as I type, was 4-0)

Fwiw, he needed 2.1 IP to cross 200 for season so he got that at least. He also needs 9 K's for 200K's on season and he has 4 through 3.

cubs score 2 runs thanks to predictable reds pitching and horrible CIN defense...cubs only down by 1 now. heyward even got a gift 2rbi double out of an easy popout. neat.

something named Ty Blach has outpitched Clayton Kershaw through 6 innings (1-0 Giants).

#fuckingbaseball

not that finishing 2nd place will matter much nor did this game, but have to think if Hendricks pitches well tomorrow, he could leapfrog Lester in Cy Young voting. Don't see anyway Scherzer doesn't win it regardless and it doesnt' look like Lester has any incentive clauses that matter. Also might give Cueto some votes.

Rather remarkable how many teams have really good 1-2 options this year.

Nats: Scherzer and Roark (and Strasburg was great before injuries)

Cubs: Lester and Hendricks (and Arrietta is still damn good just not as consistently lately)

pretty much what I'm gathering from this thread is that it doesn't matter who you play in 5-game series, but no one wants to have to deal with Cardinal fans if we end up losing.

I can respect that.

first game for lester giving up more than 2 runs since july 24th. hell of a run.

doh, yes...dunno what happened there. jake arrieta is all "bro wut?"

lester going for #20...cubs haven't had a LH (thanks jpep for the correction) 20 game winner since d.ellsworth in 1963.

fwiw, all the games are free on mlb.tv

Short rest for MadBum would be 2 days. WC game is Wed., Games 1 & 2 are Friday/Saturday.

J-Hey not finishing with an offensive onslaught.

If Geoff Blum could be a Playoff hero, there is hope still...

Giants scare me. I think you're wrong about Bumgarner, he would pitch on short rest for Game 2 and then full rest for Game 5. Cueto would go Game 1, then short rest in game 4. Add in some really tough outs in that lineup and I want nothing to do with them. With that rotation they can easily steal a series.

Cards are a tough matchup. The rivalry evens out their comparable lack of talent. And like someone said, they love HRs, which is how to beat the Cubs. The upside is that I would feel really good about Lester twice against STL.