Game Preview: Cardinals (54-44) @ Cubs (45-53)
Submitted by

Rob G.

on Sun, 07/25/2010 - 5:37pm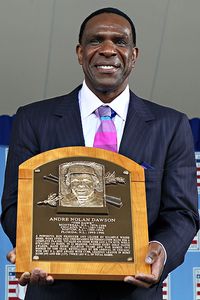 The last post is getting a little long in the tooth and a little bitchy, so let's move on to happier things like Andre Dawson's Hall of Fame induction today and the Cubs on the brink of a three game sweep over the Cardinals.
I don't have much to add actually on Dawson's speech today much like anything involving this site lately, but that smiling photo with the plaque classes up the joint.
As for the Cubs, they're third in the league in runs scored in July behind the Giants and Yankees. Who'd thunk? Three guys have OPS numbers north of 1.000 (Castro, Ramirez and Soto) with Byrd, Lee and Colvin around the .800 or above mark, leaving Soriano(.732 but with 5 HR's) and Theriot(.641) to bring up the rear.
Z threw two scoreless last night for Iowa with no walks, a hit and three K's and should join the team this week if he apologizes to his teammates for...giving a shit about losing? And probably for destroying the Gatorade cooler, I hear it was a clubhouse favorite.
Dempster got beat up a bit against the weakly 'Stros last time, but the offense bailed him out of a loss.
Lineup for tonight's game from Muskat's twitter feed:
rf colvin, ss castro, 1b lee, 3b ramy, cf byrd, lf sori, c soto, 2b riot, p demp
Recent comments
The first 600 characters of the last 16 comments, click "View" to see rest of comment.
cubs!!!!!

cubs lead in the top 7th!

so nastay...

triple, walk, domination

And he gets out of it by K-ing Braun, Lucroy and Carter!

Let's get some runs!

welcome to the cubs j.nathan.

2 pitches into the inning and there's a guy on 3rd with 0 outs (triple).

his velocity is hanging around 91/92mph.

Always a good idea to bring in Richard against a LH batter.

Russell left game with left heel contusion from foul ball on Saturday. Started to bother him during the Sunday game.

a.russell out and down into the clubhouse...no one knows why.

it's very hot on the field, so it might be heat related.

I blame the All-Star game again, or else Michael Barrett.

Miller park roof is closing. Hmmm, might play differently now?

Lester at 72 pitches through 3. Roof closing might get him through 6.

Middlebrows pulls a calf or hamstring. Len says he blew a tire rounding 1st. Nieuwenhuis enters game.

Now roof opening. Dizziness. No AC in the ballpark wrt the field.

just to lighten the mood:
Shark's day: 5.2 IP 5 Runs (all earned), 8 Hits, 2 HR. Left the game down 5-0 to Yankees.

Anyone expecting game 4 NLCS Shark vs Hammel or Lackey?

First inning: two on, no out, Rizz and Zobrist due up. Don't score.
Third inning: two on, one out, KB and Rizz due up. Don't score.

This is getting' old, fellahs.

KB still with ZERO RBI since the A/S break. Ouch.

62 through 2ip...yow.

it's an off day for d.ross, too. the wild pitch + passed ball in 2 separate strike 3 calls allowing the runner to reach 1st and the 5sb through 2ip makes for a bad game so far. ross cant shoulder any blame for some of those SBs, especially that villar steal of 3rd while lester watched him.

39 pitch inning by Lester. I guess it's a wash vs yesterday's 1st when Lackey gave up 2 run HR.

39 pitch, 2 run, 1st inning for lester. bleh.

horrible control so far today.

lester threw over to 1st! ...badly. braun takes 2nd.

it was a slow rainbow throw.