Game Preview: Cardinals (54-44) @ Cubs (45-53)
Submitted by

Rob G.

on Sun, 07/25/2010 - 5:37pm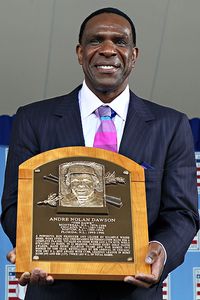 The last post is getting a little long in the tooth and a little bitchy, so let's move on to happier things like Andre Dawson's Hall of Fame induction today and the Cubs on the brink of a three game sweep over the Cardinals.
I don't have much to add actually on Dawson's speech today much like anything involving this site lately, but that smiling photo with the plaque classes up the joint.
As for the Cubs, they're third in the league in runs scored in July behind the Giants and Yankees. Who'd thunk? Three guys have OPS numbers north of 1.000 (Castro, Ramirez and Soto) with Byrd, Lee and Colvin around the .800 or above mark, leaving Soriano(.732 but with 5 HR's) and Theriot(.641) to bring up the rear.
Z threw two scoreless last night for Iowa with no walks, a hit and three K's and should join the team this week if he apologizes to his teammates for...giving a shit about losing? And probably for destroying the Gatorade cooler, I hear it was a clubhouse favorite.
Dempster got beat up a bit against the weakly 'Stros last time, but the offense bailed him out of a loss.
Lineup for tonight's game from Muskat's twitter feed:
rf colvin, ss castro, 1b lee, 3b ramy, cf byrd, lf sori, c soto, 2b riot, p demp
Recent comments
The first 600 characters of the last 16 comments, click "View" to see rest of comment.
Reds pitching meeting tomorrow:

"Hey coach...maybe we should walk Bryant?"
"No...keep challenging him with fastballs! What kind of man are you?! The Cubs walked Harper, and look what happened there! They got teased for it, by one of the Nat players! Is that what you want?"

How can I get that feature? I think it woudl be a win-win for all involved.

Ian Happ is hitting.733 after 5 games at Tennessee. He went into tonight's game hitting .667 -- and went 3-for-3 to raise his average.

2-for-3, including a bomb, for LaStella at Iowa. Pierce Johnson very bad -- 2IP, 5ER. Pitching prospects not looking so hot -- Underwood has been awful.

Did Jiminez get hurt? I noticed he came out early yesterday.

Contreras keeps hitting/walking like this, and Miggy keep up the poor D and lack of offense - the kid could be the #1 catcher very soon.

it doesn't hurt that the Cardinals lose the KC and the Pirates lost too.

...still trying to process what I just saw. From both KB and Jake. Walking Billy Hamilton twice is a cry for help. I think the nudie photos are messing with Jake's head.

Hopefully Peralta's time on the Cubs roster will be shorter than R. Soriano's.

it took 9 pitches for peralta to give up his 1st cubs homer. neat.

damn...totally missed that ruben quevedo died on june 7th. he was only 37...heart attack.

he threw some really horrible games for the cubs in 2000 and followed it up by doing the same for 3 season for the brewers.

Hitting 3 HR, 2 doubles in a game. Never been done in mlb history per Len/Bob.

walks? this is baseball, not a nature hike. he needs to get his head in the game.

in my opinion, he would have been better off hitting 2 homers rather than walking twice. /moneyballs

Rizzo: 2-3, homer, double, 2 walks - meh

in other news, the site seems to be eating about 50% of my comments...which is probably a good thing in hindsight.

The Tucker Barnhart reactions after each Kris Bryant HR are kind of priceless.

...but, he's also good at home runs, too.

also, rizzo.