Game Preview: Cardinals (54-44) @ Cubs (45-53)
Submitted by

Rob G.

on Sun, 07/25/2010 - 5:37pm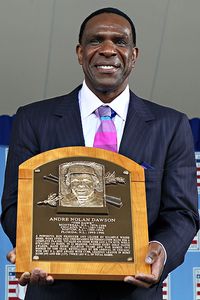 The last post is getting a little long in the tooth and a little bitchy, so let's move on to happier things like Andre Dawson's Hall of Fame induction today and the Cubs on the brink of a three game sweep over the Cardinals.
I don't have much to add actually on Dawson's speech today much like anything involving this site lately, but that smiling photo with the plaque classes up the joint.
As for the Cubs, they're third in the league in runs scored in July behind the Giants and Yankees. Who'd thunk? Three guys have OPS numbers north of 1.000 (Castro, Ramirez and Soto) with Byrd, Lee and Colvin around the .800 or above mark, leaving Soriano(.732 but with 5 HR's) and Theriot(.641) to bring up the rear.
Z threw two scoreless last night for Iowa with no walks, a hit and three K's and should join the team this week if he apologizes to his teammates for...giving a shit about losing? And probably for destroying the Gatorade cooler, I hear it was a clubhouse favorite.
Dempster got beat up a bit against the weakly 'Stros last time, but the offense bailed him out of a loss.
Lineup for tonight's game from Muskat's twitter feed:
rf colvin, ss castro, 1b lee, 3b ramy, cf byrd, lf sori, c soto, 2b riot, p demp
Recent comments
The first 600 characters of the last 16 comments, click "View" to see rest of comment.
Everytime I recall Szcur's bone marrow donation to a stranger, it makes me smile:

If Matt is out will Kawasaki get the call-up? Or "Shane"?

"Matt Szczur will undergo an MRI on his right hamstring on Tuesday."

One of the reasons I think Maddon is a great manager -- he has changed the conversation on Baez from HR & strikeouts to great defense, versatility and an all-around good ballplayer. He rarely talks about his offense, which is the only thing anybody used to talk about with Javy. He took a lot of pressure off the kid, and he seems to have responded.

Good pitching and some nifty D tonight -- nice win.

In case you didn't see it -- it was the Little League play where the guy on first gets caught in a rundown on purpose and the guy on third tries to score. It worked.

Gotta love the Pirates pitcher intentionally hitting Zobrist, then allowing Zobrist to score on a 2-out wild pitch.

Stealing HOME?!

Also, glad to see Zobrist coming around with RISP after my remarks last week. Heh!

ESPN reporting heyward day-to-day with an injured wrist

Cardinal way #48
"negligent transmission of STDs"

Heyward getting the night off.

Grand Slammin' Sczcur in RF - La Stella batting 2nd

Twitterverse reporting that Heyward is dealing with a sore right wrist

In what was probably the last start for RHSP Jeremy Null at EXST...
Intrasquad game this morning on Field #5 at Riverview Baseball Complex:
4.1 IP, 7 H, 3 R (3 ER), 0 BB, 2 K, 1 HR, 2 WP, 1 GIDP, 5/4 GO/AO, 75 pitches (50 strikes)

Next stop is likely either South Bend or Myrtle Beach (TBD)

There does seem to be something funky about closers pitching in non-save situations -- they never seem to be as effective. But, to your point, there could not have been a save situation in that game, so why not use your best reliever?

Your thought: don't pitch Rondon at all, since a save can't happen in extra innings at home.

Maddon's thought: might as well pitch him now, because there's no later.