Game Preview: Cardinals (54-44) @ Cubs (45-53)
Submitted by

Rob G.

on Sun, 07/25/2010 - 5:37pm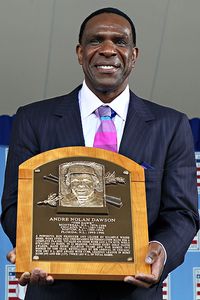 The last post is getting a little long in the tooth and a little bitchy, so let's move on to happier things like Andre Dawson's Hall of Fame induction today and the Cubs on the brink of a three game sweep over the Cardinals.
I don't have much to add actually on Dawson's speech today much like anything involving this site lately, but that smiling photo with the plaque classes up the joint.
As for the Cubs, they're third in the league in runs scored in July behind the Giants and Yankees. Who'd thunk? Three guys have OPS numbers north of 1.000 (Castro, Ramirez and Soto) with Byrd, Lee and Colvin around the .800 or above mark, leaving Soriano(.732 but with 5 HR's) and Theriot(.641) to bring up the rear.
Z threw two scoreless last night for Iowa with no walks, a hit and three K's and should join the team this week if he apologizes to his teammates for...giving a shit about losing? And probably for destroying the Gatorade cooler, I hear it was a clubhouse favorite.
Dempster got beat up a bit against the weakly 'Stros last time, but the offense bailed him out of a loss.
Lineup for tonight's game from Muskat's twitter feed:
rf colvin, ss castro, 1b lee, 3b ramy, cf byrd, lf sori, c soto, 2b riot, p demp
Recent comments
The first 600 characters of the last 16 comments, click "View" to see rest of comment.
I'm sure she'll knock it out of the park.

Nice article on Willson Contreras in the DesMoines Register

Julianna Zobrist will sing national anthem (Memorial Day) at Wrigley today.

Tribune interviews her...

Any word on Neil Ramirez?? Today is his 10th day where they have had to have done something with him, or are they not count today because it is a holiday??

if they dont win at least 130 games this season they can pack it all up, turn wrigley into a concert venue, and move the damn team to san jose.

#Bernie130orBust

I see where catcher Cael Brockmeyer was promoted to Tennessee a couple of days ago, to fill a roster spot vacated by David Freitas, recently promoted to Iowa. Caratini is the other catcher at Tennessee.

They've already clinched a minimum winning percentage of .607 for the month, and that's only if they lose the last 2 games. If they win both, they can push that up to .679. So much for "stumbling" in May. When you're winning over 60% of your games, you're doing baseball well.

If the best walk-off hit possible is a solo home run in a zero-zero game--Eloy did it tonight!

(But maybe it's a grand slam when your team is down three? He didn't do that.)

Number eight for Jimenez. His team is 31-17. Yesterday they scored 17 runs against Lansing. Two weeks ago it was 15 runs against the same team. This is a nice team, South Bend. The Cubs must have had a good draft last year.

Tonight the pitchers were Sands, Brooks and Effross.

He'll be fine. He's not some wimpy young pup.

In all seriousness the Cubs have the fewest amount of games played in the NL which means they're gonna be facing quite the grind later on including 24 games in a row at the end of June and beginning of July so I hope he does get a few days off.

Meh. He only got one hit today. Maybe give him a rest?

Good thing the Cubs have five left-handed batters in the lineup. Velasquez is just tearing thru the righties [edit - doesn't seem to faze Bryant!]

ben zobrist gets to ride up front tonight cause he's a good guy at sports.

cubs with a 5 run lead and a lackey shutout through 3ip \m/

HAGSAG: I have not seen Joe Nathan out on the field, but he is supposedly at the UAPC.