Game Preview: Cardinals (54-44) @ Cubs (45-53)
Submitted by

Rob G.

on Sun, 07/25/2010 - 5:37pm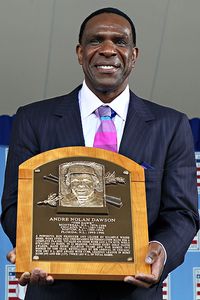 The last post is getting a little long in the tooth and a little bitchy, so let's move on to happier things like Andre Dawson's Hall of Fame induction today and the Cubs on the brink of a three game sweep over the Cardinals.
I don't have much to add actually on Dawson's speech today much like anything involving this site lately, but that smiling photo with the plaque classes up the joint.
As for the Cubs, they're third in the league in runs scored in July behind the Giants and Yankees. Who'd thunk? Three guys have OPS numbers north of 1.000 (Castro, Ramirez and Soto) with Byrd, Lee and Colvin around the .800 or above mark, leaving Soriano(.732 but with 5 HR's) and Theriot(.641) to bring up the rear.
Z threw two scoreless last night for Iowa with no walks, a hit and three K's and should join the team this week if he apologizes to his teammates for...giving a shit about losing? And probably for destroying the Gatorade cooler, I hear it was a clubhouse favorite.
Dempster got beat up a bit against the weakly 'Stros last time, but the offense bailed him out of a loss.
Lineup for tonight's game from Muskat's twitter feed:
rf colvin, ss castro, 1b lee, 3b ramy, cf byrd, lf sori, c soto, 2b riot, p demp
Recent comments
The first 600 characters of the last 16 comments, click "View" to see rest of comment.
I figured this was going to be the most meaningless regular season in Cubs history...and it is pretty much on point, although I certainly didn't think we'd have close to a 14 game lead.

But, one bad hop in game 1 in October could change absolutely everything we will remember about this year.

oh he's great, there's like 10 great pitchers in the NL right now that can flat out dominate though. Picking #2 (behind Kershaw) doesn't matter much to me right now. Much like whom the Cubs will play in the playoffs won't matter much, they're gonna be good teams.

The Cubs great pitching has a lot more to do with their great defense this year and plenty of good luck (#1 in ERA, #4 in FIP behind Nats, Mets and Dodgers with a rather ridiculous .258 BABIP against Cubs' pitchers).

Cubs pitchers do strike out more hitters than Giants pitchers and do walk more hitters than Giants pitchers so that's a few more balls in play. Cubs' pitchers actually have a higher groundball rate though. Crawford is just really good and baseball happens.

i do what i want.

i run with 12 gangs and we only commit hate crimes.

i do what i want.

I was asking how well Scherzer holds on runners.

#baseballtalk

BTW, your used underwear remark sounds rather specific. Please don't project. Thanks.

nothing gets you going like someone talking about lester, eh?

i hope you're on his payroll or he sends you used underwear or whatever you're into.

btw, he holds runners like shit. he does things with runners i've never seen another pitcher do in my life...even going back before i was born as far as i can tell. would you like to discuss it? that sounds like it could be educational and fun. hit me up, bruh.

last year they won 97...and came in 3rd in the division. crazy game on a year-to-year basis.

this year it's likely no one else in the division will win 90, though it's technically possible at this point.

no matter what, this is a special team, though...very well rounded...and should be mostly intact next year with a bonus schwarber. chapman may not be around, but whatever...rondon and crew are capable even if not on chapman's level.

How well does he hold on runners?

#baseballtalk

It's August 26. Cubs with 14 game lead. And not for #1 draft pick.

Words I never thought I would type together.

One more victory to ensure a winning season!

If I were a betting man

Give me the Dodgers tonite, not just because of
Monty on mound.

Two nights in LA for the kids? Woooo

/Prove me wrong

When Scherzer is on his game, he might the the most dominant and intimidating pitcher. A couple of games he has pitched against the Cubs when he had his stuff, and his mound presence was just powerful.

So are lack of chances due to the great pitching?

TLS watch: 0-4 with Iowa last night. Saving his pinch hits for September.

Objectively true. Scherzer's FIP is almost a half point higher than his ERA, mostly I deduce because his BABIP is .249 so something ridiculous like that. It's not like the guy can't be scored on, but when I watch him, I sometimes feel that he's the most in control of the game moving around him.