Game Preview: Cardinals (54-44) @ Cubs (45-53)
Submitted by

Rob G.

on Sun, 07/25/2010 - 5:37pm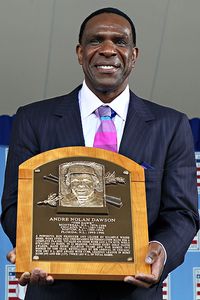 The last post is getting a little long in the tooth and a little bitchy, so let's move on to happier things like Andre Dawson's Hall of Fame induction today and the Cubs on the brink of a three game sweep over the Cardinals.
I don't have much to add actually on Dawson's speech today much like anything involving this site lately, but that smiling photo with the plaque classes up the joint.
As for the Cubs, they're third in the league in runs scored in July behind the Giants and Yankees. Who'd thunk? Three guys have OPS numbers north of 1.000 (Castro, Ramirez and Soto) with Byrd, Lee and Colvin around the .800 or above mark, leaving Soriano(.732 but with 5 HR's) and Theriot(.641) to bring up the rear.
Z threw two scoreless last night for Iowa with no walks, a hit and three K's and should join the team this week if he apologizes to his teammates for...giving a shit about losing? And probably for destroying the Gatorade cooler, I hear it was a clubhouse favorite.
Dempster got beat up a bit against the weakly 'Stros last time, but the offense bailed him out of a loss.
Lineup for tonight's game from Muskat's twitter feed:
rf colvin, ss castro, 1b lee, 3b ramy, cf byrd, lf sori, c soto, 2b riot, p demp
Recent comments
The first 600 characters of the last 16 comments, click "View" to see rest of comment.
Ross for ALL STAR GAME!!!

#3, #3, #3!!!

good thing no one will have to worry about it next year after Cubs win the World Series and the Earth swallows Chicago.

Ross just threw another runner out today and with his ability to control the opponents running game it got me thinking what the catcher plan is for Lester after this season. Montero is not good at throwing out runners and I'm not sure would be a great long term match if they decide to keep him. Schwarber if he catches definitely wouldn't be a good fit. Contreras has decent throwing #s and seems like someone who when he comes up could make a good primary catcher but do they maybe have him be that, release Montero and sign a primary defensive catcher to catch Lester?

He's gonna turn 23 in a week.

Average age in A-ball is 21.2.

I'm sure he'll get a promotion soon though.

Yeah we're playing the Braves. No need for him to play this weekend though it sounds like he's available to pinch hit.

An all-round brutal article. He's not wrong, though.

Whew. Take no chances with him, please!

Per Muskat tweet:

"MRI confirmed #Cubs Bryant has mild ankle sprain. Will not play today. Not expected to go on DL"

"Nothing stunts a pitcher's development like playing for the Orioles..."

Cubs have a guy you never heard of who gets hits every night for South Bend and is hitting .390 after 64 PAs.

Daniel Spingola, left/left, mostly RF, 31st rounder last June.

So while I'm not happy about this pick and hes going to be a project the positive that can be said is we aren't expected to compete this year and we have a decent LB core so he doesn't have to just go in and dominate. He has some time to develop and he obviously has the athletic ability and speed to build on. It

Going from a first place team to a third place team is a painful process.

dee gordon (MIA) suspended 80 days for PEDs. wow.

"excessive testosterone and Clostebol"

hell of a late-night news flash.