Game Preview: Cardinals (54-44) @ Cubs (45-53)
Submitted by

Rob G.

on Sun, 07/25/2010 - 5:37pm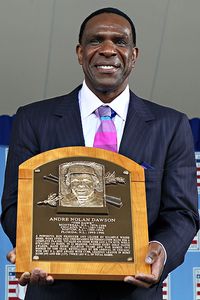 The last post is getting a little long in the tooth and a little bitchy, so let's move on to happier things like Andre Dawson's Hall of Fame induction today and the Cubs on the brink of a three game sweep over the Cardinals.
I don't have much to add actually on Dawson's speech today much like anything involving this site lately, but that smiling photo with the plaque classes up the joint.
As for the Cubs, they're third in the league in runs scored in July behind the Giants and Yankees. Who'd thunk? Three guys have OPS numbers north of 1.000 (Castro, Ramirez and Soto) with Byrd, Lee and Colvin around the .800 or above mark, leaving Soriano(.732 but with 5 HR's) and Theriot(.641) to bring up the rear.
Z threw two scoreless last night for Iowa with no walks, a hit and three K's and should join the team this week if he apologizes to his teammates for...giving a shit about losing? And probably for destroying the Gatorade cooler, I hear it was a clubhouse favorite.
Dempster got beat up a bit against the weakly 'Stros last time, but the offense bailed him out of a loss.
Lineup for tonight's game from Muskat's twitter feed:
rf colvin, ss castro, 1b lee, 3b ramy, cf byrd, lf sori, c soto, 2b riot, p demp
Recent comments
The first 600 characters of the last 16 comments, click "View" to see rest of comment.
So, the Mesa Cubs should be solid this summer in the AZL Rookie League?

And, I like the, "But did you know" lead in there. Something a little different.

I can tell really like this group of hitters in AZ right now.

What pitchers out there, other than Cease, should we be excited about?

Thanks as always for the info.

back on the Run Differential hunt... (aka The Hunt for Blue October)

These are the 2016 Cubs I know and love. Also digging that Cardinals OF (lack of) defense.

Another day, another eight runs

I'm not sure there was another team in baseball that would flip a Dansby Swanson type of prospect (plus Inciarte, plus Toussaint) for Miller. That trade was just comically bad from the start, and getting worse...

Zobrist just keeps squaring up - and Soler goes yard!

Pirates jumping all over Shelby Miller tonight - so glad the Cubs didn't flip a Dansby Swanson type prospect to the Braves for him. Two years of Lackey looking like a good alternative.

3rd inning...soler walked twice in the game...first time since aug 4th last year in the regular season (2 times in the playoffs, amazingly).

Good gravy, was that a much-appreciated top of the first.

That's a good analogy, bb... Nice to see tonight's game start with a 104 yard kickoff return TD.

Grichuk won the game last night but a decent CF would have caught that drive by Ross. Good Cubbery!

this game is WAY better than last night.

6 run 1st for the cubs...

Very bizarre game -- as you say, both Cubs pitchers were dominant until the one fatal pitch. It was like watching the Bears defense shut down a team, and then lose on 2 punt returns. Some better hitting with RISP would be a good idea, too.

Trouble Boys, the Replacements bio, is a great option. I'm sure Chad loved it.

Amen Brick. What's the point of following early-season games if you can't over-react to them? What, we should be reading books now?

"Weren't the National considered a near lock last year?"

No, I think you're thinking of Radiohead, The 1975, or Bowie's last album.

Although The National's Greatful Dead tribute is pretty cool.