Game Preview: Cardinals (54-44) @ Cubs (45-53)
Submitted by

Rob G.

on Sun, 07/25/2010 - 5:37pm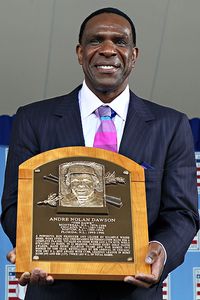 The last post is getting a little long in the tooth and a little bitchy, so let's move on to happier things like Andre Dawson's Hall of Fame induction today and the Cubs on the brink of a three game sweep over the Cardinals.
I don't have much to add actually on Dawson's speech today much like anything involving this site lately, but that smiling photo with the plaque classes up the joint.
As for the Cubs, they're third in the league in runs scored in July behind the Giants and Yankees. Who'd thunk? Three guys have OPS numbers north of 1.000 (Castro, Ramirez and Soto) with Byrd, Lee and Colvin around the .800 or above mark, leaving Soriano(.732 but with 5 HR's) and Theriot(.641) to bring up the rear.
Z threw two scoreless last night for Iowa with no walks, a hit and three K's and should join the team this week if he apologizes to his teammates for...giving a shit about losing? And probably for destroying the Gatorade cooler, I hear it was a clubhouse favorite.
Dempster got beat up a bit against the weakly 'Stros last time, but the offense bailed him out of a loss.
Lineup for tonight's game from Muskat's twitter feed:
rf colvin, ss castro, 1b lee, 3b ramy, cf byrd, lf sori, c soto, 2b riot, p demp
Recent comments
The first 600 characters of the last 16 comments, click "View" to see rest of comment.
Contreras seems pretty adamant he'll play anywhere Madden wants him to so as long as he stays hot and with all the injuries it'll be pretty nice to have yet another bat Madden can move around.

Rizzo in, Zobrist out, Willson in LF, Montero back and Almora batting 9th ... let's score some runs

Time for Mr. Oh to get some save chances.

Rosenthal does it again! Comes in with a 3-1 lead in the 9th -- double, BB, HR...ballgame.

Very nice win last nice -- could have caved in after the bottom of the first. It would be OK if guys stopped getting hurt, and if SF would lose a few.

Awesome. It wasn't long ago that he was kind of the best prospect coming through the system.

Javy's grunge dive into the stands for the popup was awesome - the hitting into the double play not so much

Third time I've tried to post this (forgive me if it winds up appearing three times)

Junior Lake, batting 9th and playing RF for the Blue Jays...

*That was a fun HALF inning.

this game is no longer awesome.

I'm pretty sure that Len called Bryant's home run a Brexit.

everyone but heyward with a hit and a 3 run lead with coghlan on 3rd through 5 batters. hell yeah.

okay, this is just silly. 19 pitches in, 1 out, 4 runs in, men on 1st and 2nd...hendricks up to bunt.

...and almora contributes the final out. that was a fun inning.

this game is awesome already.

also, there's a lot of cubs fans in the park tonight.

Clearly, Joe Maddon is a Lineup Wizzard.

"Cubs manager Joe Maddon said Friday that Anthony Rizzo (back) is feeling better and it's "possible" the first baseman could return to the lineup Saturday."