Game Preview: Cardinals (54-44) @ Cubs (45-53)
Submitted by

Rob G.

on Sun, 07/25/2010 - 5:37pm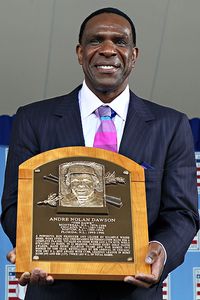 The last post is getting a little long in the tooth and a little bitchy, so let's move on to happier things like Andre Dawson's Hall of Fame induction today and the Cubs on the brink of a three game sweep over the Cardinals.
I don't have much to add actually on Dawson's speech today much like anything involving this site lately, but that smiling photo with the plaque classes up the joint.
As for the Cubs, they're third in the league in runs scored in July behind the Giants and Yankees. Who'd thunk? Three guys have OPS numbers north of 1.000 (Castro, Ramirez and Soto) with Byrd, Lee and Colvin around the .800 or above mark, leaving Soriano(.732 but with 5 HR's) and Theriot(.641) to bring up the rear.
Z threw two scoreless last night for Iowa with no walks, a hit and three K's and should join the team this week if he apologizes to his teammates for...giving a shit about losing? And probably for destroying the Gatorade cooler, I hear it was a clubhouse favorite.
Dempster got beat up a bit against the weakly 'Stros last time, but the offense bailed him out of a loss.
Lineup for tonight's game from Muskat's twitter feed:
rf colvin, ss castro, 1b lee, 3b ramy, cf byrd, lf sori, c soto, 2b riot, p demp
Recent comments
The first 600 characters of the last 16 comments, click "View" to see rest of comment.
Is the magic number 25 or 26?

Agreed, to my untrained eyes he does look better than last season. Not a finished product yet and hopefully he will continue to improve, but if he plays solid middle infield defense he will stick in the majors.

Phillips smiled at Strop and gave him a thumbs up.

That pitch Schwarber hit is the kind he's been missing a lot of lately. When Schwarber struggles it reminds me of how hard it is to hit baseballs at that level. It doesn't seem like they've found a weakness, just that he isn't seeing the ball that great and just missing. Same with Rizzo the last few days.

I missed it. What did he do?

JOHN B: Pierce Johnson and Rob Zastryzny were likely 2015 AFL candidates ( I mentioned them as likely candidates to get assigned to the AFL in an article about the AFL last month) because they are starting pitchers who missed part of the season due to injuries and they need to accrue more innings. Guys who have been pitching regularly as starters have thrown too many innings to be considered, so it probably came down to Johnson, Zastryzny, and Duane Underwood Jr, with Underwood odd man out because he hasn't pitched above Hi-A.


extremely classy. i didn't see his reaction until the replay after the break. baseball needs more fun in some areas and less of some 'unwritten rules' violations leading to angst.

Nice bounce back game for Grimm, and "well done" Dan Haren. We'll take that (almost) every time.

I have never been a Brandon Phillips fan, but that was a very classy way to handle Strop yelling at him after the K.

AZ Phil: Any thoughts on the AFL Cubs? Some names on the list caught me by surprise.

schwarberry schwerbert

guh...that's awful...nevermind.