Game Preview: Cardinals (54-44) @ Cubs (45-53)
Submitted by

Rob G.

on Sun, 07/25/2010 - 5:37pm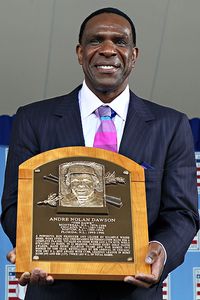 The last post is getting a little long in the tooth and a little bitchy, so let's move on to happier things like Andre Dawson's Hall of Fame induction today and the Cubs on the brink of a three game sweep over the Cardinals.
I don't have much to add actually on Dawson's speech today much like anything involving this site lately, but that smiling photo with the plaque classes up the joint.
As for the Cubs, they're third in the league in runs scored in July behind the Giants and Yankees. Who'd thunk? Three guys have OPS numbers north of 1.000 (Castro, Ramirez and Soto) with Byrd, Lee and Colvin around the .800 or above mark, leaving Soriano(.732 but with 5 HR's) and Theriot(.641) to bring up the rear.
Z threw two scoreless last night for Iowa with no walks, a hit and three K's and should join the team this week if he apologizes to his teammates for...giving a shit about losing? And probably for destroying the Gatorade cooler, I hear it was a clubhouse favorite.
Dempster got beat up a bit against the weakly 'Stros last time, but the offense bailed him out of a loss.
Lineup for tonight's game from Muskat's twitter feed:
rf colvin, ss castro, 1b lee, 3b ramy, cf byrd, lf sori, c soto, 2b riot, p demp
Recent comments
The first 600 characters of the last 16 comments, click "View" to see rest of comment.
Down on the farm:

"Dealin'" Cease with another good outing for Eugene. Last 4 outings: 16IP, 1ER 29K. But, 10BB. Throw strikes, kid.

Candelario is killing it at Iowa after struggling at AA: .320/.406/.941 in 241AB. At age 22. Where the heck to put him next year?

UPDATE: Candy goes 3-5 tonight. Now hitting .325. Also, Almora 4-5, which is nice to see.

Happ and Jiminez to play in the AFL. Baseball is the best.

You magnificent Bastardo!

Difference is LaStella sucks, and Chapman doesn't

/,I need

he's attempting a comeback (or he's just very bored) and playing indie ball in the atlantic league...short-lived-cub brad snyder is also on his team.

very boring numbers for a guy with his experience in indie ball, though not bad numbers...probably not enough to get him a minor league deal at his age (33)

there goes heyward's gold glove win. bench him and bring up matt murton.

felt like 36 for sure....

Didn't LaHair hit 36 before the All Star Break? Then none after.

@CarrieMuskat 41s41 seconds ago Bryant is 1st #Cubs player to top 35 HRs since Aramis Ramirez hit 38 in 2006

surprised me, thought Soriano may have or Rizzo...maybe LaHair or Schierholtz too :)

Twitter tells me more boo's than cheers for LaStella.

Sigh.

What was the reaction in Chapman's first game? I was there about a week later and it was all cheers.

Not that the situations are a one-to-one, but...damn, priorities 'Murica.

bryant is good at doing home rons.

Word is Patton is refusing to report to Des Moines.

lastella's not lost the ability to play 2nd...that's for sure.