Game Preview: Cardinals (54-44) @ Cubs (45-53)
Submitted by

Rob G.

on Sun, 07/25/2010 - 5:37pm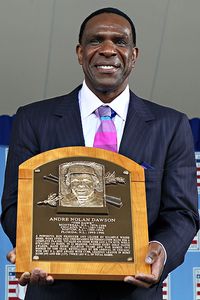 The last post is getting a little long in the tooth and a little bitchy, so let's move on to happier things like Andre Dawson's Hall of Fame induction today and the Cubs on the brink of a three game sweep over the Cardinals.
I don't have much to add actually on Dawson's speech today much like anything involving this site lately, but that smiling photo with the plaque classes up the joint.
As for the Cubs, they're third in the league in runs scored in July behind the Giants and Yankees. Who'd thunk? Three guys have OPS numbers north of 1.000 (Castro, Ramirez and Soto) with Byrd, Lee and Colvin around the .800 or above mark, leaving Soriano(.732 but with 5 HR's) and Theriot(.641) to bring up the rear.
Z threw two scoreless last night for Iowa with no walks, a hit and three K's and should join the team this week if he apologizes to his teammates for...giving a shit about losing? And probably for destroying the Gatorade cooler, I hear it was a clubhouse favorite.
Dempster got beat up a bit against the weakly 'Stros last time, but the offense bailed him out of a loss.
Lineup for tonight's game from Muskat's twitter feed:
rf colvin, ss castro, 1b lee, 3b ramy, cf byrd, lf sori, c soto, 2b riot, p demp
Recent comments
The first 600 characters of the last 16 comments, click "View" to see rest of comment.
*facepalm*

nevermind. i've seen this film before, it sucked.

not sure it could be any better, but he gives up a lot on defense...so who knows? Soler's peripherals and inevitable warm weather makes me think he'll get it going soon. Sadly, the D will still suck.

Baez at 3B with Bryant in OF is looking more and more like the lineup we'll see in Sept/Oct, but again, who knows? I'm not too overwhelmed by Baez's AB's, still looks to be swinging out his ass, but he seems to be making more contact. But a .385 BABIP will not hold...although he should be launching a few more...but damn that D.

Yes! Why clog 'em up?!

Hopefully Hendricks will hit all his spots tomorrow.

Or, Joe Ross has a really off night.

OMG, he had a tough inning of his own doing!!! If only he walked all those hitters on base instead, we could be spared your delusions of 250 IP and consecutive CY Young awards.

There's a little going on here, that is being made into a lot by you.

Didn't WISCGRAD already debunk all this last year, certainly ignored by you, but I believe he went through every instance a runner was on base against Lester and how little it ended up mattering. And unlike you, I do not care to repeat myself ad nauseum.

...yet...it's a thing that would happen if there were less 4-5 out innings...like a certain 30-pitch inning he had a couple starts ago. let's not let "good enough" be a stopping point when it could be better. it's a negative aspect of his game no matter how much melt-in-your-mouth-not-your-hand sugar coating one can pour over it.

this is a game of maximizing advantages and striving to prevent bad situations...no matter how much you come out on the other side smelling like roses.

he's 8th in innings pitched in baseball this year and has thrown over 200 innings in 7 of the last 8 seasons. He finished 21st in MLB in IP, 9th in the NL . Plus, going to your bullpen has a much different meaning in baseball the last few years anyway...

You're looking for a one percentage increase in performance from a guy already outperforming the league by 25-30%. Might as well ask be asking Anthony Rizzo to steal more bases.

In honor of playing Dusty tomorrow he's just clogging the bases.

...or he might have more innings under his belt to be very effective in his starts before going to the pen...among other things.

Wilson Contreras today for Iowa: 0-for-0 with 2 runs scored. 4 BB.

Ross has a 0.79 ERA and 0.97 WHIP. He has a pretty low K rate but he has a ridiculously low hard hit % and no HRS off him yet.

Imagine if Schwarber was healthy.

J.Zimmermann with a 695 at the moment, Arrieta is second at 495. Ross apparently hasn't qualified yet with just 4 starts and 22 IP fwiw.

Cubs Foe Tomorrow -

The Cubs are facing young Joe Ross tomorrow night for the Nats.

He has an ERA+ of 542. NOT a typo.

I don't think I have seen that recently...