Game Preview: Cardinals (54-44) @ Cubs (45-53)
Submitted by

Rob G.

on Sun, 07/25/2010 - 5:37pm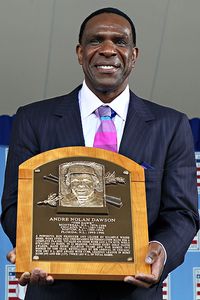 The last post is getting a little long in the tooth and a little bitchy, so let's move on to happier things like Andre Dawson's Hall of Fame induction today and the Cubs on the brink of a three game sweep over the Cardinals.
I don't have much to add actually on Dawson's speech today much like anything involving this site lately, but that smiling photo with the plaque classes up the joint.
As for the Cubs, they're third in the league in runs scored in July behind the Giants and Yankees. Who'd thunk? Three guys have OPS numbers north of 1.000 (Castro, Ramirez and Soto) with Byrd, Lee and Colvin around the .800 or above mark, leaving Soriano(.732 but with 5 HR's) and Theriot(.641) to bring up the rear.
Z threw two scoreless last night for Iowa with no walks, a hit and three K's and should join the team this week if he apologizes to his teammates for...giving a shit about losing? And probably for destroying the Gatorade cooler, I hear it was a clubhouse favorite.
Dempster got beat up a bit against the weakly 'Stros last time, but the offense bailed him out of a loss.
Lineup for tonight's game from Muskat's twitter feed:
rf colvin, ss castro, 1b lee, 3b ramy, cf byrd, lf sori, c soto, 2b riot, p demp
Recent comments
The first 600 characters of the last 16 comments, click "View" to see rest of comment.
trevor clifton (high-A) could be interesting in a couple seasons...could even become a high/middle rotation guy. he's got a lot of pluses in his pitching except control.

eric leal's (high-A) progression through the minors should be worth watching even if only projects to be an mid/end-rotation starter.

we also gotta keep a long-distance eye on guys like jose paulino (ss-A) and preston morrison (A).

As Johnny Bach used to say when it was time for the MJ Bulls to crank up the defensive pressure: "Release the Dobermans!", and Jordan, Pippen, Rodman and Harper would just suffocate the other team.

I'd love to add Carl Jr. to that group - he's got the stuff.

Historically, the Moneyball guys have been great at identifying productive hitters. Not so much with pitchers.

Wow - Pierce Johnson with an ERA of 8.01 in 42IP!

What a stud prospect! Must be pitching with a pierced johnson.

Looks like Ryan Williams is the only legit prospect there. That is sad...

Well it would seem that's all they need now. "Stropy" can have his moments, but he's been more consistent post-asg.

Take THAT, Cardinals -- you beat Fernandez, we beat Sale.

I really like Lackey as a 6-inning pitcher.

Three amigos? Because the Dominican, the Venezuelan, and the Cuban?

Maybe the three-headed dragon?

Who says Contreras can't frame? Stone cold robbery of Eaton with that called third strike for the first out in the eighth

Three amigos time?

7-8-9th

he should hit more of those. that would be an ideal outcome. /moneyballs

Russell with 19 RBI in July so far. Grand Slams help.

...and Familia with back-to-back blown saves. Blows a one-run lead vs. Rockies today, gets his 2nd consecutive loss.

I am OK with the Mets missing the playoffs and suffering crushing losses at home --- just want them to beat St. Louis.

He played with fire twice agains the Cubs -- unfortunately, the Cubs couldn't stop swinging.

How about Kyle Farnsworth? I know he was consistently upper 90s.

If he puts up Soriano numbers I will be ecstatic

I think Javy is learning--but he's learning to make contact, not learning to lay off pitches out of the zone. A quick glance at his plate discipline numbers on Fangraphs shows that his contact rate is up, especially his contact rate out of the zone, but his swing rate is up too, especially his swing rate out of the zone.

I definitely saw ballpark radar guns go up to 102 on Kerry Wood back when he was still a starter, but who knows how accurate they were.