Game Preview: Cardinals (54-44) @ Cubs (45-53)
Submitted by

Rob G.

on Sun, 07/25/2010 - 5:37pm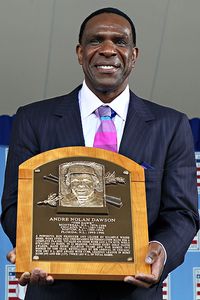 The last post is getting a little long in the tooth and a little bitchy, so let's move on to happier things like Andre Dawson's Hall of Fame induction today and the Cubs on the brink of a three game sweep over the Cardinals.
I don't have much to add actually on Dawson's speech today much like anything involving this site lately, but that smiling photo with the plaque classes up the joint.
As for the Cubs, they're third in the league in runs scored in July behind the Giants and Yankees. Who'd thunk? Three guys have OPS numbers north of 1.000 (Castro, Ramirez and Soto) with Byrd, Lee and Colvin around the .800 or above mark, leaving Soriano(.732 but with 5 HR's) and Theriot(.641) to bring up the rear.
Z threw two scoreless last night for Iowa with no walks, a hit and three K's and should join the team this week if he apologizes to his teammates for...giving a shit about losing? And probably for destroying the Gatorade cooler, I hear it was a clubhouse favorite.
Dempster got beat up a bit against the weakly 'Stros last time, but the offense bailed him out of a loss.
Lineup for tonight's game from Muskat's twitter feed:
rf colvin, ss castro, 1b lee, 3b ramy, cf byrd, lf sori, c soto, 2b riot, p demp
Recent comments
The first 600 characters of the last 16 comments, click "View" to see rest of comment.
Not sure I agree with this logic. The Cubs are one of the best teams in baseball, they have spent heavily on the team over the past couple of seasons, have more hitting prospects than they have places for them to play (and more on the way), a clear weakness in the bullpen, and have a 1.5 year window with Arrieta (to say nothing of the likely declines of Lester and Lackey).

Unless you think (maybe even if you do think) Schwarber is the next coming of Babe Ruth, I would certainly consider trading him if it brought back a couple of the best relief pitchers in baseball.

Miggy was going to sit anyway with Lester starting.

In related news, do any of the Cubs pitchers want to throw to Contreras?

Only Russell and Miggy failed to reach base yesterday. Both sit today.

Trading Schwarber actually makes a lot of sense because his actual position is currently being taken by Anthony Rizzo, unless they vote in the DH this offseason.

Trading him for a reliever is never going to happen though. I don't think you can trade Schwarber unless you get a CF'er for a few years (presume Fowler finds his multi-year deal next offseson) or a couple of high end young starters...or an established starter...a good one like Chris Sale.

I don't see what the Yanks have that the Cubs need.

peter gammons on MLB network pushing the yanks/schwarber angle...says insiders from the yanks say brian cashman highly covets him.

unless that conversation starts with a.miller (2/18m left on contract) i dunno how you even start that conversation given the "not trash, but no stars" state of the yanks minor league system.

they got corner OF'r aaron judge, C gary sanchez, RHP james kaprielian's questionable elbow, RHP domingo acevedo...all interesting, none expected to impact the game like schwarber's power potential.

Zo, Heyward, KB, Riz, Contreras (LF), Baez (SS), Szczur (CF), Ross, Lester

damn. low sample size blah blah whatever, but that slash got sneaky good. 10 hits, 4 walks, 2hr, 1 double through 39 PA...nice

Buddy Ryan takes his place alongside George Allen as the great Bear head coaches who never were.

Well, at least he can still hit: Jake slashing .294/.368/.868. Forget hitting 8th -- he should hit 6th.

Curious to see today's lineup vs. a LHP: Ross needs to catch Lester, Joe likes Javy at 3B when Lester pitches. Heyward with back-to-back good games at the plate, and is actually hitting a little better against LHP (.247/.341) than RHP (.232/.321), although neither is much to write home about. But, tomorrow is an early day game, so some regulars will probably sit either today or tomorrow.

Maybe Willson in LF, KB in RF and Almora in CF? If so, Albert Jr., assume every ball is yours.

"Pitching prospects not looking so hot"

That reminds me that Lucas Giolito will start for the Nats tonight.

Well, there you go. Federowicz is one of the best at balls in the dirt.

Reds pitching meeting tomorrow:

"Hey coach...maybe we should walk Bryant?"
"No...keep challenging him with fastballs! What kind of man are you?! The Cubs walked Harper, and look what happened there! They got teased for it, by one of the Nat players! Is that what you want?"

How can I get that feature? I think it woudl be a win-win for all involved.

Ian Happ is hitting.733 after 5 games at Tennessee. He went into tonight's game hitting .667 -- and went 3-for-3 to raise his average.

2-for-3, including a bomb, for LaStella at Iowa. Pierce Johnson very bad -- 2IP, 5ER. Pitching prospects not looking so hot -- Underwood has been awful.

Did Jiminez get hurt? I noticed he came out early yesterday.