Game Preview: Cardinals (54-44) @ Cubs (45-53)
Submitted by

Rob G.

on Sun, 07/25/2010 - 5:37pm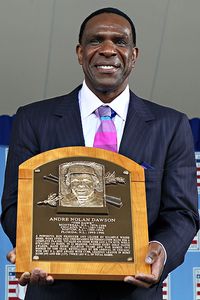 The last post is getting a little long in the tooth and a little bitchy, so let's move on to happier things like Andre Dawson's Hall of Fame induction today and the Cubs on the brink of a three game sweep over the Cardinals.
I don't have much to add actually on Dawson's speech today much like anything involving this site lately, but that smiling photo with the plaque classes up the joint.
As for the Cubs, they're third in the league in runs scored in July behind the Giants and Yankees. Who'd thunk? Three guys have OPS numbers north of 1.000 (Castro, Ramirez and Soto) with Byrd, Lee and Colvin around the .800 or above mark, leaving Soriano(.732 but with 5 HR's) and Theriot(.641) to bring up the rear.
Z threw two scoreless last night for Iowa with no walks, a hit and three K's and should join the team this week if he apologizes to his teammates for...giving a shit about losing? And probably for destroying the Gatorade cooler, I hear it was a clubhouse favorite.
Dempster got beat up a bit against the weakly 'Stros last time, but the offense bailed him out of a loss.
Lineup for tonight's game from Muskat's twitter feed:
rf colvin, ss castro, 1b lee, 3b ramy, cf byrd, lf sori, c soto, 2b riot, p demp
Recent comments
The first 600 characters of the last 16 comments, click "View" to see rest of comment.
Theo was trying to clear the mess that Hendr left

Rick Renteria was a great idea! Seriously! I feel bad for the guy, although it happened the way it had to.

Hey, whatta bout me?

-Ian Stewart

....and Theo thought EJax, Sveum and Ricky were good ideas. Win some, lose some.

I thought he was better than Archer?

/f u Hendry

The Padres signed RHP Trey McNutt to a minor league contract...

Yeah, she's a good egg. The whole superdelegate thing is shady as fuck though.

the perks of being a big fundraiser model representative citizen.

honestly, though...the dnc could do worse and she's involved in all kinds of dem party stuff.

I didn't realize Laura Ricketts is a superdelegate.

pretty much...also agree that it wouldn't surprise me to see him land with the cubs, too.

the trade to free up room for him would be interesting.

it would help if he didn't play such a mixed-bag CF. he's anything but sure out there with his wacky routes.

the O's are favored because of links for weeks and they're about to land y.gallardo (giving up that draft pick).

holy crap...j.mejia got busted AGAIN for PEDs.

3rd time...lifetime ban.

at one point he was the "closer of the future" (and the actual closer) for the mets. 26 years old. unreal.

I agree with what you said, but isn't it so weird that the White Sox are not linked to Fowler? They seem like an ideal fit.

oddly...or not...fowler's been strongly linked to the O's lately.

Olmos takes another 40 man roster Roulette bullet. The new lefty will be gone when Fowler comes back.

seen him in the minors...rather boring lefty. really slow secondary stuff (very slow slider) and a fastball that barely hits 90 on a good day.

The Cubs have claimed C.J. Riefenhauser LHP on waivers from the Orioles. Edgar Olmos was again DFA.