Game Preview: Cardinals (54-44) @ Cubs (45-53)
Submitted by

Rob G.

on Sun, 07/25/2010 - 5:37pm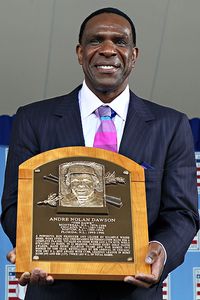 The last post is getting a little long in the tooth and a little bitchy, so let's move on to happier things like Andre Dawson's Hall of Fame induction today and the Cubs on the brink of a three game sweep over the Cardinals.
I don't have much to add actually on Dawson's speech today much like anything involving this site lately, but that smiling photo with the plaque classes up the joint.
As for the Cubs, they're third in the league in runs scored in July behind the Giants and Yankees. Who'd thunk? Three guys have OPS numbers north of 1.000 (Castro, Ramirez and Soto) with Byrd, Lee and Colvin around the .800 or above mark, leaving Soriano(.732 but with 5 HR's) and Theriot(.641) to bring up the rear.
Z threw two scoreless last night for Iowa with no walks, a hit and three K's and should join the team this week if he apologizes to his teammates for...giving a shit about losing? And probably for destroying the Gatorade cooler, I hear it was a clubhouse favorite.
Dempster got beat up a bit against the weakly 'Stros last time, but the offense bailed him out of a loss.
Lineup for tonight's game from Muskat's twitter feed:
rf colvin, ss castro, 1b lee, 3b ramy, cf byrd, lf sori, c soto, 2b riot, p demp
Recent comments
The first 600 characters of the last 16 comments, click "View" to see rest of comment.
I'll put pix on Twitter

@sirguygrande

Actually behind press box
Yeah great tix

Looks like Bryan Hudson is the new Randy Johnson: his height will always be part of his name.

Seriously? Envious. Enjoy the game!

Working through the evening, so no recappage, but hope people will come cheer on the Cubs in Parachat.

I'm sitting behind Cubs dugout near the end
Wearing Cubs visor

Before Wood,Strop, Rondon yesterday

Elias: 99 yrs. since a bullpen threw at least 7 perfect innings. last time 6/23/17 by Boston. Ernie Shore retired last 26 after Babe Ruth ejected for arguing balls and strikes after walking lead off hitter. Runner was caught stealing.

CUBBIES-4-EVER: It's not ten days including the day the player was Designated for Assignment, it's ten day from the day the player was Designated for Assignment.

So because Neil Ramirez was Designated for Assignment on 5/21, the deadline to either assign the player to another club (MLB or minor league) or release the player is 5/31 (today).



Phil, any updates on eight Oscar de la Cruz or Luis Hernandez?

One miscommunication in outfield and the Cubs would have another no hitter

He's had so few save opportunities that it might be difficult for him to get the All Star nod but Rondon has an absolutely ridiculous 1.05 ERA and 1.06 FIP after this game so far (and I think his worst outing was in the 10th inning non save situation) so I do absolutely think he is worth considering.

wood(4)/grimm/strop/rondon combine for 7ip 0h 0bb 8K

nasty.