Game Preview: Cardinals (54-44) @ Cubs (45-53)
Submitted by

Rob G.

on Sun, 07/25/2010 - 5:37pm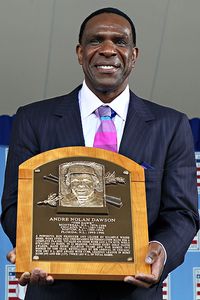 The last post is getting a little long in the tooth and a little bitchy, so let's move on to happier things like Andre Dawson's Hall of Fame induction today and the Cubs on the brink of a three game sweep over the Cardinals.
I don't have much to add actually on Dawson's speech today much like anything involving this site lately, but that smiling photo with the plaque classes up the joint.
As for the Cubs, they're third in the league in runs scored in July behind the Giants and Yankees. Who'd thunk? Three guys have OPS numbers north of 1.000 (Castro, Ramirez and Soto) with Byrd, Lee and Colvin around the .800 or above mark, leaving Soriano(.732 but with 5 HR's) and Theriot(.641) to bring up the rear.
Z threw two scoreless last night for Iowa with no walks, a hit and three K's and should join the team this week if he apologizes to his teammates for...giving a shit about losing? And probably for destroying the Gatorade cooler, I hear it was a clubhouse favorite.
Dempster got beat up a bit against the weakly 'Stros last time, but the offense bailed him out of a loss.
Lineup for tonight's game from Muskat's twitter feed:
rf colvin, ss castro, 1b lee, 3b ramy, cf byrd, lf sori, c soto, 2b riot, p demp
Recent comments
The first 600 characters of the last 16 comments, click "View" to see rest of comment.
GRAND SLAM SCZURURUWSRAURRUZUZRUZURZ

Ryan Pace has a reputation as a good judge of talent. Head coach is known for the D side of the ball. D coordinator Fangio known for fitting guys in to spots that best utilize their skills. I'm for seeing how it plays out. I assume their had to be some consensus among those 3 about who to take.

Also I'm for letting the Cubs catch up to the Hawks in victory parades before Theo takes on outside projects.

RIZZ! unf...8th inning lead.

we might have seen another inning of lester out there if he didn't throw 30 pitches last inning because of a base throwing issue...on a day where he's very tuned in.

i've accepted what's happening with lester, but turning a double play into 0 outs is noteworthy even if some people don't want to be reminded of it.

A lot of batters simply can't bunt is one problem.

I'm pretty sure there is not a single person ignoring it at this point In all of baseball and it's a thing everyone is talking about.

That said he also managed to get out of a bases loaded, zero outs situation with no runs given up and that is something very few pitchers could do and it wasn't just because of a few balls called strikes. So....Let's not just talk about Lester when there are throwing issues because there has been a lot more good than bad just this game let alone this year.

there's nothing anyone can do about anything going on out there. i don't even post every one he fumbles into. i also post about HRs and other crap. it's happening, good or bad things are happening.

this is an interesting thing to me. just because it's a negative thing doesn't make it "woah."

we had 1000000000 posts about leadoff men and 2nd batters during the dusty years when everyone knew speed leads and contact-with-low-Ks hits 2nd. we all knew what's up. some people talked about it.

Have I mentioned how much I love TLS?

Guess I should have waited to post that.

Ignore it? You talk about it all the time. I'm sure the rest of the board notices, but just doesn't feel the need to harp on it. It is not like we can do anything about it anyway.

that's an interesting leap.

so, we ignore the thing that keeps happening and if one chooses to not ignore it then one obviously wants to replace him with dan harren.

it's fair game. the guy, on multiple occasions, puts the team in 4+ out innings because a guy who throws a ball for a living can't throw to a base. it's not like this happened once or twice or three times or four times or...

There goes Ross' ASG prospects...

unique curiosity is a good description...

he has a lot of 4-5 out innings. this is at least the 2nd time he's turned a double play ball into 0 outs just this year that i've noticed and he's got a slew of "4-out" innings under his belt, too.

and 1.83 ERA

Cubs should trade him, get a worse pitcher that loses games instead but can make a throw to 1b.

Agreed, but like with Garza, I am surprised that more managers don't try an exploit a clear weakness.

not sure either, but in most cases I imagine someone else can field it. And if you bunt it directly at him, he would have enough time to underhand toss it or just run it over?

Today's bunt, he really, really didn't want to field it. Not sure if he lost it in his glove after that or just wasn't going to make the throw. It's not ideal obviously, yet still hasn't had any real impact on the team.

well, how long do keep pretending that a bunt hit well back to the pitcher that would be a double play for many pitchers isn't a "thing"? it's a story. it's not like it's a physical defect people are picking on.

no one gave chuck knoblauch a pass when he lost the ability to throw a ball to 1st.

it's a unique curiosity for a guy who throws a ball on a professional level for a living.