Game Preview: Cardinals (54-44) @ Cubs (45-53)
Submitted by

Rob G.

on Sun, 07/25/2010 - 5:37pm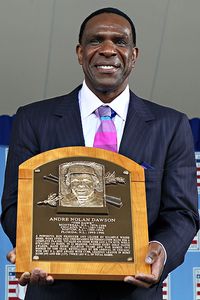 The last post is getting a little long in the tooth and a little bitchy, so let's move on to happier things like Andre Dawson's Hall of Fame induction today and the Cubs on the brink of a three game sweep over the Cardinals.
I don't have much to add actually on Dawson's speech today much like anything involving this site lately, but that smiling photo with the plaque classes up the joint.
As for the Cubs, they're third in the league in runs scored in July behind the Giants and Yankees. Who'd thunk? Three guys have OPS numbers north of 1.000 (Castro, Ramirez and Soto) with Byrd, Lee and Colvin around the .800 or above mark, leaving Soriano(.732 but with 5 HR's) and Theriot(.641) to bring up the rear.
Z threw two scoreless last night for Iowa with no walks, a hit and three K's and should join the team this week if he apologizes to his teammates for...giving a shit about losing? And probably for destroying the Gatorade cooler, I hear it was a clubhouse favorite.
Dempster got beat up a bit against the weakly 'Stros last time, but the offense bailed him out of a loss.
Lineup for tonight's game from Muskat's twitter feed:
rf colvin, ss castro, 1b lee, 3b ramy, cf byrd, lf sori, c soto, 2b riot, p demp
Recent comments
The first 600 characters of the last 16 comments, click "View" to see rest of comment.
OK Marlins -- take 'em down. Fernandez, at home, tomorrow for the Fish.

Gotta say, though -- as much as I can't stand them, the Cardinals have had some very impressive late-inning wins against premier closers.

Very impressive that he hit a 3-2 curve ball. Such a dynamic ballplayer. If he ever learns the strike zone....

If Jason Hammel doesn't get a potato chip sponsorship deal, somebody messed up. Attaboy, Jason!

I am looking forward to AChap facing the Cardinals.

Sure is fun to watch them score finally. To think they were no-hit until the 7th...

Got to admit it - it was comforting seeing Rondon come out for the eighth after just taking a two run lead ... And put the hammer down with a 7 pitch inning. Good stuff

GRAND SLAM RUSSELL

blown the hell open...7 run lead

11 hits off Wainwright tonight. Everything going right for the Cards right now. Motherfucking motherfuckers.

it was more no-doubt than bryant's HR. it wont make any end-of-season highlight reels, but that one was booked to leave on contact.

Javy! Javy! Javy!

How sweet was that - Cranked it!

393 happy feet

baaaaaaaaaaaaaaaez!

cubs take a 2 run lead in the 7th. sweet.

...and the Cards tie and take the lead in the 9th. off Familia.

Familia blows his first save of the season -- gives up 2 in 9th to the Cards.

Not much going our way these days.

bryant's back!

no-doubt HR towering to CF...tie game.

This site is as dead as the team.