Game Preview: Cardinals (54-44) @ Cubs (45-53)
Submitted by

Rob G.

on Sun, 07/25/2010 - 5:37pm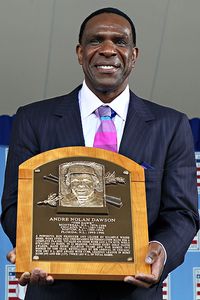 The last post is getting a little long in the tooth and a little bitchy, so let's move on to happier things like Andre Dawson's Hall of Fame induction today and the Cubs on the brink of a three game sweep over the Cardinals.
I don't have much to add actually on Dawson's speech today much like anything involving this site lately, but that smiling photo with the plaque classes up the joint.
As for the Cubs, they're third in the league in runs scored in July behind the Giants and Yankees. Who'd thunk? Three guys have OPS numbers north of 1.000 (Castro, Ramirez and Soto) with Byrd, Lee and Colvin around the .800 or above mark, leaving Soriano(.732 but with 5 HR's) and Theriot(.641) to bring up the rear.
Z threw two scoreless last night for Iowa with no walks, a hit and three K's and should join the team this week if he apologizes to his teammates for...giving a shit about losing? And probably for destroying the Gatorade cooler, I hear it was a clubhouse favorite.
Dempster got beat up a bit against the weakly 'Stros last time, but the offense bailed him out of a loss.
Lineup for tonight's game from Muskat's twitter feed:
rf colvin, ss castro, 1b lee, 3b ramy, cf byrd, lf sori, c soto, 2b riot, p demp
Recent comments
The first 600 characters of the last 16 comments, click "View" to see rest of comment.
Brooksbaseball.net has some interesting stats/graphs on pitch and strike zones and you can dial up individual games/pitchers. I'd love to see some comments from readers who can interpret this better than I can. I thought the Ump was really inconsistent with a very wide zone. Does this info seem to match up with my eyeball perception?

Here is Lackey/Lester from last night. It seems their box is a bit different than the K-Zone TBS was using.

Here is Lester's data:

AZ Phil: Agree, this must have been a really fun game to watch. There was a lot of base stealing going on. Are the pitchers not holding runners or is the catching still a work in progress?

Cuzzi has long been known as having the biggest strike zone among all umpires.

AZ Phil, give me a scouting report on Chris Pieters since he has become a 1B/OF.

I think it's probably hard to adjust to an ump's zone mid-game, as least for hitters. Pitchers can locate to an ump's zone, but hitters have minimal time to react.

But, whatever. Umps are going to miss calls. Let's beat up on the non-Lackey starters.

Watched a little of Mets-Dodgers.

Jason deGrom -- oh, my.

Cubs 3-4-5 hitters are 0-21 so far in the post-season.

Let's change that in a big effin' way tomorrow, boys.

Considering how players reacted it seemed pretty accurate high and wide (to righties), but not so accurate low and in. I thought the strike zone by the ump was awful, but it was consistent and the Cubs never adjusted.

Rizzo and Bryant need to have good at bats. They are really looking outclassed in these two games.

that game sounds fun as hell.

I was just wondering the same thing. I'd rather not see it at all. If it's inaccurate, it's a bad viewer experience. If it's accurate, it shows some shitty calling by the umpire.

TBS' K Zone seems to be more harsh than the others.

I wonder if MLB will ask the networks to stop using them. They just make the umps, and the game, look bad, and it only pisses off the fans.

"Strop vs. Cardinals." Seen the movie. Hated it.

Not all that disappointed -- I didn't think they would beat Lackey in Game 1. Need to get the bats going against the guys with less experience -- and they hit Wacha pretty good.

Rizzo has been slumping the last couple weeks of the season. Very disappointed it has continued during his penultimate moment of his career to date.

Really doesn't matter, but I was surprised to see Lester pulled and Strop pulled in. Should of left Lester in. oy.

Sweet merciful fuck, I hate the Cardinals.