Game Preview: Cardinals (54-44) @ Cubs (45-53)
Submitted by

Rob G.

on Sun, 07/25/2010 - 5:37pm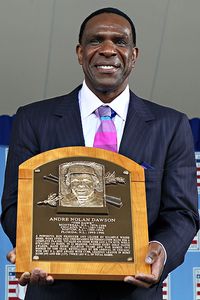 The last post is getting a little long in the tooth and a little bitchy, so let's move on to happier things like Andre Dawson's Hall of Fame induction today and the Cubs on the brink of a three game sweep over the Cardinals.
I don't have much to add actually on Dawson's speech today much like anything involving this site lately, but that smiling photo with the plaque classes up the joint.
As for the Cubs, they're third in the league in runs scored in July behind the Giants and Yankees. Who'd thunk? Three guys have OPS numbers north of 1.000 (Castro, Ramirez and Soto) with Byrd, Lee and Colvin around the .800 or above mark, leaving Soriano(.732 but with 5 HR's) and Theriot(.641) to bring up the rear.
Z threw two scoreless last night for Iowa with no walks, a hit and three K's and should join the team this week if he apologizes to his teammates for...giving a shit about losing? And probably for destroying the Gatorade cooler, I hear it was a clubhouse favorite.
Dempster got beat up a bit against the weakly 'Stros last time, but the offense bailed him out of a loss.
Lineup for tonight's game from Muskat's twitter feed:
rf colvin, ss castro, 1b lee, 3b ramy, cf byrd, lf sori, c soto, 2b riot, p demp
Recent comments
The first 600 characters of the last 16 comments, click "View" to see rest of comment.
Well Ross is out, so they had to bring in Rodney

these ties and leads being immediately pissed away is getting old

btw, Madbum vs Groin-key tonight

This game is sucking brainless donkey dicks

c.richard pitching in a game where the team is only down by 1?

barf.

...2 batters, 0 outs, and 1 run later it's grimm's turn.

Be nice if someone other than the Ace was capable of a shutdown inning after the Cubs score. Can't even get the freaking pitcher out.

...and then he gives up a run, and the lead, on a single by the pitcher. still, 2 runs through 5 is good for him.

I was focusing on the mechanics of the swing, which was awful earlier. He looked ok up there that way.

Two strikes, slider out of the zone, and he swings. Looks familiar. It really makes Bryant's plate discipline look very impressive.

haren's made it through 4 without shitting himself...only 1 run on him. neat.

Tom Seaver has The Cubs number tonight

I hope we get to see a repeat performance of this from Q. Berry.

Baez strikes out in his first at bat, but not whirling dervish style. Just missed it, didn't unwind like a uncoiling spring - just a clean miss. Call me optimistic, but I call that progress.