Game Preview: Cardinals (54-44) @ Cubs (45-53)
Submitted by

Rob G.

on Sun, 07/25/2010 - 5:37pm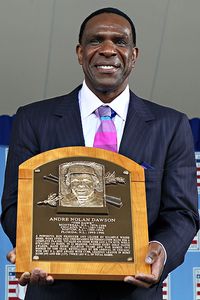 The last post is getting a little long in the tooth and a little bitchy, so let's move on to happier things like Andre Dawson's Hall of Fame induction today and the Cubs on the brink of a three game sweep over the Cardinals.
I don't have much to add actually on Dawson's speech today much like anything involving this site lately, but that smiling photo with the plaque classes up the joint.
As for the Cubs, they're third in the league in runs scored in July behind the Giants and Yankees. Who'd thunk? Three guys have OPS numbers north of 1.000 (Castro, Ramirez and Soto) with Byrd, Lee and Colvin around the .800 or above mark, leaving Soriano(.732 but with 5 HR's) and Theriot(.641) to bring up the rear.
Z threw two scoreless last night for Iowa with no walks, a hit and three K's and should join the team this week if he apologizes to his teammates for...giving a shit about losing? And probably for destroying the Gatorade cooler, I hear it was a clubhouse favorite.
Dempster got beat up a bit against the weakly 'Stros last time, but the offense bailed him out of a loss.
Lineup for tonight's game from Muskat's twitter feed:
rf colvin, ss castro, 1b lee, 3b ramy, cf byrd, lf sori, c soto, 2b riot, p demp
Recent comments
The first 600 characters of the last 16 comments, click "View" to see rest of comment.
Can we please stop pointing out how ridiculous it is to panic and start panicking in earnest?

,571 winning percentage in May.

I think they're gonna be OK.

RAISIN: All I know is that Oscar de la Cruz is still shut down, and I don't know what his prognosis is, or what the plan is going forward.

Remember just two weeks ago, when "all" they had to do was play .500 ball the rest of the season and coast into the playoffs?

Well I guess if pitchers can keep working the edges of the plate to perfection it will be a long season. But that doesn't seem likely. Rizzo finally, fully, snapping out of it would help.

If I didn't believe in coincidences (or science), I would apologize to Gordon Downie--one of my favorites. Sad news about a great talent.

Hi Arizona Phil,

Has there been any news on Oscar de la Cruz' health?

O&B: Cease was apparently working on his off-speed pitches in his first & thrd innings, because in his second inning of work he just blew the D'backs away with high-velocity gas (that's when he hit 99-100 and struck out the side).


Wow, Lyin' CTSteve? He was just BEGGING for my endorsement last year! Lame!

1. I did not say the thing I insisted that Trans write down and attribute to me, or it was taken out of context.

2. Trans and his "roast" (aka, a Salisbury steak TV dinner by Swanson) are very low energy.

3. Make TCR great again.

Yeah, I'm fine if I don't hear another one, furlong time.

nice recap, horrible game...i hope to never hear another horse pun/joke for at least a decade.

THAT WAS TURRIBLE.

MY GAWD.

Ok, fine. I'll do a recap.