The Aha Moment
Submitted by

Dr. Joseph Hecht

on Sun, 07/15/2012 - 9:40pm
I'm getting more mileage out of this story than Ian Stewart will get out of his dismal 2012 Chicago Cubs season. In historical terms for 2012, third baseman, Ian Stewart will be just a small foot(wrist)note at the bottom of the media guide.
Stewart came to the Cubs in a "damaged goods" type trade. He didn't have a diagnosis for his 2011 bad left wrist woes and multiple doctors could not find any "structural" damage. Theo and Jed figured that a "non-structural" problem would get better with an off-season of rest. We all know that this is not the way Cubbery works.
In a trade that made sense at the time because Aramis Ramirez was being converted into a supplementary round draft choice, Ian Stewart was acquired from Colorado as damaged goods and the Cubs took that risk. I've written on this topic BEFORE Stewart went to the Cleveland Clinic for a teritary opinion with the medical history of an undiagnosed painful left wrist problem. I won't rehash the pre-Cleveland Clinic information. You can recap it here in the TCR post, "Who Ya Gonna Call."
Sports medicine Doctor to the pros, Dr. Thomas Graham, finally diagnosed the problem. The reason for this sequal is that it seems that there was an "Aha moment" when the diagnosis was made. Both doctors and patients really like those moments. It's the medical equivalent to what both Mr. Burns and his long lost son (courtesy of Tim Souers) would say in a similar situation: "Excellent."
---
Carrie Muskat at mlb.com posted the first article on 7/2 that acknowledged that Dr. Graham had diagnosed Stewart's problem and then detailed the surgical plans here. She related that Stewart in a prior injury a few years ago may have injured or even fractured the navicular wrist bone leading to his problem.
A few years ago, Stewart had fractured a bone in his wrist, and Graham determined that another small bone was in contact with the larger one. Removing it should alleviate the pain.
MLB.com writer, Rowan Kavner quotes Stewart in a Sunday, 7/15 article:
"Over those two or three years, there's a lot of cortisone shots, a lot of MRIs, X-rays, with nothing ever showing up," Stewart said. "It had been weighing on me a lot, especially over here, being with a new team and wanting to prove myself."
Even Dr. Graham didn't figure out the problem until he examined Stewart's wrist under fluoroscopy. Fluoroscopic imaging is an X-Ray unit with live time imaging, including the ability to image the wrist bones while the wrist is put through movement. In fact, Dr. Graham needed to examine Stewart's other wrist under fluoro to make sure what he saw was specific to the injured side.
The Aha Moment:
"On the screen, he saw one of the bones on the outer part of my wrist was overlapping the bone next to it, which really means it's touching it and they're kind of rubbing together," Stewart said. "He kind of went from there and realized that's not what's supposed to happen."
That makes this a structural problem. It was just difficult to diagnose, without going the extra mile (just like Theo's scouts are supposed to do). Finally there was a diagnosis: DWI or dorsal wrist impingement. The anatomy here is the dorsal (or top, not palm side of the wrist) portion of one of the wrist bones, known as the scaphoid (aka navicular) impinges on the capsule (connective fibrous coating) of the joint and a nearby tendon (the extensor carpi radialis brevis) or an adjacent wrist bone (probaby the capitate). It's seen most commonly in gymnasts and obviously uncommon (or not something often considered) in baseball.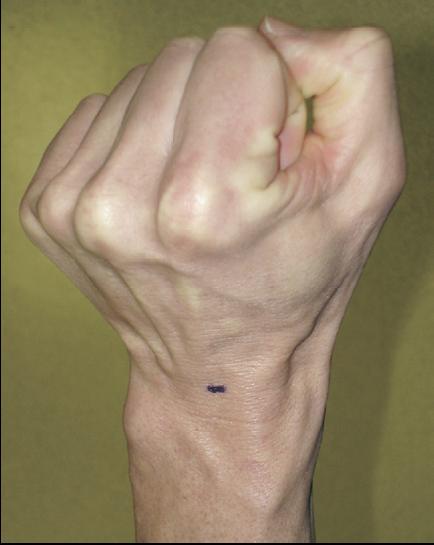 (Note: the blue mark on the wrist where Dorsal Wrist Impingement occurs)
The surgery included a wrist arthroscopic exam, which was mostly to make sure there was no additional abnormalities in the joint. Then there was an open/incisional part to the surgery which including taking out a segment of the wrist bone that was impinging on other structures.
Kavner's more recent article says this about his postop treatment:
Stewart, who had a bone taken out of his wrist, said there's no timetable for his return. He will get the sling removed in a couple of weeks, when he'll return to Cleveland to take off the wrapping and progress into more movement.

Though his status this year is still unknown, he thinks a return next season is definite.
The earlier Muskat article related:
When could he return? Doctors said it might not be until early or middle September.

"You don't know if there's enough time [to play]," he (Stewart) said.
As a patient, Ian Stewart has to be thrilled to have his mystery problem (hopefully) solved. As a professional baseball hitter, we all know that that the wrist is critical for bat speed and control of the swing. What the Cubs do regarding Ian Stewart's contract for 2013 is yet to be seen but with his 2012 season mostly being a non-event, at least Jedstein should get some credit for getting him diagnosed and treated under their watch. Because of this good deed, on their baseball deathbed, team-Theo should receive Total Consciousness (which is nice). I'm hoping, Stewart will come back for the same money in 2013 and everyone gets a mulligan. Unfortunately, the Laws of Cubbery would predict that Stewart will have his best seasons soon after leaving the Cub organization.
Recent comments
The first 600 characters of the last 16 comments, click "View" to see rest of comment.
Happ signs w Jays
3/36

Morsi saying Price won't be a Jay

needs more d.beeler and e.jokisch

As an Illinois tax payer I appreciate what they r doing

+Price
+Cueto
+Zimmerman
-Castro

2 spots left on the 40-man...wonder if they're going to play around in the rule-5 market...

A special after day after Thanksgiving thanks to AZ for his insanely detailed posts on all things roster. I don't know how you keep track of all that stuff - I suspect a chip implant, but whatever it is, it's cool.

there's nothing like crapping out of the playoffs with a strong/young cheap team after pinching pennies for years then having theo talk about having to be creative with money to make things work for 2016...but hey, baseball isn't baseball without a farmer's market and beer garden plaza with ice rinks.

they can do both...then again, if you want to look at it from a business point of view, they don't have to do both because the team is expected to be competitive and the merch+tickets+eyes-on-team are going to be at a peak unless they fail badly.

Really ?

They are trying to bring the facility to the 20th century.
I think they know what they are doing.

With the Cubs adding Pierce Johnson to their roster and not exposing/losing him to the Rule 5 Draft keeps the trade ancestry tree alive that started in 1999 with Tom Gordon and undrafted Adam Morrissey and includes 17 players, the trade tree progressed to involve the Hee Sop Choi for Derrek Lee deal and the famous Aramis Ramirez/Kenny Lofton deal..Pierce Johnson is the compensation pick for Aramis Ramirez in 2012

Yeah, the Rex brothers, Tyrannosaurus and Oedipus

When I first saw the Tweet, I thought there were two guys. Happy Thanksgiving gang! And TheoJed!