Game Preview: Cardinals (54-44) @ Cubs (45-53)
Submitted by

Rob G.

on Sun, 07/25/2010 - 5:37pm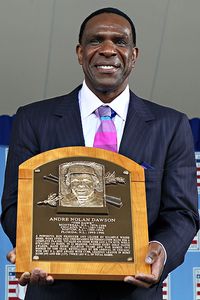 The last post is getting a little long in the tooth and a little bitchy, so let's move on to happier things like Andre Dawson's Hall of Fame induction today and the Cubs on the brink of a three game sweep over the Cardinals.
I don't have much to add actually on Dawson's speech today much like anything involving this site lately, but that smiling photo with the plaque classes up the joint.
As for the Cubs, they're third in the league in runs scored in July behind the Giants and Yankees. Who'd thunk? Three guys have OPS numbers north of 1.000 (Castro, Ramirez and Soto) with Byrd, Lee and Colvin around the .800 or above mark, leaving Soriano(.732 but with 5 HR's) and Theriot(.641) to bring up the rear.
Z threw two scoreless last night for Iowa with no walks, a hit and three K's and should join the team this week if he apologizes to his teammates for...giving a shit about losing? And probably for destroying the Gatorade cooler, I hear it was a clubhouse favorite.
Dempster got beat up a bit against the weakly 'Stros last time, but the offense bailed him out of a loss.
Lineup for tonight's game from Muskat's twitter feed:
rf colvin, ss castro, 1b lee, 3b ramy, cf byrd, lf sori, c soto, 2b riot, p demp
Recent comments
The first 600 characters of the last 16 comments, click "View" to see rest of comment.
Hate to give the Mets credit, but they did everything right tonight in what had to be a very tough game for them to play. As Hollandsworth said on the Cubs post-game -- if you watched the game, you saw Mets players consoling Marlins players who were in tears during the game. Between that and the way Molina handled the Ross farewell -- maybe the Mets and Cardinal players aren't pure evil. Just the fans.

New York Mets @Mets
Dee Gordon lead-off home run. #AintEvenMad #BiggerThanBaseball 1-0 Miami.
7:25 PM - 26 Sep 2016

Amazing effort by Gordon -- truly remarkable.

Cubs get 100, KB gets 100, Hendricks gets below 2.00, Cards get absolutely destroyed by the Reds -- all good, other than some Rondon concern. Hopefully, he can get a few outings in this week and find his groove. Also, I guess Soler is still struggling with his right side. Hmmmm. Too bad Joe didn't let Addy bat with the bases loaded in the 7th -- great RBI opportunity.

I assume all the relievers are on a set schedule this week, but it seems strange Chapman pitched back-to-back.

Barry Rozner article interviewing Greg Maddux (with comments on Kyle Hendricks).

http://www.dailyherald.com/article/20160925/sports...

"I like watching him pitch," Maddux said of Hendricks. "I like guys that rely on movement and location. I can relate to him. That's what I had to do. "I'd rather watch him pitch than some lefty throwing 95 mph."

Chapman in to stop the bleeding.

they're falling apart late in WAS...damn.

Wilson Ramos may be hurt badly. Carried off the field. Looks like the knee.

Hendricks 6 shutout innings, ends night with an ERA of 1.99

in case it hasn't been mentioned yet, Twins are hiring Indians 32-year old Derick Falvey from the Cleveland Native Americans organization.

Suppose McLeod could still be asked by another organization but likely staying put.

Well put, both your remark, and Crunch's.

I saw the Gordon HR. It was like a funeral where the mourners were made to play baseball. So sad...

i wanted to watch more of it, but it started to feel like i was going beyond witnessing a human experience that isn't often seen into an uncomfortable voyeurism. these guys are in pain.

wow I am glad I missed the start of the MIA game. I would have been sobbing.