Game Preview: Cardinals (54-44) @ Cubs (45-53)
Submitted by

Rob G.

on Sun, 07/25/2010 - 5:37pm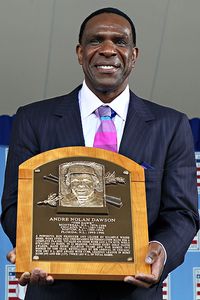 The last post is getting a little long in the tooth and a little bitchy, so let's move on to happier things like Andre Dawson's Hall of Fame induction today and the Cubs on the brink of a three game sweep over the Cardinals.
I don't have much to add actually on Dawson's speech today much like anything involving this site lately, but that smiling photo with the plaque classes up the joint.
As for the Cubs, they're third in the league in runs scored in July behind the Giants and Yankees. Who'd thunk? Three guys have OPS numbers north of 1.000 (Castro, Ramirez and Soto) with Byrd, Lee and Colvin around the .800 or above mark, leaving Soriano(.732 but with 5 HR's) and Theriot(.641) to bring up the rear.
Z threw two scoreless last night for Iowa with no walks, a hit and three K's and should join the team this week if he apologizes to his teammates for...giving a shit about losing? And probably for destroying the Gatorade cooler, I hear it was a clubhouse favorite.
Dempster got beat up a bit against the weakly 'Stros last time, but the offense bailed him out of a loss.
Lineup for tonight's game from Muskat's twitter feed:
rf colvin, ss castro, 1b lee, 3b ramy, cf byrd, lf sori, c soto, 2b riot, p demp
Recent comments
The first 600 characters of the last 16 comments, click "View" to see rest of comment.
Phil, do Marquez and Ocampo look like prospects?

It helps when your defense has declared war against the H in WHIP.

Still impressive.

Lackey finishes with a 3.35 ERA. Currently good for 13th in the NL. Not bad for a guy signed to be a #3 starter in a 15-team league.

He is also 6th in WHIP. Pretty amazing: Cubs have the #2, #3, #5 and #6 starters in WHIP.

Completely meaningless game, but Pena striking out Sean the Turd to with the bases loaded was very fun.

Other than one bad game in SD, Pena has been very good. Even with that game, 9.0 IP, 13 K, 0.89 WHIP.

101 wins...most since 1910 (104).

neat. ...or sad. pick one. pick both. 'murica.

Just looked up Grimm's stats -- after a great run, he gave up 2 runs vs. MIL then didn't pitch for 10 days. Don't remember why?

Sean Rodriguez's helmet looks like it's taking a dump

Grimm not doing himself any favors lately re: making the playoff squad. Seems to have lost the feel for his curveball.

j.grimm is literally worse than hitler.

felix pena, your turn.

it's been a while since joe's over-managed a game...it's gotta feel good for him to be back in the saddle making people's scorecards look like their pens blew up.

Fuck a bench spot on the playoff roster, Coghlan is competing to bat cleanup.

barely any...especially for an evening game. place looks 1/2 full at best to start the game.

Listening on the radio. Are there any fans in the stands at all?

"An MRI taken Monday on the right side of Jorge Soler showed no major damage."

rare air though if he can keep it under 2. Sounds like Maddon already made up his mind though and Hendricks seems like the sort that would want to earn it. Guessing he gets a quick hook if he's still under 2 after 5 innings.

Fwiw, he can give up 1 ER in 5 innings (or more) and still be under 2. If he gives up 2 ER, he would need throw 9 IP to keep it under 2. 1 ER in 4 IP would give him an ERA of exactly 2.

In terms of WAR, it's still Scherzer by a lot (6.4), then Cueto (5.6), Lester (5.5), Kershaw (5.5), Roark (5.4), and then Hendricks (5.1)

Boring lineup tonight in terms of guys trying to reach milestones -- no KB (40 HR), Addy (100 RBI) or JHey (can he keep it going?), and Lackey isn't really going for anything, plus the team has already reached 100 wins. I get the "rest" thing, although they will have 4 days off after Sunday, but....bleh.