Game Preview: Cardinals (54-44) @ Cubs (45-53)
Submitted by

Rob G.

on Sun, 07/25/2010 - 5:37pm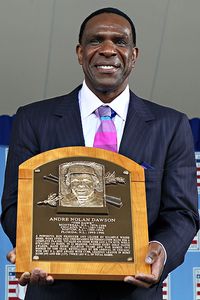 The last post is getting a little long in the tooth and a little bitchy, so let's move on to happier things like Andre Dawson's Hall of Fame induction today and the Cubs on the brink of a three game sweep over the Cardinals.
I don't have much to add actually on Dawson's speech today much like anything involving this site lately, but that smiling photo with the plaque classes up the joint.
As for the Cubs, they're third in the league in runs scored in July behind the Giants and Yankees. Who'd thunk? Three guys have OPS numbers north of 1.000 (Castro, Ramirez and Soto) with Byrd, Lee and Colvin around the .800 or above mark, leaving Soriano(.732 but with 5 HR's) and Theriot(.641) to bring up the rear.
Z threw two scoreless last night for Iowa with no walks, a hit and three K's and should join the team this week if he apologizes to his teammates for...giving a shit about losing? And probably for destroying the Gatorade cooler, I hear it was a clubhouse favorite.
Dempster got beat up a bit against the weakly 'Stros last time, but the offense bailed him out of a loss.
Lineup for tonight's game from Muskat's twitter feed:
rf colvin, ss castro, 1b lee, 3b ramy, cf byrd, lf sori, c soto, 2b riot, p demp
Recent comments
The first 600 characters of the last 16 comments, click "View" to see rest of comment.
Nah, I'll probably just contemplate how they should've done a Padres-style all-in plan.

of course not. maybe go ice skating and think about it a while. make advanced reservations at the hotel they're starting construction on. check new releases for possible entertainment from the movie screens they want installed. think about renting an office in the new office spaces. write a letter to the cubs requesting your favorite beer be added to the beer garden. lobby your favorite band to play the outdoor venue.

...and in between that maybe they can find $40-50m to invest in the product that all of this revolves around.

let's not get caught up on phrasing for a setup and lose the gist of the post. i don't care what one wants to call the playoff exit.

-crapping out
+they lost their playoff attempt

there. now we can focus on something other than not liking the tone of a line that's setting up a point.

I didn't like the entire post, if that helps.

Making the NLCS with a young team = "crapping out of the playoffs with a young team."

I'm guessing 3/30 and all the two foot long hot dogs you can eat didn't work

Yes! In a 12-way tie for first!

Shit.

Blew my prediction! I had them signing Zimmerman and trading for another arm.

Yeah, this market. Remember when Ted Lilly signed a 4/$40m with the Cubs? It was like "Well, I guess if you can throw a ball, that's what the 3 and 4 starters are all getting." I'm glad I'm not a GM. Of course, they're spending our money...

in this market that seems like a decent deal relative to the market.

given that d.price will probably get 30m-ish a year, 22m for 29yo zimm doesn't seem bad. i wouldn't complain about him suiting up for the cubs. one less option gone...

Cubs 3B Christian Villanueva (who is out of minor league options) is hitting 358/464/500 for Obregon in the Mexican Pacific League (LMP), and is leading the LMP in OBP, is second in BAvg and walks, is seventh in SLG, and is tied for 8th in HR. He also has struck out only 16 times in 175 PA.


CTSteve, thanks for spelling Zimmermann correctly. We don't need another first baseman.

The media has linked Cueto and the Cubs approximately zero times this winter. I'm thinking there's just not a lot of interest there on the Cubs' part. It seems unlikely.

If the Cubs miss on Price, Grienke, and Zimmerman, they will aim for a mid-rotation starter via free agency or trade. However, I think this scenario also significantly boosts the odds that they extend Arrieta.

The Tigers are going after Zimmermann and the Red Sox will be throwing money at Price. Bringing Cueto back to the NL with the Cubs is looking like a serious possibility. Thoughts?