Game Preview: Cardinals (54-44) @ Cubs (45-53)
Submitted by

Rob G.

on Sun, 07/25/2010 - 5:37pm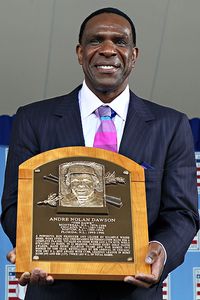 The last post is getting a little long in the tooth and a little bitchy, so let's move on to happier things like Andre Dawson's Hall of Fame induction today and the Cubs on the brink of a three game sweep over the Cardinals.
I don't have much to add actually on Dawson's speech today much like anything involving this site lately, but that smiling photo with the plaque classes up the joint.
As for the Cubs, they're third in the league in runs scored in July behind the Giants and Yankees. Who'd thunk? Three guys have OPS numbers north of 1.000 (Castro, Ramirez and Soto) with Byrd, Lee and Colvin around the .800 or above mark, leaving Soriano(.732 but with 5 HR's) and Theriot(.641) to bring up the rear.
Z threw two scoreless last night for Iowa with no walks, a hit and three K's and should join the team this week if he apologizes to his teammates for...giving a shit about losing? And probably for destroying the Gatorade cooler, I hear it was a clubhouse favorite.
Dempster got beat up a bit against the weakly 'Stros last time, but the offense bailed him out of a loss.
Lineup for tonight's game from Muskat's twitter feed:
rf colvin, ss castro, 1b lee, 3b ramy, cf byrd, lf sori, c soto, 2b riot, p demp
Recent comments
The first 600 characters of the last 16 comments, click "View" to see rest of comment.
there's nothing like crapping out of the playoffs with a strong/young cheap team after pinching pennies for years then having theo talk about having to be creative with money to make things work for 2016...but hey, baseball isn't baseball without a farmer's market and beer garden plaza with ice rinks.

they can do both...then again, if you want to look at it from a business point of view, they don't have to do both because the team is expected to be competitive and the merch+tickets+eyes-on-team are going to be at a peak unless they fail badly.

Really ?

They are trying to bring the facility to the 20th century.
I think they know what they are doing.

With the Cubs adding Pierce Johnson to their roster and not exposing/losing him to the Rule 5 Draft keeps the trade ancestry tree alive that started in 1999 with Tom Gordon and undrafted Adam Morrissey and includes 17 players, the trade tree progressed to involve the Hee Sop Choi for Derrek Lee deal and the famous Aramis Ramirez/Kenny Lofton deal..Pierce Johnson is the compensation pick for Aramis Ramirez in 2012

Yeah, the Rex brothers, Tyrannosaurus and Oedipus

When I first saw the Tweet, I thought there were two guys. Happy Thanksgiving gang! And TheoJed!

They can use another Brother

Cubs acquired Rex Brothers. Awesome fit for this team. Wander Cabrera going to COL.

"MLB announces #Cubs Minor League RHP Tanner Griggs receives 50-game suspension without pay after testing positive for amphetamine"

2014 12th rounder...

http://www.baseball-reference.com/register/player....

it's hard to know who to blame...on one hand he's a baseball player, on the other he sells cars in the offseason...either job leads to amphetamine abuse. =p

Thanks PHIL! I thought only the Cubs had control until the last day of the MLB 2015 Season.

that's awesome...makes me look forward to hearing theo talk some more about how the team needs to be creative with finances because money is tight.

awesome...awesome...

See What The Cubs Are Building This Off-Season For Wrigley Plaza, Clubhouse

CUBBIES-4-EVER: It's not unusual for a PTBNL to be chosen after the Rule 5 Draft from the list of Rule 5 eligible players who were not selected. That way, a club gets a player they like (perhaps somebody like OF Jeffrey Baez) without the cumbersome Rule 5 roster restrictions that go with a Rule 5 Draft pick.

Clayton Richard is absolutely, positively NOT a free-agent. He is under club control through the 2016 season.

Haren was 4-2 with a 4.01 ERA with the Cubs. Seems like he worked out just as expected.