Game Preview: Cardinals (54-44) @ Cubs (45-53)
Submitted by

Rob G.

on Sun, 07/25/2010 - 5:37pm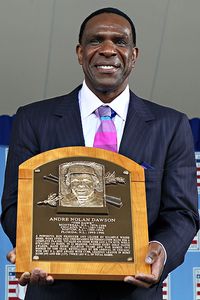 The last post is getting a little long in the tooth and a little bitchy, so let's move on to happier things like Andre Dawson's Hall of Fame induction today and the Cubs on the brink of a three game sweep over the Cardinals.
I don't have much to add actually on Dawson's speech today much like anything involving this site lately, but that smiling photo with the plaque classes up the joint.
As for the Cubs, they're third in the league in runs scored in July behind the Giants and Yankees. Who'd thunk? Three guys have OPS numbers north of 1.000 (Castro, Ramirez and Soto) with Byrd, Lee and Colvin around the .800 or above mark, leaving Soriano(.732 but with 5 HR's) and Theriot(.641) to bring up the rear.
Z threw two scoreless last night for Iowa with no walks, a hit and three K's and should join the team this week if he apologizes to his teammates for...giving a shit about losing? And probably for destroying the Gatorade cooler, I hear it was a clubhouse favorite.
Dempster got beat up a bit against the weakly 'Stros last time, but the offense bailed him out of a loss.
Lineup for tonight's game from Muskat's twitter feed:
rf colvin, ss castro, 1b lee, 3b ramy, cf byrd, lf sori, c soto, 2b riot, p demp
Recent comments
The first 600 characters of the last 16 comments, click "View" to see rest of comment.
The Cubs had some good runs and nice winning streaks that propelled them to the playoffs. Austin Jackson wasn't part of that. I don't quite understand what it is about Jackson that they are so enamored with.

I think the strike zone was very inconsistent, but it's hard to blame the loss on the ump. They had chances and mistake pitches and just couldn't cash in. Lackey ran the ball inside and outside very effectively.

Correct. Castro 5th, AJax 6th; I'll edit my lineup post to fix this.

Lineup: Fowler, Soler, KB, Rizzo, Castro, AJax, Montero, Hendricks, Russell

if he put ajax 1st/2nd in the f'n playoffs he deserves to lose his nearly sure-thing MOY award to terry collins.

I believe Castro batting fifth, Ajax (LF) sixth

Maddon did not listen to me yesterday re Strop, or EricS on Schwarbs today.

Wtf is up w/that?!

Crunch got his wish - Ajax not hitting 1-2 in the lineup ...

I know he's struggles against lefties but Schwarber seems zoned in - hope he starts tonight.

listening on ESPN 1000, caller says Bill Welke will be the home plate ump today. Supposedly his reputation is for having an even bigger strike zone than last night's Phil Cuzzi. Some of the issues with bad umpiring come from an inconsistent strike zone. Hoping at least for consistency. Last night's called strike on David Ross was outright embarrassing for Cuzzi.

That might work out in favor of Kyle Hendricks, who benefits much from a large strike zone.

it's kind of mesmerizing to watch
---
should Theo add some Ted Abernathy videos for minor league pitching coordinator's use?

sadly, Ted passed away in 2004 from complications of Alzheimers. I always loved the Cub bullpen trio of Phil Regan, Ted Abernathy and Hank Aguirre. As a kid, I even worked on both Phil Regan (very quirky delivery) and Ted Abernathy (extreme submarine) imitations when throwing a rubber ball against a wall. It wasn't a good imitation unless I could scrape my knuckles off the ground. I'll always have a soft spot in my heart for submariners.

HAGSAG: Chris Pieters was sent to instructs to develop his hitting, bunting, and outfield play (he is already a decent first-baseman).

Pieters is tall and rangy , a "long-strider" in the same mold as Trey Martin and Rashad Crawford. He is a very patient hitter (unusual for a hitter with his lack of experience) and has an outstanding (almost uncanny) eye at the plate, and he is a fast runner with unusually good baserunning instincts, and he is a good basestealer, too.


I doubt we will see Pedro in any more "high leverage" situations this series. With Hendricks and the pen today, we need Bryant-Rizzo-Castro to get going ASAP.

One funny thing to see before the game was the two submariner pitchers (David Berg and Corbin Hoffner) playing catch with each other. Both pitchers throw "submarine" even when they play catch, and it's kind of mesmerizing to watch, even for the other players.

CUBSTER: One of the points of emphasis at "basic" Instructs this year was teaching the position players the art of baserunning and base-stealing, like getting a good primary and seconday lead, reading the pitcher, cutting bases sharply, and different ways to slide to maximize the baserunner's chance to arrive safely.