Game Preview: Cardinals (54-44) @ Cubs (45-53)
Submitted by

Rob G.

on Sun, 07/25/2010 - 5:37pm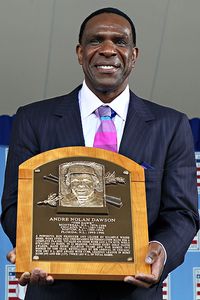 The last post is getting a little long in the tooth and a little bitchy, so let's move on to happier things like Andre Dawson's Hall of Fame induction today and the Cubs on the brink of a three game sweep over the Cardinals.
I don't have much to add actually on Dawson's speech today much like anything involving this site lately, but that smiling photo with the plaque classes up the joint.
As for the Cubs, they're third in the league in runs scored in July behind the Giants and Yankees. Who'd thunk? Three guys have OPS numbers north of 1.000 (Castro, Ramirez and Soto) with Byrd, Lee and Colvin around the .800 or above mark, leaving Soriano(.732 but with 5 HR's) and Theriot(.641) to bring up the rear.
Z threw two scoreless last night for Iowa with no walks, a hit and three K's and should join the team this week if he apologizes to his teammates for...giving a shit about losing? And probably for destroying the Gatorade cooler, I hear it was a clubhouse favorite.
Dempster got beat up a bit against the weakly 'Stros last time, but the offense bailed him out of a loss.
Lineup for tonight's game from Muskat's twitter feed:
rf colvin, ss castro, 1b lee, 3b ramy, cf byrd, lf sori, c soto, 2b riot, p demp
Recent comments
The first 600 characters of the last 16 comments, click "View" to see rest of comment.
2016 Cubs are 0-1 on day after Trans recaps, 20-5 in other games. I enjoy his recaps, but there is a price to pay.

He's the Albert Pujols of recaps and has gotten a huge contract based on past performance. He doesn't need to do anything the rest of his days and he'll still get love.

I thought he was one-and-done on recaps?

Didn't he get Optioned?

Thank you very much for such a robust response. So hard to get anything on these guys that it's nice to hear from someone who has actually seen them. Great to hear about Paredes, I have pretty high hopes for this group of IFAs.

How impressed are you with these guys and size? I know they're pretty large prospects, especially for their ages. I consider size a plus at this stage - IIRC Amaya is the only one below 6'2"? IIRC Kwon had some baby fat on him it, Sierra's traditionally considered projectable as he's all arms and legs, Paredes has that Peralta build at SS....

Godzilla won in the Japanese version, Kong swam off in the American one. At least I think that's how it went....Rematch in 2020, possibly!

He has a community everywhere and he can go into any bathroom he damn well chooses.. His recaps are that good.

Trans has a community in NC?

i do hold strong feelings for which bathroom lester should use...mostly because i think he'd make a huge mess at a stand up urinal.

Phil, any news on Oscar de la Cruz? Is he actively rehabbing?

Obama approves that message, as does the Trans community in N.C.

The advantage we have is Ross is a bit susceptible to the walk and this Cubs team, you know, walks a lot.

http://i.imgur.com/eeRC3g0.jpg

get a room, you two. actually, bring it in for a group hug! yeah!

The Crunch Reporter thanks you for your input. my feelies...however...weep for the future of this country.

@The E-man ♥ (for that post)

It is a "thing" with you. That's just it. The more here that point it out, the less you see it. WISCGRAD only one example. ROB G today....

That's ok - addicts are the last to find out they have a "thing".