Game Preview: Cardinals (54-44) @ Cubs (45-53)
Submitted by

Rob G.

on Sun, 07/25/2010 - 5:37pm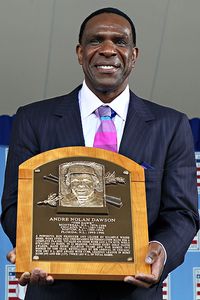 The last post is getting a little long in the tooth and a little bitchy, so let's move on to happier things like Andre Dawson's Hall of Fame induction today and the Cubs on the brink of a three game sweep over the Cardinals.
I don't have much to add actually on Dawson's speech today much like anything involving this site lately, but that smiling photo with the plaque classes up the joint.
As for the Cubs, they're third in the league in runs scored in July behind the Giants and Yankees. Who'd thunk? Three guys have OPS numbers north of 1.000 (Castro, Ramirez and Soto) with Byrd, Lee and Colvin around the .800 or above mark, leaving Soriano(.732 but with 5 HR's) and Theriot(.641) to bring up the rear.
Z threw two scoreless last night for Iowa with no walks, a hit and three K's and should join the team this week if he apologizes to his teammates for...giving a shit about losing? And probably for destroying the Gatorade cooler, I hear it was a clubhouse favorite.
Dempster got beat up a bit against the weakly 'Stros last time, but the offense bailed him out of a loss.
Lineup for tonight's game from Muskat's twitter feed:
rf colvin, ss castro, 1b lee, 3b ramy, cf byrd, lf sori, c soto, 2b riot, p demp
Recent comments
The first 600 characters of the last 16 comments, click "View" to see rest of comment.
I was hearing some talk that John Mallee is trying to change Heyward's swing. Wonder if that is lending itself to the slow start.

rollercoaster loss...ugg.

at least it wasn't a "nobody showed up" stomping.

anytime you wanna jumpstart your season would be nice, heyward.

Now looming VERY large. Game tied.

That Braves TOOTBLAN trying to stretch a double into a triple is looming very large.

Phil, do you know if Victorino has an opt out date approaching? Thanks.

Maybe he can even fall asleep/passout at a red light. #cardinalway

hopefully he has enough time to pound 6-10 beers before the drive back home.

/cardinalway

CTSteve -- have they decided to skip tomorrow's game...? (I keed)

Not a bad thing -- Bryant and Miggy are hurt, and Ross could use a day off.

Cubs quantitatively are off to a hot start...

"Used with permission from John Dewan's Stat of the Week®, www.statoftheweek.com."

2016 .607 ops
neifiesqe

Plus bad fielding

taylor davis moved to AAA to take the place of that other catcher guy dude person.