Game Preview: Cardinals (54-44) @ Cubs (45-53)
Submitted by

Rob G.

on Sun, 07/25/2010 - 5:37pm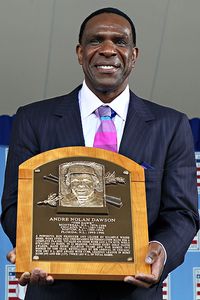 The last post is getting a little long in the tooth and a little bitchy, so let's move on to happier things like Andre Dawson's Hall of Fame induction today and the Cubs on the brink of a three game sweep over the Cardinals.
I don't have much to add actually on Dawson's speech today much like anything involving this site lately, but that smiling photo with the plaque classes up the joint.
As for the Cubs, they're third in the league in runs scored in July behind the Giants and Yankees. Who'd thunk? Three guys have OPS numbers north of 1.000 (Castro, Ramirez and Soto) with Byrd, Lee and Colvin around the .800 or above mark, leaving Soriano(.732 but with 5 HR's) and Theriot(.641) to bring up the rear.
Z threw two scoreless last night for Iowa with no walks, a hit and three K's and should join the team this week if he apologizes to his teammates for...giving a shit about losing? And probably for destroying the Gatorade cooler, I hear it was a clubhouse favorite.
Dempster got beat up a bit against the weakly 'Stros last time, but the offense bailed him out of a loss.
Lineup for tonight's game from Muskat's twitter feed:
rf colvin, ss castro, 1b lee, 3b ramy, cf byrd, lf sori, c soto, 2b riot, p demp
Recent comments
The first 600 characters of the last 16 comments, click "View" to see rest of comment.
Cards and Pirates lose. I'm OK with that.

I'm ready for the end of the Miggy era.

he juuuuuuuuuuuuuuuust got there...1st appearance, injury...yow

Oops. Colin Rea leaves the game with injury.

Cubs optioned Justin Grimm to Iowa after the game. No corresponding roster move announced yet, but it could be Brian Matusz.

Marlins with a quick 4 spot vs Jaime Garcia. Osuna HR the highlight.

Brian Matusz, supposedly he has attachments. Hope it's not like an email with a virus attached.

One thing to remember about Chapman -- he can be magic, but his ERA is higher than Rondon's this year. 100+ mph is fun, but I'd love to see a few more sliders. I think he enjoys the crowd reaction from 103 mph.

"Diamondbacks designated RHP Josh Collmenter for assignment."

aww...he was my 2nd favorite crapballer. his control issues are rather severe at the moment.

Wow -- Chapman gives up a hit and everything completely caves in. I think the Cubs went into collective shock.

Stolen base with the pitcher holding the ball, WP that should have been caught or blocked, then Russell with a 2-out error on a routine play. Cubs handed them 2 runs. Throw in a Fowler bobble and it was a mess.

Hopefully, that is all out of their system now -- let's get a W tomorrow.

First time I've ever seen a base running slump -- he's made some poor decisions recently, but I thought it was a great idea to try to score there -- it's not like Heyward was going to get a 2-out hit against a LHP. Sliding feet-first into home is probably the safe (ugh) way to go, but it's hard to get the foot on the plate.

Yup. He got squeezed (twice) on the first walk, but, when you have one-run lead and the other team is trying to make an out -- take the out.

Clearly the Cubs need to clear out the farm and trade for another closer

Where's Ed Lynch when you need him?