Game Preview: Cardinals (54-44) @ Cubs (45-53)
Submitted by

Rob G.

on Sun, 07/25/2010 - 5:37pm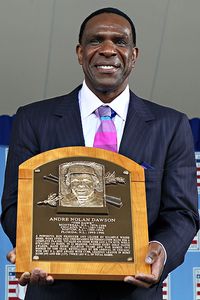 The last post is getting a little long in the tooth and a little bitchy, so let's move on to happier things like Andre Dawson's Hall of Fame induction today and the Cubs on the brink of a three game sweep over the Cardinals.
I don't have much to add actually on Dawson's speech today much like anything involving this site lately, but that smiling photo with the plaque classes up the joint.
As for the Cubs, they're third in the league in runs scored in July behind the Giants and Yankees. Who'd thunk? Three guys have OPS numbers north of 1.000 (Castro, Ramirez and Soto) with Byrd, Lee and Colvin around the .800 or above mark, leaving Soriano(.732 but with 5 HR's) and Theriot(.641) to bring up the rear.
Z threw two scoreless last night for Iowa with no walks, a hit and three K's and should join the team this week if he apologizes to his teammates for...giving a shit about losing? And probably for destroying the Gatorade cooler, I hear it was a clubhouse favorite.
Dempster got beat up a bit against the weakly 'Stros last time, but the offense bailed him out of a loss.
Lineup for tonight's game from Muskat's twitter feed:
rf colvin, ss castro, 1b lee, 3b ramy, cf byrd, lf sori, c soto, 2b riot, p demp
Recent comments
The first 600 characters of the last 16 comments, click "View" to see rest of comment.
Well noted. You may also note that Lester's Career Playoff ERA is almost a full point lower, and he has a lower WHIP as well.

Can't have everything, I guess.

i'm happy enough with the Lester signing, but Scherzer has more than earned the extra money so far. If he was in the rotation instead of Lester, this team would feel practically bulletproof to me.

Blaspheme maybe, but I think Scherzer is the best pitcher in the NL right now.

Maddon was pimping Russell for Gold Glove honors recently as a manager should do...

Here's some defensive numbers:

Fangraphs

Crawford (22.2)
Seager (16.9)
Cozart (14.2)
Hechavarria (13.5)
Russell (12.4)

Baseball Reference

B. Crawford 2.3
Russell 2.0
Hechavarria 1.7
N. Ahmed 1.6
Z. Cozart 1.5

.....

13.C. Seager 0.7

Traditional stats

Crawford

.978 FP, 11 E, 333 A, 162 PO, 562 Chances, 4.27 RF, 72 DP Turned

Russell

Let me guess: Land of Contusion? Puppet Prez Reagan mistakenly blows the world up due to a bum thumb?

Twitterverse reporting that Almora's examination by a hand specialist went okay, it's still just a hand contusion.

Attaboy, Eloy! Jimenez named Midwest League MVP and Best Prospect.

FYI, formatting of the web page is weird.

Now who can argue with that? I think we're all indebted to Gabby Johnson for clearly stating what needed to be said. I'm particularly glad that these lovely children were here today to hear that speech. Not only was it authentic frontier gibberish, it expressed a courage little seen in this day and age.

White Sox new stadium name w apropos logo

it was between that and "more like the CRUNCH REALLY EARLY AM REPORTER because i'm gonna c.r.e.am all over this place."

i chose the classy route.

that was the 2nd greatest piece of performance art since Donald Trump's campaign

👌👀👌👀👌👀👌👀👌👀 good shit go౦ԁ sHit👌 thats ✔ some good👌👌shit right👌👌there👌👌👌 right✔there ✔✔if i do ƽaү so my self 💯 i say so 💯 thats what im talking about right there right there (chorus: ʳᶦᵍʰᵗ ᵗʰᵉʳᵉ) mMMMMᎷМ💯 👌👌 👌НO0ОଠOOOOOОଠଠOoooᵒᵒᵒᵒᵒᵒᵒᵒᵒ👌 👌👌 👌 💯 👌👌🎩👓🎩👍🎩👓🎩👍🎩 euphoric logic !euphoric loGic👌 thats ✔ some euphoric👌💻 logic right👌💻there👌👍👌 Carl 🔭 Sagan🌌💫if i do ƽaү so gentlemen 💯 i say so 💯 thats euPhoric logic right there Richard 📒 Dawkins🎩 (chorus: socrates died for this shit) mMMMMᎷМ💯 👌👓👌НO0ОଠOOOOOОଠଠOoooᵒᵒᵒᵒᵒᵒᵒᵒᵒ👌 👌🎩 👌 💯 👌 👓🎩🎩🎩 👍👌euphoric logic slam me the FUCK uP 👌👀👌👀👌👀👌👀👌👀 john cena JOhN cEna

You can start the CRUNCH EARLY AM REPORTER. Then you can blog to yourself, and argue with yourself about Jon Lester.